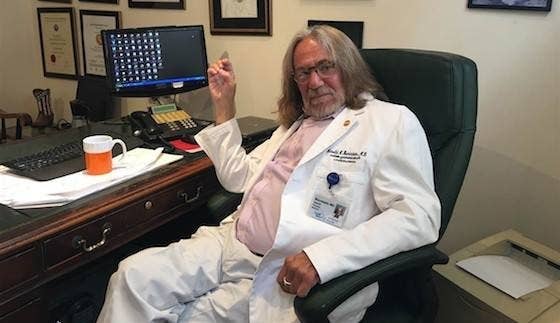 In December 2015, as Donald Trump was picking up momentum in his presidential campaign, his doctor issued an unabashedly glowing — and now infamous —assessment of the then-candidate's health. "His physical strength and stamina are extraordinary," the doctor wrote. "If elected, Mr. Trump, I can state unequivocally, will be the healthiest individual ever elected to the presidency."
Turns out, Trump may not hold that distinction. The doctor behind the letter, longtime Trump physician Harold Bornstein, says the president actually wrote the whole thing himself.
"He dictated that whole letter. I didn't write that letter," Bornstein told CNN Tuesday, hours after reemerging in the spotlight with claims that former White House aide Keith Schiller had robbed his office while taking the president's health records in February 2017.

In remarks to NBC News later Tuesday, Bornstein said that allowing Trump to make hyperbolic claims about his health under the guise of a medical expert was "just black humor."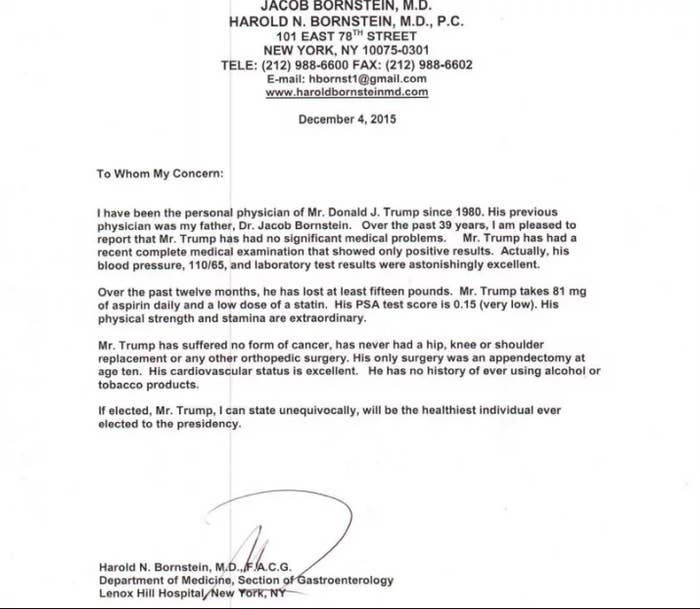 BuzzFeed News has reached out to Bornstein and the White House for comment.

The letter, writtten Dec. 4, 2015, raised a lot of eyebrows and even more questions due to its gleaming assessment of the then-GOP presidential candidate, and the fact that it sounded, well, exactly like Trump.

Trump's lab results "were astonishingly excellent," it claimed, his PSA test score was 0.15 "(very low)," and he had lost at least 15 pounds.
Bornstein has previously defended the letter and insisted that he wrote it himself, brushing off queries about its casual and seemingly unscientific language and insisting that he had been preoccupied with patients when he wrote it.
"I was just rushed for time," the doctor told CNN in 2016. "I had people to see."
Trump also touted the health assessment, even teasing its findings the day before the letter was released, promising his doctor's report "will show perfection."
"I consider my health, stamina and strength one of my greatest assets," he tweeted on the eve of the letter's release. "The world has watched me for many years and can so testify-great genes!" Several of his tweets also seemed to mimic the language from Bornstein's letter.