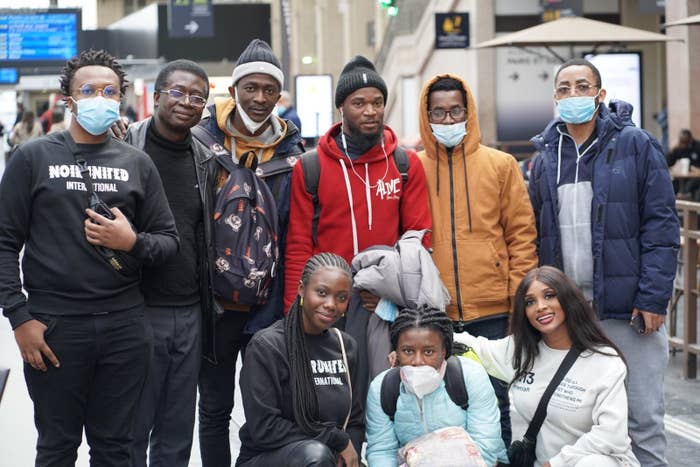 The Global Black Coalition's WhatsApp group chat buzzed with yet another urgent message: "We have located 40 students in Kherson. We need to find taxis who could collect them all, about 10 to 12 possibly."
"Which border?" Jerome Treadwell, a high school senior and activist, immediately typed back from his bedroom in Minneapolis. "It's dangerous to leave right now."
"Let's be prepared," replied Caro Sika, a cultural mediator living in London, advising people to start working their connections as they'd recently done for another group of students trying to get out of the Ukrainian city of Sumy. An hour later, she pinged another update: "There are also wives and children trapped in Kherson which brings the total to 50," along with a screenshot of Google Maps showing their location.
A flurry of messages followed: Contact the regional governor to ensure safety upon them leaving. … What about diplomatic channels? Contact the African Union. … Are there any NGOs we can approach on the ground? ... They're asking for food. … It costs about 5$ per head daily to feed them, about 250$ for the 50 of them. … This is too dangerous. … We need to think about the best approach to getting them out safely.
The Global Black Coalition has been at this, pretty much nonstop, since Feb. 27, when Vukile Dlamini, a medical student from Swaziland, reached out to Gwen Madiba, a civil rights activist in Ottawa, on Twitter and told her about the nightmare she faced trying to leave Vinnytsia for Romania. Dlamini, like other African students, described how authorities had made her wait hours in frigid temperatures while they let through white refugees who'd arrived after her. Horrified, Madiba then turned to a slew of Black rights organizations, including the Hera Mission and African Canadian Association of Ottawa.
"Without hesitation, we said, 'We cannot stand idle,'" Hector Addison, the head of the organization, told BuzzFeed News.
Thus began a quick, at times chaotic chain reaction of grassroots organizing and social media connections, which pulled together a patchwork of Black organizations and individuals from across the globe: American and Swiss graduate students, parents of African students, German and French activists, a Bulgarian professor, one high schooler, and others. In a week, 13 different groups had banded together in 10 WhatsApp and Telegram channels to locate African students and others in the diaspora and then strategize how to either evacuate or support them. The Africans, they said, have gotten limited help from their own governments as Russian forces continued to pummel Ukraine.
There are about 30 core members, and most have never done this type of work before. They went from juggling homework, toddlers, and full-time jobs to searching for and keeping tabs on the whereabouts of dozens of civilians in war zones, working with the UN to establish humanitarian corridors, and wiring thousands of dollars to help students pay for food, plane rides, and taxi trips that have spiked up to between $500 and $1,000 per person in cash, about five to eight times what they cost before the invasion. Lilia Topouzova, a Russian-speaking professor at the University of Toronto joined the coalition, hopping on the phone at all hours to negotiate these fares, sometimes looping in a graduate student who speaks Ukrainian when drivers gave her the runaround.
So far, the collective of Black-led groups says they have helped evacuate more than 700 Africans from danger zones and into Poland, Hungary, and Romania, showing BuzzFeed News a database with their names and passport numbers. With the help of members in Canada, the US, France, Switzerland, Germany, the Netherlands, Romania, and Poland, they've also been offering legal aid, coordinating food drop-offs, placing people in shelters, and providing blankets, warm clothes, cellphones, computers, and phone calling cards for those who left everything behind. Addison, one of the Ottawa activists, said that they've been working with several universities to create a fast-track visa program like Canada did for Ukrainian nationals. The coalition has also lobbied ambassadors, negotiated meetings with the African Union, and raised nearly $80,000 for refugees on GoFundMe.
"I think this is the first time in history that Black-led charities, not-for-profits, organizations are joining forces under one roof as one people to support our people, to let them know they are not alone and that they have a family, a support network across the world," Madiba said. "It's important to have a movement that understands the needs of our people and speaks the language they understand, not just in dialects but in experience."
But there is still a great need, and the situation is still dire. Just a few days ago, a Congolese student in Kyiv was wounded during an air attack while walking to buy food for her evacuation journey, according to Yuga Buassa, a Polish citizen who works with Madiba's Canadian organization Equal Chance in Poland who has been working with the African Union. Bullets punctured the student's stomach and leg, sending her to the hospital and into surgery. The coalition helped facilitate her transport to Poland, and it has also arranged for her travel to Germany, where she will be reunited with her mother and sister, Buassa told BuzzFeed News.
Anywhere from 300 to 1,000 African students are still in the country, activists say, and they continue to send videos asking for help. Some of them have nothing, not even passports. This past weekend, a handful of coalition members flew to Europe to support African refugees on the ground by negotiating with other governments, like Poland's about student visas, planning their voyages out of Ukraine to bordering nations, and simply being there for them when they arrive.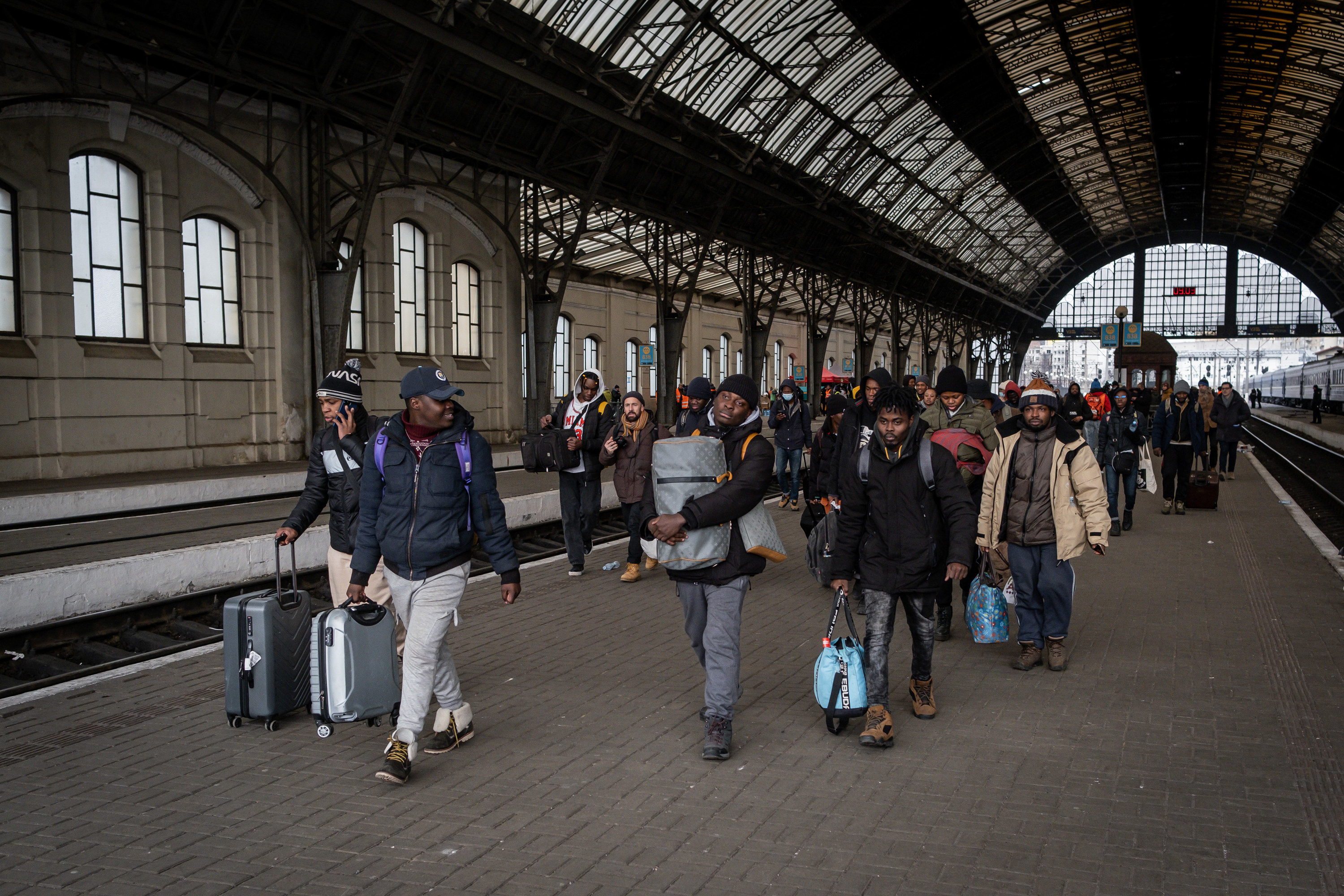 The mission and the work are sprawling, complicated, and emotionally exhausting. There are a lot of high stakes, moving parts, big players, and opinions. And while they're all bound together for the same outcome, organizing can be passionate and tense.
On March 11, as the WhatsApp group chat discussed the roughly 50 people stuck in Kherson, it became apparent it was too dangerous for them to leave on their own with the Russian military in control of the southern port city. Members from the coalition and groups like Black Women for Black Lives and Blacks for Ukraine hopped on a Zoom call. Some floated the idea of extracting the Kherson group through Operation OpaLion, which works with retired US military members; others expressed their fears that the Black civilians could be used as human shields. What would happen, though, if they left them there?
Meanwhile, students in Kherson continued to beg for help to get out. They were running low on everything, including butter, and had no means to get more supplies. The booming thud of bombs seemed to be getting closer.
From their homes in multiple time zones, members of the coalition debated over and collaborated on how to get resources to people who were hiding from Russian troops in places the activists had only seen via Google Maps. Via Telegram and WhatsApp groups, Twitter, and other NGOs, they found volunteers in Kherson and Sumy to help on the ground.
"Just like they did with the Underground Railroad, we are using our allies on the ground to come and bring food to them," one person said. "The students are desperate to get food. They sent us their shopping list."
A coalition member cut in, responding to a plan for a Ukrainian volunteer to deliver food to several drop-off points: "Have they done a test run?"
"They did yesterday," someone responded.
"Right now we have four locations," another caller said. "Three hostels. We have another village with students there, and then we have people in the city center. We have contacts for the three universities…"
"Wait, by 'hostels,' do you mean dormitories?" asked Treadwell, the only high schooler involved in the coalition, sparking a group chuckle as the Europeans and Americans realized that, after they had been discussing hostels and dormitories as different spots for the past few minutes, they'd meant the same thing.
"We're getting more cohesion," Treadwell told BuzzFeed News the next day, after he'd helped coordinate the coalition's first food drop operation with help from Black Women for Black Lives. He was exhausted and a little distracted. He had been studying for his criminology class while also trying to suss out ways into a village where about 10 students had been hiding out. Frustratingly, his contacts on the ground couldn't get inside because Russian troops are occupying the area, he said.
At 17, Treadwell is already a veteran organizer. He's executive director of Minnesota Teen Activists, an organization that works to eradicate racial and systemic injustices in schools, and he was active in protests over the murder of George Floyd. So on March 5, when the teen watched an African student share how Ukrainian officials had refused to let her on a bus to Poland because she was Black, he dove in.
Since then, he's been constantly scanning Instagram, Twitter, and Telegram, looking for accounts of Black people struggling in Ukraine and among refugees in Europe. He's DM'd, emailed, and called pretty much every humanitarian group and major public figure he knows and could think of, as well as NGOs on the ground to form relationships.
"Everything just happens," he explained. "It's finding out who the key players are and, like, boom, boom, boom. Who do I know at that level who can get me in contact with this person?"
To ensure he doesn't miss anything, he's up until 2:30 a.m. and then sleeps till 6:30 a.m., when he has to get up and do chores and homework. And since he's barely been in class, school hasn't been going well. "I have two F's omg," he texted BuzzFeed News one night. But he's concluded that he's focusing on "humanitarian work over schoolwork." Plus, he said, he's learning a lot about the world.
"I've learned that racism is very similar," he said. "I hear from students in foreign countries who are now war refugees, and I can relate in some ways to how they are treated."
He's in contact with a few students regularly. They keep him updated on their fears and how much food they have left.
One of them is Christophe, who came to Kherson from Cameroon almost two years ago to study international business. At 22, all he wants to do is go to school. He and some of his classmates tried to leave the city after Russian forces took control, but he said they were advised to go back because it was too dangerous on foot. For days, he took shelter inside a one-bedroom apartment with 11 classmates. The only time they left the unit was when the shelling started and they hurried to the cold basement. They no longer knew what day it was. There were no hours anymore; they spent all day just waiting for night to come. They were "prisoners," he told BuzzFeed News earlier this month, left to "pay the bill for a war" that has nothing to do with them. Before the coalition coordinated a big food drop-off last week, they'd nearly run out, he said. But, Christophe added, because of the shock and fear, no one really had an appetite. They hadn't noticed they were not eating.
"We are not living. We are surviving," he said in a WhatsApp video chat late one night. "We are scared. Day and night, living in constant trauma. We are just waiting for information. That is our reason for living. Those who can sleep, we wake up hoping today will be the end of this nightmare."
He's not alone. Buassa, who has been working with African governments, said that students are still "stuck underground in hostels and don't know what to do." Dozens of Africans are scattered, some in Kyiv and Sumy, others near the border with Hungary, "where they are having a lot of problems."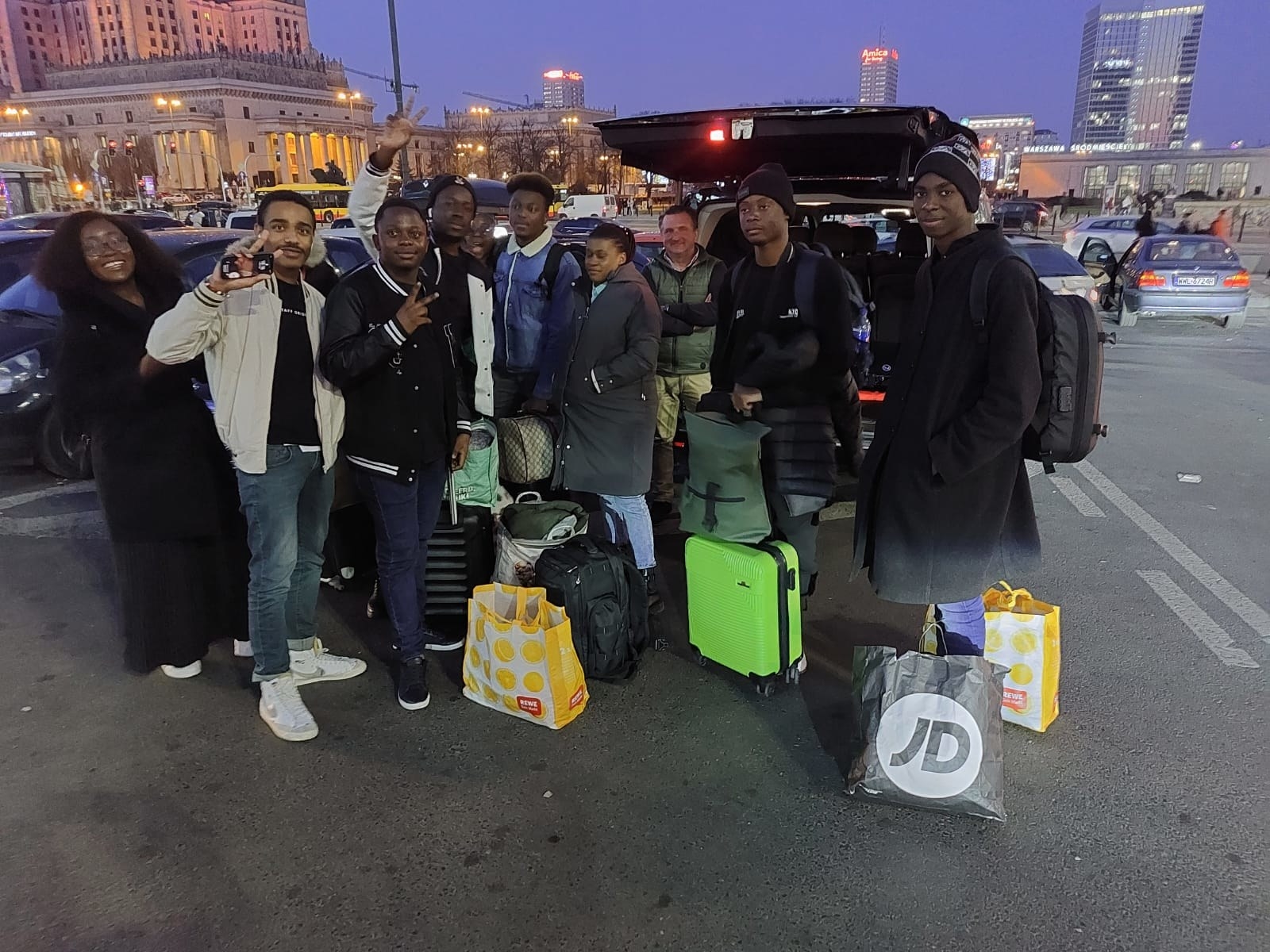 This past weekend, Madiba, the Ottawa activist, landed in Europe with two American graduate students and several others to join their crew and try to help. It was frantic chaos almost immediately. Humanitarian corridors opened, and the group scrambled to get as many Africans out of Kherson as possible.
"My stress level is at 100," Madiba told BuzzFeed News on Saturday. On Monday, she updated the WhatsApp group: 41 Black students and families were on their way to safety. The next day, 14 evacuees arrived in Paris, where they were able to choose a new phone, laptop, an Airbnb to stay in for a month. They were also able to go shopping for new clothes.
Christophe was one of them. He's still reeling from the last few weeks and feels overwhelmed by all the immediate resources and attention. He says the first thing he wants to figure out is not how to get home, but back to school. "The US, Canada, England, anywhere," he listed.
After everything he has gone through, he doesn't want to give up on getting his degree.
"It would be a double punishment," he said. "I feel I was already punished for something I didn't do."