A billboard for a Las Vegas gun range was vandalized early Thursday by a guerrilla art collective who changed the advertisement for firing an assault-style rifle to "Shoot A School Kid Only $29."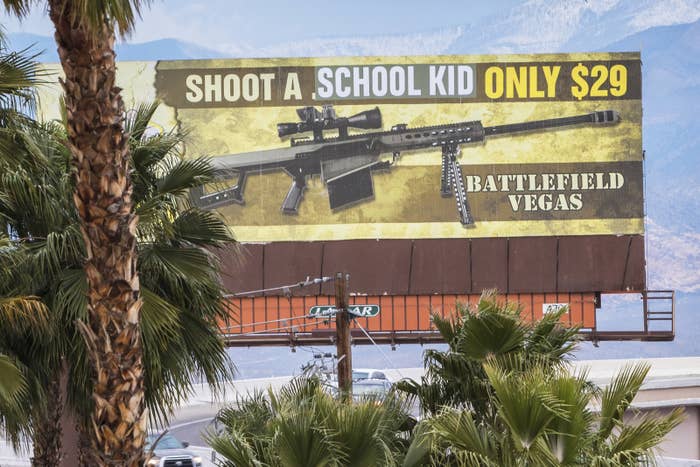 The advertisement for Battlefield Vegas, an indoor shooting range, had read "Shoot a .50 caliber only $29." The group that altered the billboard, Indecline, also pasted "Defend Lives, Reform Laws" over the range's phone number.
"This protest piece is in response to America's longstanding obsession with gun culture and our government's inability to honor the victims of mass shootings by distancing themselves from the homicidal policies of the NRA," the activist group told BuzzFeed News.
The billboard is situated near Interstate 15 and the Las Vegas Strip, close to Trump International Hotel and about three miles away from the Mandalay Bay resort, where a gunman using assault-style rifles fired into a country music festival from the 32nd floor in October, killing 58 people and injuring hundreds more in the deadliest mass shooting in modern US history.
By 9 a.m., the billboard had been wiped clean and police said they are investigating.
Battlefield Vegas, which boasts having more than 350 different weapons, including assault rifles, told BuzzFeed News it had no comment about the vandalism.
Lamar Advertising, the company that created the sign, confirmed that it "immediately removed the billboard at the request of authorities."
"We're cooperating with law enforcement agencies as they investigate further," Allie McAlpin, Lamar's communications director, said.
A video by Indecline shows two people in all black draping and pasting "School Kid" over ".50 Caliber" in the dark.
video-player.buzzfeed.com