Fox News' Bill O'Reilly announced Tuesday night that he is going on vacation, days after the network's parent company said it has hired an outside firm to investigate sexual harassment claims against the star host.

"Around this time of year, I grab some vacation because it's spring and Easter time," O'Reilly told viewers during the final minutes of Tuesday's program. "Last fall I booked a trip that should be terrific. Not going to tell you where it is but...I'll have a full report when I return."

A spokesperson for Fox News told BuzzFeed News that the vacation was pre-planned and that guest hosts will fill in on his program while he is gone. O'Reilly is expected to return to the air on Monday, April 24, according to the spokesperson. O'Reilly had hinted Monday he would be taking some time off the air, telling viewers that he would "like to take some time off around Easter" because "it's calming."
The network's parent company, 21st Century Fox, said earlier this week that it has enlisted an outside law firm to investigate sexual harassment claims against O'Reilly, after one of the host's accusers called the corporate hotline to repeat her allegations.

The company has remained relatively silent on the controversy surrounding the 67-year-old host, which erupted on April 1 when the New York Times reported that five women received about $13 million to settle harassment allegations against O'Reilly, who has anchored the top-rated program on the cable news network for the past 16 years. O'Reilly has denied the claims.
Since the Times report was published, more than 70 advertisers have pulled their commercials from The O'Reilly Factor , citing concerns over the allegations. Fox has also remained relatively mum on the ad boycott, issuing a terse statement that claimed the ad buys had been "re-expressed" into other programs.
The swift backlash has resulted in a drastic reduction in commercials during the primetime show, with paid ad time falling by more than 50 percent since April 1, according to Kantar Media. Four weeks before the bombshell Times article, The O'Reilly Factor averaged 33 commercials during the program, totaling 14 minutes, 32 seconds. Following the report, paid commercial time fell to a low of seven spots and 4:40 on April 7th before bouncing back Monday to eleven spots and 7:20, Kantar Media said.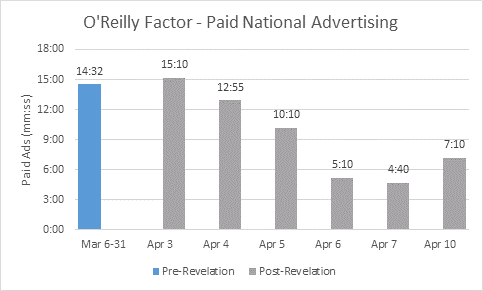 "With well-known national brands exiting the program over the past week, the sponsor lineup is now heavily tilted towards direct response marketers and other small-budget brands that are typically opportunistic purchasers of remnant inventory," said Jon Swallen, Kantar Media's chief research officer.

Once peppered with commercials from big-name brands like Mercedes-Benz, Advil, and H&R Block, The O'Reilly Factor is now filling slots with smaller, lesser-known advertisers. Tuesday night's broadcast contained about 10 commercials from companies like CoolSpa, Gravely Lawn Mowers, Hair Club, and Australian Dream Pain Relief.
While Fox News has continued to stand by its top-earning host, the network is still reeling from last year's ouster of long-time chief Roger Ailes over a different spate of sexual harassment claims. Media experts say Fox Chairman Rupert Murdoch may cut O'Reilly loose as well if the network decides that protecting its star host will be too costly to justify.