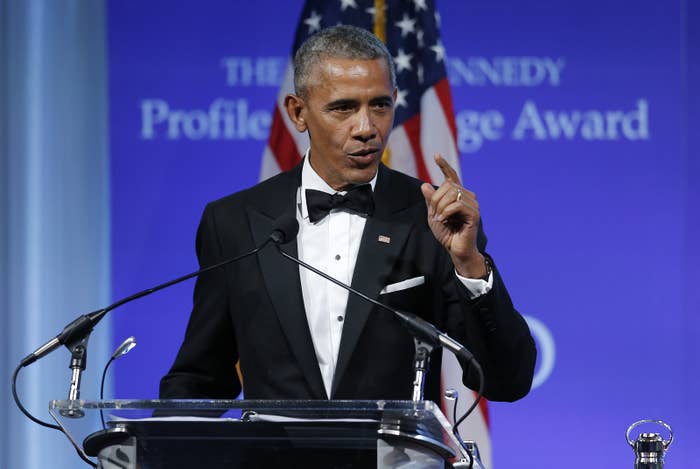 Former president Barack Obama on Sunday implored members of Congress to have the "political courage" to protect health care access for Americans, making his first public comments on his signature Affordable Care Act just days after House Republicans voted to repeal it.
"As everyone here now knows, this great debate is not settled but continues," Obama told an audience at Boston's Kennedy Library, where he was accepting the Profile in Courage award commemorating the 100th anniversary of Kennedy's birthday.
The speech was a rare, high-profile foray back into day-to-day politics for Obama, who has mostly stayed out of the public eye since leaving office. It also marked the first time the former president has addressed pending legislation — presenting a stern, if indirect, response to Thursday's House vote to repeal Obamacare, and an impassioned defense of his signature domestic achievement.
"There was a reason why health care reform had not been accomplished before. It was hard, it involved a sixth of the economy and all manner of stakeholders and interests. It was easily subject to misinformation and fearmongering," Obama said.
Noting that many members of Congress risked — and lost — their seats by voting for the Affordable Care Act, he added, "It is my fervent hope, and the hope of millions that, regardless of party, such courage is still possible. That today's members of Congress are willing to look at the facts and speak the truth, even when it bucks party dogmas."
Though the speech stopped short of explicitly calling on Congress to protect the Affordable Care Act, Obama implored lawmakers to protect health care access for vulnerable Americans.
"I hope that current members of Congress recognize it takes little courage to aid those who are already powerful, already comfortable, already influential — but it takes great courage to champion the vulnerable and the sick and the infirm," he said. "I hope they understand that courage means not simply doing what's politically expedient, but doing what, deep in our hearts, we know is right."
However, even as he tacitly admonished Republican priorities, Obama also repeated his now familiar calls for Americans to rise above the "division and discord" of national politics.
"Everywhere, we see the risk of falling into the refuge of tribe, and anger at those who don't look like us or have the same surnames, or pray like we do," he said. "At such moments, we need courage to stand up to hate, not just in others, but in ourselves. At such moments, we need courage to stand up to dogma, not just in others, but in ourselves."