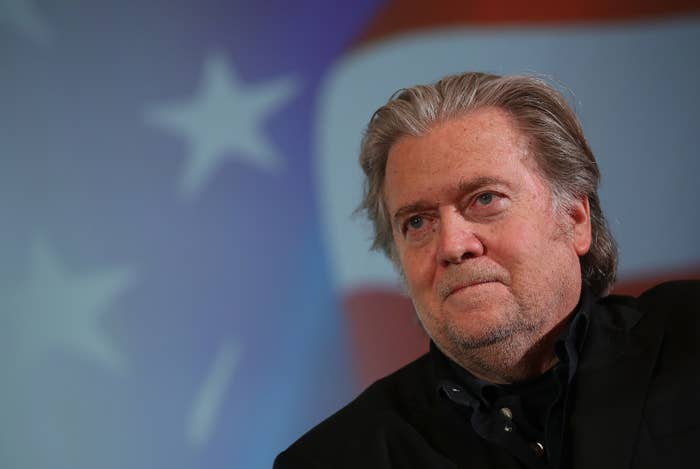 On Monday, the New Yorker announced that Steve Bannon would be headlining its annual festival in October. A few hours and a massive wave of anger, backlash, and condemnation later, the magazine changed its mind and decided to yank Trump's former chief strategist from the festival's lineup.
The interview was slated to take place at the 19th annual New Yorker Festival, which features an array of prominent and influential figures and voices from across political, cultural, and artistic spectrums.
So when the New York Times reported that Bannon, who left the White House last year and was ousted from Breitbart — a website he once described as "the platform for the alt-right" — would be the event's main fixture, people had some ~feelings~ and swiftly shared their outrage en masse, including celebrities and writers scheduled to attend.
Comedians Jimmy Fallon, Jim Carrey, and Judd Apatow staunchly stated they would not be on the "same program" as Bannon.
"Maybe they should read their own reporting about his ideology," Apatow tweeted.
"After learning of the inclusion of Steve Bannon, I am respectfully saying fuck that. Peace and love!" comedian Bo Burnham chimed in.
Musician Jack Antonoff, best known as the lead singer of the band Bleachers, said he would not be performing if Bannon would be there.
Even the New Yorker's own Pulitzer Prize–winning columnist Kathryn Schulz condemned the publication, saying she was "beyond appalled."
Renowned writer and professor Roxane Gay shared similar sentiments.
"Your decision to feature Steve Bannon as your headline speaker is sending a very clear message to your Black, Brown, immigrant and Muslim readers," added author Khaled Beydoun.
"For anyone who wonders what normalization of bigotry looks like, please look no further than Steve Bannon being invited by both [the Economist] and [the New Yorker] to their respective events in #NYC a few weeks apart," said Chelsea Clinton.
Some said they were canceling their subscriptions, calling Bannon's inclusion "disgraceful."
Even the cats were pissed.
As was the stage, apparently.
Faced with intensifying and mounting criticism, New Yorker editor David Remnick, who had originally defended the decision to include and interview Bannon, rescinded Bannon's invitation, concluding that there is a "better way" to engage the man who has embraced white nationalist ideas and, arguably, helped shape the president's persona and policies.
In his statement, Remnick wrote that he had spent the past few months trying to nail down an interview with Bannon.
"By conducting an interview with one of Trumpism's leading creators and organizers, we are hardly pulling him out of obscurity. Ahead of the mid-term elections and with 2020 in sight, we'd be taking the opportunity to question someone who helped assemble Trumpism," the editor reasoned.
The point of interviewing someone who holds far-right, racist, and anti-Semitic beliefs, Remnick stated, "is to put pressure on the views of the person being questioned."
However, people, including Joyce Carol Oates, pointed out that including a former top staffer to Trump makes no sense.
And that he should never have been invited in the first place.
In the end, there was a whole bunch of intense brouhaha on the internet about a thing that is no longer happening and, as most people believe, should never have been a thing in the first place.
And for those "two or three people who are both fans of The New Yorker and Steve Bannon..."
Maybe this NPR host can help fill the void?