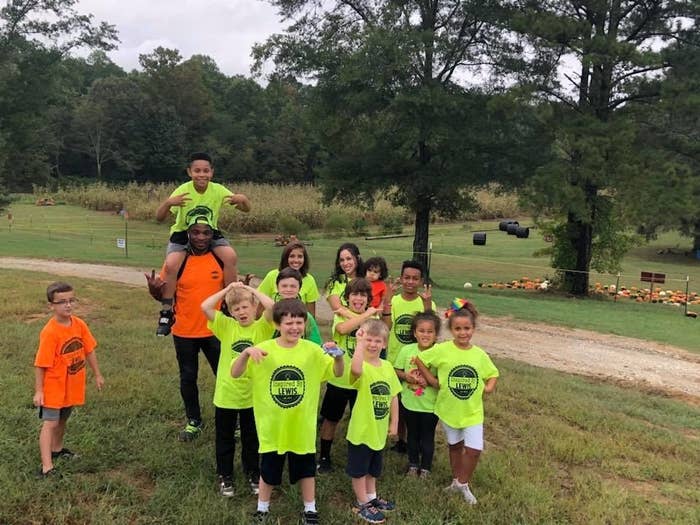 Corey Lewis was finishing up lunch at Subway while babysitting Sunday, when he says a white woman started to harass and follow him, then called the police — all because he was black and the children he was with are white.
Lewis, 27, runs a youth mentorship program in Marietta, Georgia, and was watching the children of David Parker and Dana Mango that afternoon. Their 6-year-old son attends Lewis's after-school program, dubbed Inspired by Lewis, Parker told BuzzFeed News.
As they were finishing their sandwiches outside Subway, which is located in a Walmart in Marietta, Lewis said, the woman came up to his car to ask "if the kids were alright." The girl was already in the backseat and they were waiting for her younger brother to finish up his food so he wouldn't get crumbs in the car, Lewis explained to BuzzFeed News.
"I was taken aback and responded, 'Why wouldn't they be?'" Lewis said. "She told me 'it looked weird,' and I was like, 'They're fine.'"
The woman left, circled the parking lot in her car, and then returned to Lewis's blue Honda Accord.
"She then asked if the little girl could get out of the car so she could ask her if she knew who I was," he went on. "And I said no and she got upset and threatened to take down my license plate and call the cops. I said OK and she drove off."
A few minutes later, the boy finished his sandwich and the three drove across the street to get gas. The woman, Lewis said, tailed their car and again parked nearby.
In disbelief, the youth mentor pulled out his phone and began streaming video of the incident live on Facebook, capturing the woman idling near them in her sedan.
"She asked to see the little girl that I am with so she can ask her if she knows who I am," he narrated. "All because I got two kids in the backseat who do not look like me... It's crazy. It's 2018 and this is what I have to deal with. I can't go out with two kids who don't look like me without it being weird."
After departing the gas station, Lewis and the children drove toward the kids' home, he said, but the woman "continued trailing us." Thrown off, Lewis decided to head to his house, which was closer, and because he knew his mom would be there.

In another Facebook video, the youth mentor films himself driving with the two kids in the back seat looking over their shoulders as he detailed how "this lady is following me all the way home. To my neighborhood."
"She turned on my street too and then kind of stopped near the cul-de-sac and then, a few minutes later, the police officer showed up and began asking me questions," he told BuzzFeed News.

A spokesperson for the Cobb County Police Department confirmed Tuesday night that one of its officers pulled Lewis over on Sunday afternoon in response to a call about "suspicious behavior."

In the video, Lewis flipped the camera to show a dark blue police vehicle slowly pull up behind him.
"We will see what the police have to say about this," he stated as the officer got out of his vehicle and said, "What's up, man?"
"I am being followed and harassed, that's what's up," Lewis replied.
"I've heard," the officer chuckles in the video. "So apparently she saw you at Walmart."
Frustrated, Lewis can be heard explaining the situation to the officer, who then asks to talk to the kids about the whole ordeal. The two emerge from the backseat and confirm, in response to the officer's question, that yes, they "are OK."
"We never thought that we would have to prepare them for a traffic stop or being pulled out of a car by cops when we weren't there," David Parker, the father, told BuzzFeed News. "My wife really kept thinking it was a prank. It's difficult to wrap my head around what would motivate someone to do that."
While the kids have "snapped back," their father said that when they talk about that Sunday afternoon "you can tell that it affected them and that they were confused and scared that they were getting Mr. Lewis in trouble."
Mostly, though, they want the woman to meet their babysitter.
"My son wants her to know how much fun he has with Mr. Lewis and what a great guy he is," Parker said. "Both kids also want to ask her why she thought it was weird that 'someone with brown skin was with someone with peachy skin.' Even superficially, they knew what was happening and they want to know why."
Lewis said he is still trying to figure out who the woman was, obtain the 911 call record, and press her on why she assumed that the children were in such danger that she needed to follow them for nearly an hour.
"I work with white kids every day and even though you always hear about this stuff, it's still so demoralizing when it happens to you," the youth mentor said. "I guess the good side of it is that it keeps a light on an issue that we need to keep talking about."