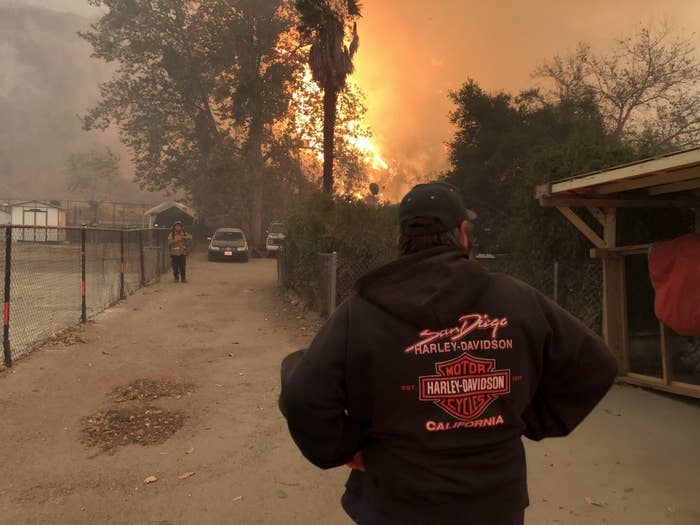 In a matter of minutes, a torrent of flames swallowed the dry, golden hill that butts up against Ash Merriman's overgrown backyard. He stood, transfixed, holding his backpack, his dad's phone charger, and a Nerf gun.

The 12-year-old thrust his belongings into a blue Honda and ran, yelling, toward his father, followed by a firefighter who had been urging people in the rural California community of Casitas Springs to evacuate immediately.
Just 10 minutes earlier, Jim Merriman and more than a dozen residents in and around the Casitas Springs Mobile Home Park had been nervously watching firefighters battle flames crawling across the hillside, having ignored earlier evacuation orders in the hopes that the fire that engulfed 40,000 acres in 24 hours would spare their properties. (As of Wednesday morning, 65,000 acres have been destroyed, 50,000 people have been evacuated, and the fire was still not at all contained.)
Realizing that he could lose everything, Jim Merriman ran into his small, dark trailer and called to Ash to put their dog, Shorty, in the Honda and wait for him. Nearby, other people scrambled into cars loaded with pets and plastic bags filled with their belongings. Dry, rushing winds were sending embers from the fire into the trees and yards near the trailer park, which by now was suffocated in a cloud of rough, gray smoke.
A man wheeled his Harley-Davidson out of a flaming garage, while another frantically sprayed a garden hose at a crackling palm tree above his property that had lit up faster than a match. A woman named Jean scrambled to put her rabbit and two cats into a red Jeep. Firefighters were already descending into the trailer park, and police officers blared evacuation orders at residents who stood, numb and gawking, as small fires spread near their homes.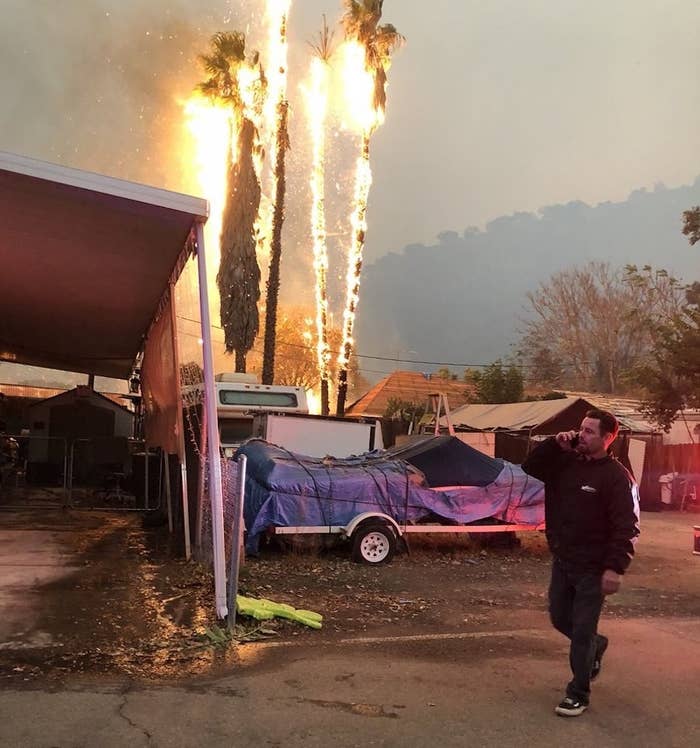 Asked why people in Casita Springs chose to stay so long after the initial evacuation orders, Merriman explained that they "didn't expect the fire to do what it did."
"I've lived here all my life and we've been through fires and you can a lot of time ride them out," he said. "This is all I have. All my memories. I'm a single dad of three kids. It's a lot."
The Thomas Fire, which erupted overnight Monday in Ventura County and within 24 hours, forced roughly 38,000 people from their homes. Fueled by powerful Santa Ana winds between 50 and 70 mph, the flames spread with a pace and ferocity that fire officials said they had not seen before.

"It's one of the biggest ones ever," Scott Dettorre, a captain with the Ventura County Fire Department, said Tuesday night as he and other firefighters milled around the command center in the Ventura County Fairgrounds. "I have been doing this for 32 years and I haven't seen anything like it. It's insane how fast it moved."
As of Tuesday night, the flames had engulfed approximately 150 structures while firefighters struggled to keep up. Many compared it to the catastrophic wildfires that devastated large swaths of Northern California in October, killing 44 people. The Thomas Fire roared into residential areas almost as quickly as Sonoma County's Tubbs Fire, which barreled into the city of Santa Rosa with almost no warning, said California Department of Forestry and Fire Protection spokesman Scott McLean.
Similar to the fires up north, firefighters are struggling to get into tucked-away neighborhoods, many of which are nestled on large plots of land down canyons and up in the hills, and then rush to beat back the blaze's quick jump to more urban areas.
"The fire was just running and we were trying to keep up with it," said Joe Williams, a Ventura County firefighter who had been battling the blaze since 9 p.m. Monday night, adding that he expected the physical damage to the area's sleepy hillside and coastal communities to be extensive. "It was pure chaos."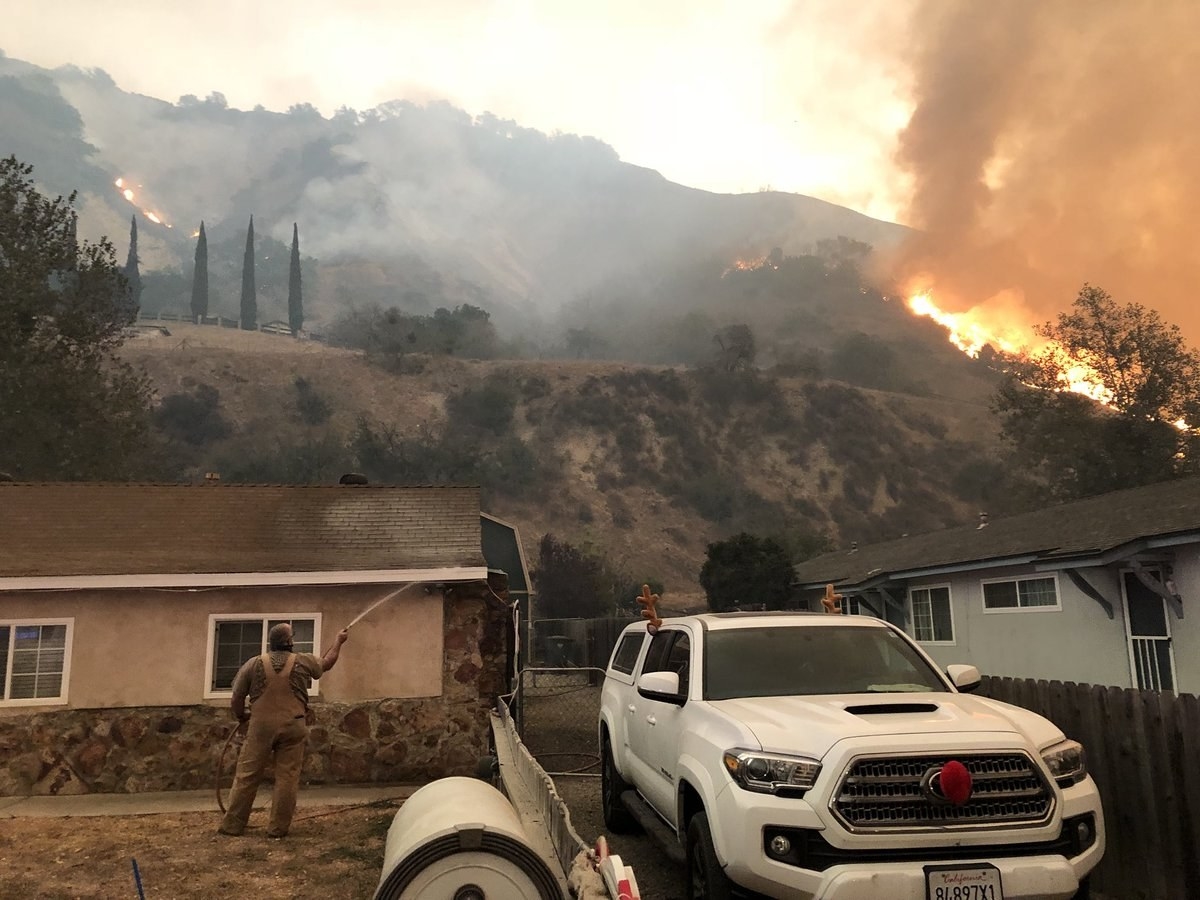 Several yards away, about 700 people settled in for the night Tuesday in a large hall filled with cots, tables, and rows of clothing and food. They had started trickling in late Monday, just hours after the blaze began. Like the firefighters, they were stunned by the fire's pace and recounted how they had rushed from their homes after seeing the flames close in.
"Nothing has come that fast and spread that fast and was that alarming," said Margo Edison, who has lived in the area around Ojai, California, for about 30 years and has seen several fires in the region. "It was burning on both sides of the street."
About a dozen people at the evacuation shelter shared similar stories, of smelling — and then seeing — a roaring red gleam approach so quickly they barely had time to grab their belongings, a task made even more difficult by widespread power outages.

"I just grabbed diapers and what they needed," said Alexis Deloney, gesturing to her two toddlers. The 20-year-old, who fled with her mother and younger sister, said she had just 20 minutes to evacuate in the early hours of Tuesday morning.
Around 7 p.m. Monday, Melissa Givner had been preparing to go on vacation when she went to her ranch to check on a horse that needed medication.
"The glow looked like it was right behind the barn," she said, leaning against a stable where the horse, and dozens of others, are now being housed. "I got on my phone and just started calling everyone I knew."
With the help of her fiancé, her best friend, and others, Givner managed to evacuate 13 horses from her ranch in the Ventura County foothills, which was left smoldering by the next morning. "About a half hour after we got to the shelter, my mom called and told us the entire area was up in flames," Givner said. "If you see fire, go. You never wait."
While California is no stranger to destructive wildfires, fire officials in Ventura County noted that the near-annual blazes seem to have become more common and more catastrophic.

Brianna Sacks/BuzzFeed News
Firefighters in Ventura County rush to put out flames sparked by embers spread by dry, fast-moving winds.
"We're starting to see more of these massive fires threatening communities like they haven't before," Cal Fire Captain Isaac Sanchez said Tuesday night. "Large, out-of-control fires like this, threatening cities, are becoming more common."

In 2017, after years of a punishing drought, record rainfalls produced new, lush plant life beneath layers of dry, dead vegetation known as chaparral. But a brutal heat wave subsequently killed off the fresh vegetation, producing even more fuel for this fall's wind-driven fires. What's more, Dettorre said, as the state's population becomes denser, communities keep pushing into wooded areas, forests, and other areas naturally prone to catching fire.
"It seems that we've hit critical mass," he said. "We restrict fires because they are bad for society, but we live in an ecosystem where these fires are a normal process for this kind of habitat."
"Fire is doing what it does; we're just in the way."