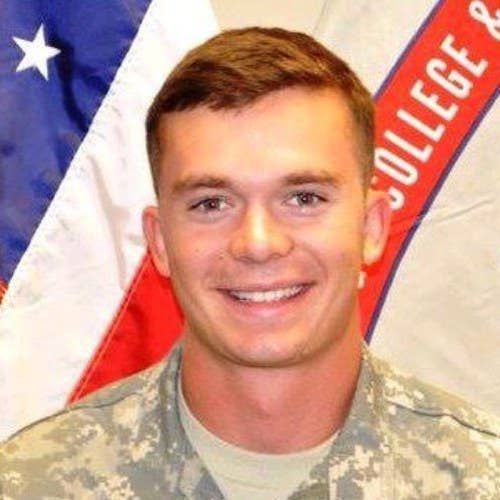 An American soldier died in Iraq this weekend after a roadside bomb exploded during a security check, according to an announcement from the Pentagon.
The Defense Department identifed the soldier Sunday as First Lt. Weston C. Lee of Bluffton, Georgia, a member of the 82nd Airborne Division. He died Saturday after an improvised explosive device (IED) detonated while he was patrolling near Mosul, his division said in a statement. It was the 25-year-old's first deployment.
Lee joined the Army in 2015 and became a platoon leader before being deployed to Iraq last December. Lee was in Mosul fighting to eradicate ISIS under Operation Inherent Resolve and to "advise and assist support to partnered forces," the Department of Defense said in a statement.
"1st Lieutenant Wes Lee was an extraordinary young man and officer. He was exactly the type of leader that our Paratroopers deserve," said Col. Pat Work, commander of 2nd Brigade Combat Team. Lee was awarded the Bronze Star and Meritorious Service Medal posthumously.
"God has gained himself one hell of a soldier," Lee's brother, Chester, wrote on Facebook Sunday. "My brother, my friend, Weston Lee died in Iraq yesterday. And I am completely and utterly devastated. Right now I and my family could use your prayers and love. I will miss you Weston but I know right now your telling God whats the next mission."

On Sunday evening, people reportedly gathered at Lee's family home in Bluffton to hang flags. "Let's fill this yard with Red, White & Blue," the post said.
Ryan Thomas Ault, who was deployed to Iraq alongside Lee and spent the last seven years beside him, described his friend as "larger than life."
"He's been my friend many tough times," Ault told BuzzFeed News. "He was killed an my world was shattered...Weston led by example and was humble until the end."
Southwest Georgia Academy, where Lee attended high school, also posted a tribute on Facebook, with old classmates, faculty, and people from his hometown posting their condolences.
"Im so very grateful God gave me the opportunity to know and love this brave young man while I was at SGA," Jo S. Davis wrote. "I watched with such pride as he accomplished his dream of becoming a Ranger. Weston Lee, you will always be the epitome of a true Warrior."

Lee is the second American service member to die since the operation to retake Mosul from ISIS began more than six months ago, according to the Associated Press. His death marks the fifth American military fatality in Iraq since the US started fighting ISIS there in 2014.
Navy Chief Petty Officer Jason C. Finan, 34, died in October after a roadside bomb went off near Mosul, just days after the fight to reclaim the ISIS stronghold began. Since 2003, 4,519 US service members have died in Iraq, according to statistics compiled by the website iCasualties.org.
In Afghanistan, two American soldiers died last week during an operation against an ISIS affiliate in Nangarhar province.
After withdrawing from Iraq in 2011, the US has since bolstered its military presence in the country to help Iraqi forces in the ongoing fight against ISIS. There are now more than 5,000 US troops in Iraq, according to the Washington Post.
A GoFundMe page has been set up to establish a scholarship in the name of Lee and any extra proceeds will help his family pay for funeral expense.