Alec Baldwin ramped up his defense of Woody Allen on Sunday, suggesting that the director's daughter, Dylan Farrow, is lying about being sexually abused by her father, and is using emotion to manipulate people into believing her.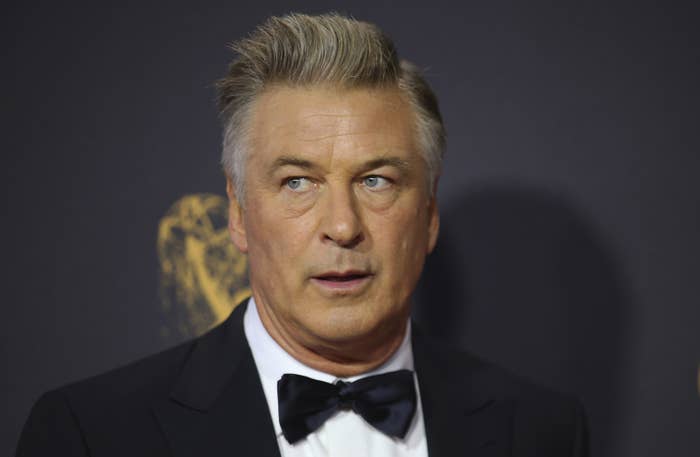 Farrow has repeatedly claimed that Allen sexually assaulted her in the attic of their family home when she was 7 years old. Connecticut's state attorney launched an investigation in the early 1990s, around the time of the alleged abuse, and concluded that he had enough probable cause to prosecute Allen, but never brought the case to trial in order to protect the fragility of the "child victim."
Allen has always emphatically denied the allegations.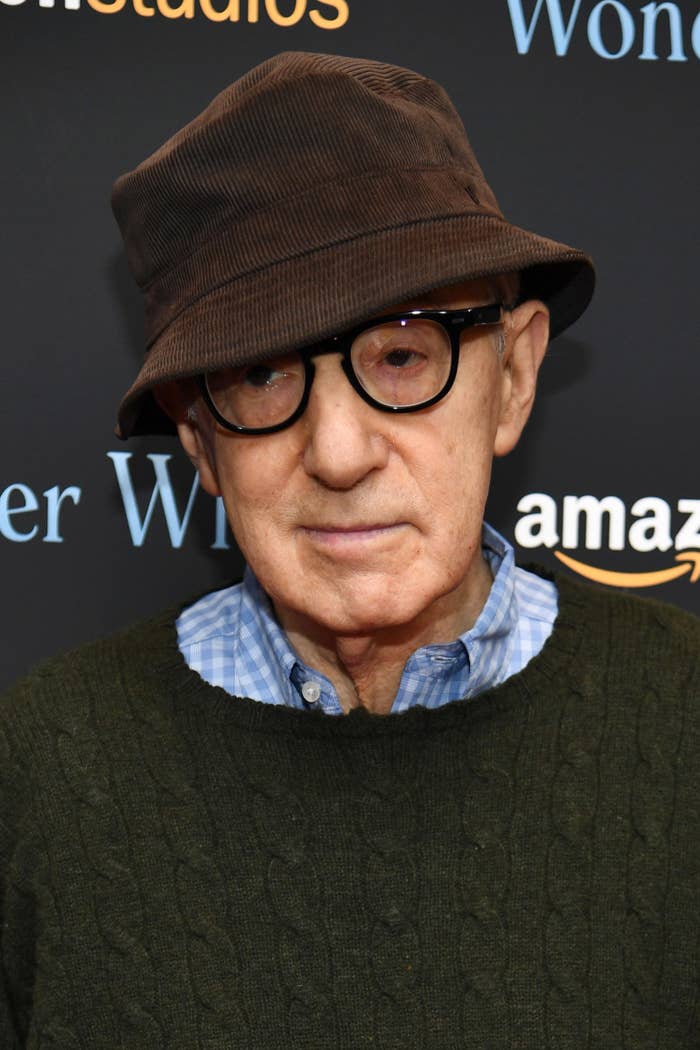 But after the eruption of the #MeToo movement, Farrow wrote an op-ed in the Los Angeles Times questioning why the "revolution" spared her father, especially since she has stood by her story for decades.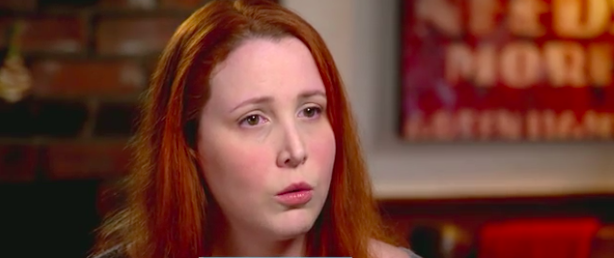 As a result, a slew of actors denounced the famed filmmaker, writing statements illustrating their regret for having worked with him. Some have promised to donate their earnings from Allen's films to nonprofits that support sexual abuse survivors.
Last week, Baldwin called Farrow's allegations "sad and unfair" and pointed out that no charges were ever filed against Allen. Then, on Sunday, the actor compared Farrow to Mayella Ewell, a character in Harper Lee's To Kill a Mockingbird who lied about being raped by a black man.
Baldwin also suggested that Farrow was using emotion to manipulate people to believe her story.
"[One] of the most effective things Dylan Farrow has in her arsenal is the 'persistence of emotion,'" Baldwin tweeted. "Like Mayella in [To Kill a Mockingbird], her tears/exhortations [are] meant [to] shame u [into] belief in her story. But I need more than that before I destroy [someone], regardless of their fame. I need a lot more."
"To say that @RealDylanFarrow is telling the truth is to say that @MosesFarrow is lying. Which of Mia's kids got the honesty gene and which did not?" Baldwin questioned in a follow-up tweet, referring to Dylan's brother, Moses Farrow, who has defended Allen, and their mother, Mia Farrow.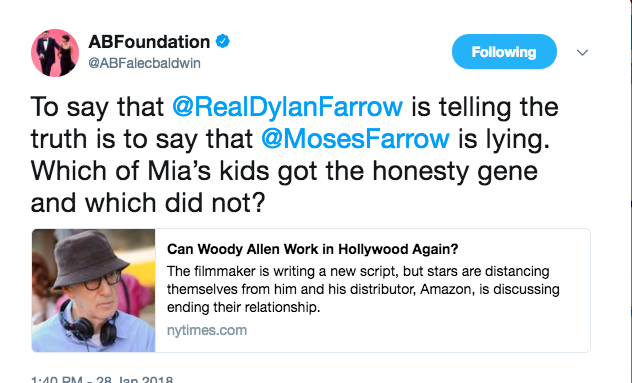 Baldwin's persistent defense of Allen has sparked anger and condemnation on social media, with people lacerating him for so publicly inserting himself into Dylan Farrow's story.
"He wasn't there, he doesn't know what happened, and it's none of his business," someone said.
"Why does Alec Baldwin always have Dylan Farrow's name in his mouth?"
People also declared that Baldwin "is permanently canceled."
And had some harsher words for him as well.
Others lashed out at him for drawing such a comparison in the first place, and using "the plight of black people to make a point."
Some suggested that Baldwin never actually finished reading To Kill a Mockingbird.
Since at the end, "there's a pretty good argument to be made that Mayella's father sexually abused her."
In a statement to the Hollywood Reporter, Farrow also pointed out that whether Ewell was raped by her father is a major point of debate.
And wondered why the actor is still "getting second chances."
Some people noted that Baldwin stopped using his personal Twitter account last year after getting torn apart for his opinions on the #MeToo movement.
And accused him of now using the Twitter account for his charitable foundation "as a mouthpiece to attack abuse victims."
The actor had said it was never his intention to blame the victim and promised that his "goal is to do better in all things related to gender equality."
But on Sunday, he had a different message for his critics: