A 17-year-old on an Aeromexico plane that crashed shortly after taking off in Mexico on Tuesday captured the terrifying experience on her cellphone, showing how quickly the plane went down and how people were able to escape before the aircraft burst into flames.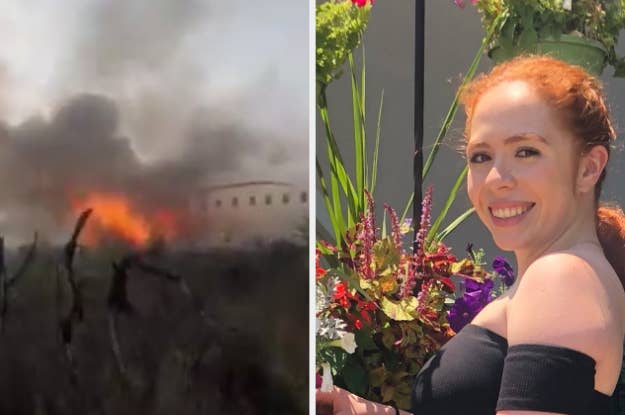 The passenger, Ashley Garcia, posted her footage on Twitter, writing "nothing can describe how I felt in that moment but I have no one to thank except God for giving me the opportunity to come out alive and well."
Garcia was among the 103 people, including four crew members, on the flight from Durango, Mexico, to Mexico City. Sitting near one of the plane's wings, she had been filming the rainy takeoff through the window when the camera suddenly lurches and seems to flip upside down as people scream and cry in the background.
She told BuzzFeed News Wednesday that the plane lifted off, and then, a few moments later, "it all happened all of a sudden."
"It happened all immediately in what felt like one moment," she said, describing the intense fear she felt as everything began shaking violently around her.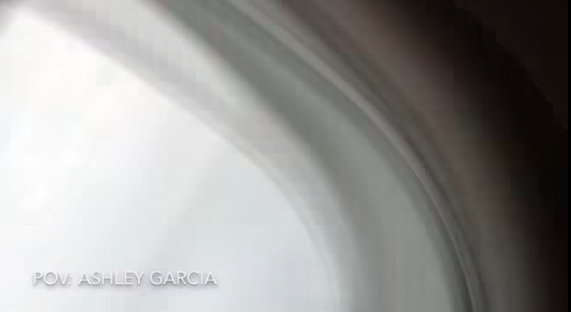 In the next part of her video, she is outside looking at the plane as smoke and orange flames billow from the sides.
"It was honestly so horrifying," she recalled of the evacuation. "I really didn't think I would make it because of all the smoke and there was so much going on, but as soon as I saw the light, I knew we would be OK."
The cause of the crash remains under investigation, but witnesses reported a strong burst of wind and heavy hail that appeared to come out of nowhere before the plane went down.
"You start gaining speed and as soon as you start taking off all of the sudden the plane starts struggling and it's getting hit with hail," another passenger, Alberto Herrera, told the Associated Press. "The higher up we went into the storm the heavier the hail got and more wind got to us."
Aeromexico cited the "prompt action of the crew and passengers" in using the emergency exits to get off the plane before it burst into flames as the reason no one died.
In her video, Garcia weeps, "Oh my god, oh my god," as other stunned passengers, clutching children and their belongings, walk through the brush and away from the crash site.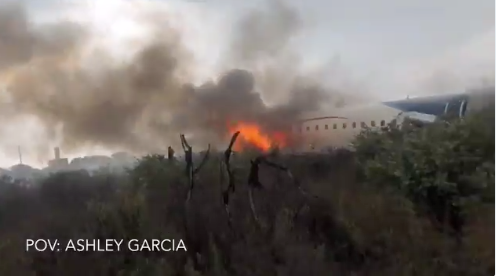 "I've never been so happy to be alive," Garcia tweeted hours after the plane went down.
Luckily, she said she sustained only some minor back and neck injuries, as well as some scratches and bruises.
Some of the other survivors sustained burns, but Wednesday morning, Aeromexico tweeted that 64 people had been discharged from local hospitals. The pilot, who suffered a neck injury, remained hospitalized.