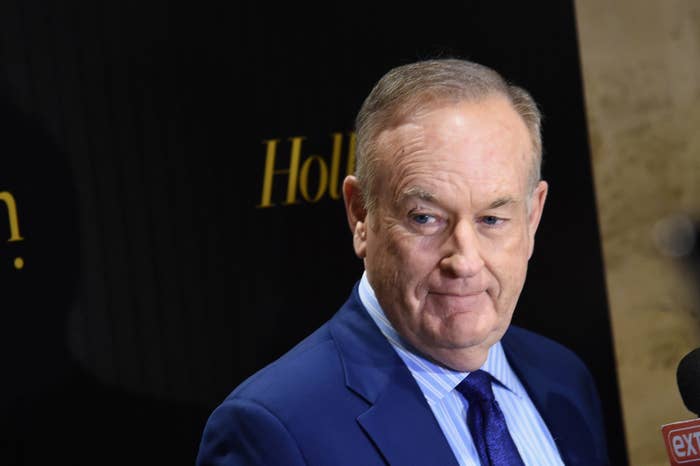 The sudden wave of advertisers abandoning Bill O'Reilly's show this week has stunned media experts, sparking a broad debate over how — and if — the Fox News star can survive the sexual harassment scandal plaguing his program.
In the days since the New York Times reported that five women received about $13 million to settle allegations against the 67-year-old host, nearly 50 advertisers have yanked their commercials from the O'Reilly Factor. Automakers Mercedes-Benz and Hyundai led the charge, stating Monday that they did not want their brands associated with O'Reilly; a slew of others quickly followed suit, including brands like Advil, Coldwell Banker, H&R Block, and BMW.
And the backlash seemed to be growing, with more than 25 companies announcing Wednesday that they would no longer run ads on O'Reilly's program. Out of the 107 companies and organizations that have recently advertised on the program, nearly half have now said they will no longer do so.
"This is a pretty massive amount in a short period of time," said Crowdtap CEO Matt Britton, whose firm tracks and analyzes digital and media trends. "Once you have this many categories of brands pulling out, it becomes much harder to fill their slots because brands are afraid of becoming targets."

More surprising, Britton noted, is that companies seem to be making the decision to leave of their own volition, rather than as a result of an activist-led boycott campaign.
Defections could continue to swell as consumers pressure Fox to pull the star off the air, he said, noting that companies that continue advertising on the show could risk being perceived as overtly political or indifferent to women's rights.

"Advertisers would be seen as having to have a reason beyond financial gain to continue to stay if everyone else is backing out," Britton said. And since most companies that advertise on O'Reilly are targeting a broad audience of consumers, he added, brand executives might find it easier to take a stand.
"This is not like the NFL, which was untouched by its domestic violence controversy because advertisers couldn't afford to walk away," Britton said. "Here they can, and the conflict is more polarizing given the political climate."
Still, other media types argue that, despite the allegations, O'Reilly will be too valuable for Fox to dismiss. His primetime show generated more than $118 million in the first nine months of 2016, according to CNN, and has been the top-rated program on the cable news network for the past 16 years.
On Wednesday, President Donald Trump defended O'Reilly, calling the conservative host a "good person" and insisting that he didn't do anything wrong.
"Personally I think he shouldn't have settled," Trump said in an interview with the New York Times. "Because you should have taken it all the way. I don't think Bill did anything wrong."
Advertising boycotts have succeeded in the past, said Rashad Robinson, executive director of the liberal advocacy group Color of Change, noting that Fox was forced to dump former host Glenn Beck in 2011 after some 200 companies refused to advertise on his show.
"This is a lot of momentum and the key is to pressure the money," said Robinson, whose group has been working to get O'Reilly off the air for years. "There have been moments when someone seemingly untouchable has lost their job."
Moreover, many of the companies that ditched O'Reilly this week issued strongly worded statements that seemed to signal the break is permanent, Robinson said, though he expects some brands will return after the media frenzy has blown over.

It remains to be seen, however, how much this boycott will actually hurt Fox, as many of the pulled ads will just be redistributed to other shows. Companies like Mercedes-Benz, Sanofi, unTUCKit, and Wayfair told BuzzFeed News they would place their commercials on other Fox programs, likely blunting any effects to the network's overall revenue.
"O'Reilly doesn't attract unique advertisers, he attracts viewers so cable systems will continue to pay a lot of money for Fox News," said Jay Rosen, a media critic and journalism professor at New York University. "The decline of 40-something advertisers doesn't change cable systems not wanting Fox."
While an ad boycott draws public attention and threatens profitability, Rosen added, it is likely not enough to make Fox ditch its most popular show and risk a backlash among its loyal fan base.

"Fox's audience is already built on resisting feminism and complaints and campaigns," he said. "Fox's journalism is often reckless so its hosts can be too."
For now, at least, Fox seems to be staunchly in O'Reilly's corner. The network has hardly addressed the boycott against its top-earner, issuing a single, curt statement Tuesday to say it was working with its partners and that ad buys had been "re-expressed into other FNC programs."
O'Reilly, who has denied the allegations against him, has been completely silent on the issue, hosting his show as if the controversy swirling around never happened.

Moreover, theWall Street Journal reported this week that O'Reilly's contract was recently renewed, even after learning of new allegations against the host. The new agreement extends through 2020, according to the Washington Post, which would make booting O'Reilly particularly expensive for Fox.
"The bottom line is Fox doesn't care and that comes from the top," Rosen said. "It will come down to a culture war and whether they choose to fight it."