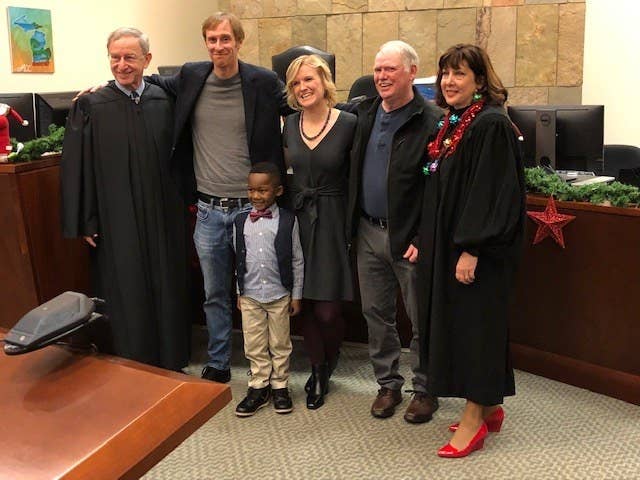 Michael Clark Jr. is a rambunctious, gregarious 5-year-old who makes friends with almost everyone, which is why it's really no surprise that his entire kindergarten class came to his adoption ceremony on Thursday.
Dressed in a blue vest, red bowtie, and leather high-tops, the kindergartener smiled next to his new mom and dad as a Michigan judge made his family official.
Behind him, about 20 of his classmates looked on, absorbing the process and cheering and waving pink construction hearts when Michael helped bang the gavel.
"He was really excited they were there," David Eaton, Michael's new father, told BuzzFeed News. "He views his classmates as his extended family so it was a highlight for him. He was definitely having fun there."
A few years ago, Eaton and his wife, Andrea Melvin, decided they wanted to become foster parents and hopefully, eventually adopt. They went through the state's rigorous licensing process, took 36 hours of classes, and waited.
Then, last August, Melvin got a call about a little boy who was in need of "immediate placement."
"I was at a conference when my wife got the call and we felt it was the right move," Eaton said. "[She] picked him up an hour later."
When the 40-year-old got home from the trip, Michael was there. "It was pretty clear right off the bat that he was a really special kid," his father said.
The kindergartener, who had been in and out of the foster care system, has boundless energy. He loves sports, is constantly zipping around, and talks to almost everyone, his dad said. When they enrolled him at Wealthy Elementary School in East Grand Rapids, Eaton said, "the school embraced him as one of their own."
So when the couple decided they wanted to formally adopt Michael, his teacher, Kerry McKee, figured the whole class should be there, too.
McKee said the idea had been baking for some time after she first saw Michael on her class roster and learned that Eaton and Melvin were first-time parents. When they began considering legally making Michael their own, she said the other parents became an invaluable support system.
"We have a theme at our school, 'Put a Little Love in Your Heart,' you know that song by Annie Lennox?" she said. "I always tell my students that you rise when you lift others, and that's what we did with Michael."
On Halloween, Melvin told McKee that they finally had a date for the adoption: Dec. 5.
"That's when I came up with the idea that what if we, the whole class, went to the court with them," the teacher said. "So I asked the principal and she said, 'I can't think of a reason why not.'"
The major hurdle, however, was getting 18 young children to a courthouse downtown. "We couldn't afford a bus so I emailed the parents asking if six or seven could take off work to drive the kids to the court house," she said. "The next morning 14 out of 23 offered to skip work and come."
Then, one parent asked her how much it would cost to hire a bus for the trip, sparking what McKee said was a "domino effect" of "magic."
"I called our bus garage and she said that I hadn't asked for permission in time, you need two weeks to process a request," McKee said. "Then the driver there asked what it was for and I told her and she said you can have the bus and I'll drive for free."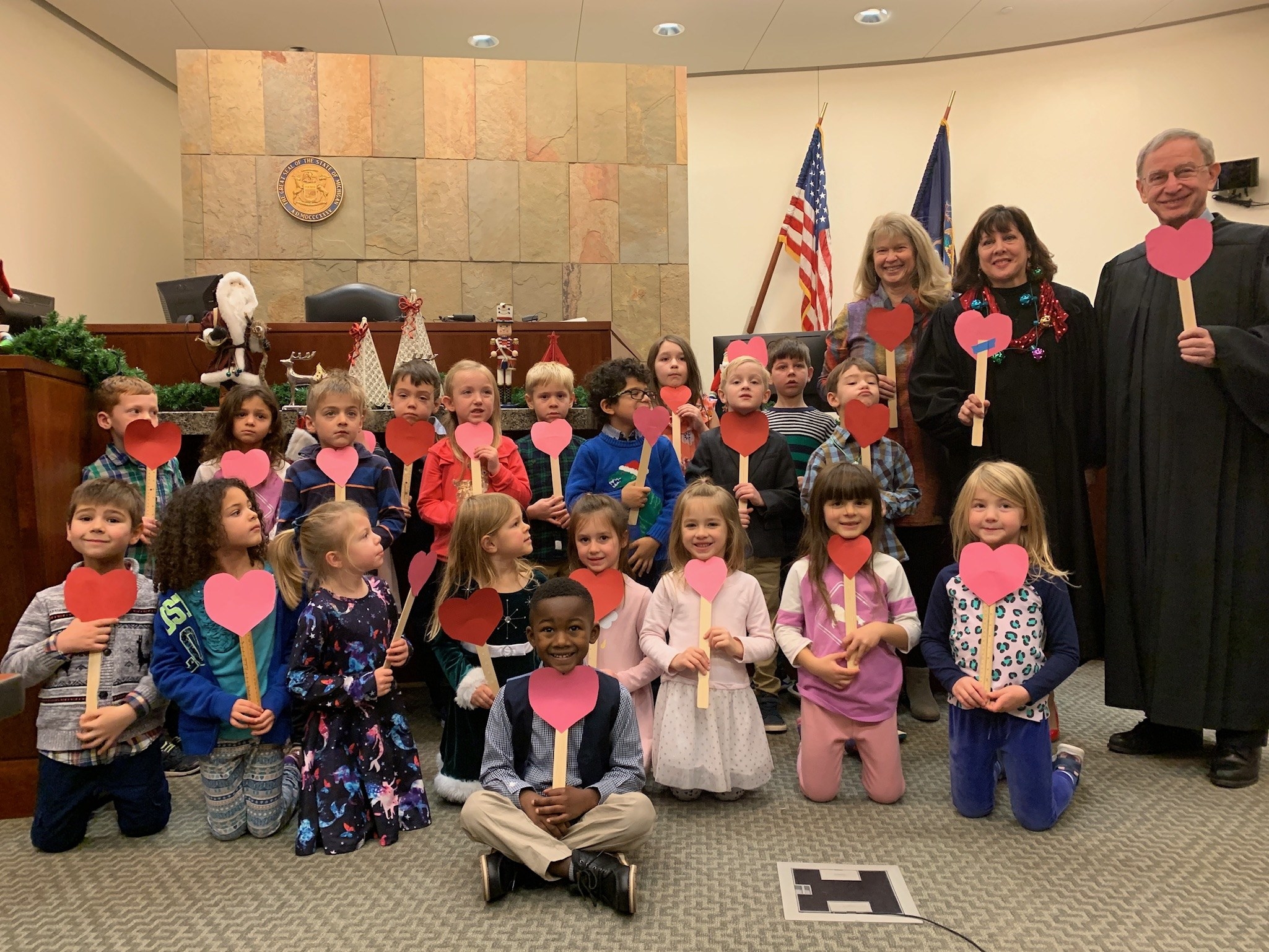 So for the first time in their lives, the group of kindergarteners boarded a school bus alongside14 adults, including teachers, secretaries, administrators, and parents and got dropped off right in front of the court house.
The judge, who started crying during Michael's ceremony, and court officials knew they were coming and ensured they had a whole section reserved, their teacher said.
The family of one student, Michael's best friend in class, even delayed their long-planned trip to Florida to ensure "their son could be in the court room for his best friend," McKee said.
"We had them pick what color heart they wanted to bring and put them on rulers because, 'love rules,'" she laughed. "I'm corny like that. But I am riding this love wave with such passion because I feel so honored and blessed that anyone, even you, is interested in what we did in little old Grand Rapids Michigan."
It's the first time in county history that a whole squad of kindergartners showed up to an adoption hearing, Holly Hernandez, an adoption caseworker with the 17th circuit court, told BuzzFeed News.
Kent County shared the moment on Facebook, posting a photo of Michael slouched in a chair next to Eaton and Melvin with his classmates and teachers watching attentively behind him.
"Michael brought his entire kindergarten class with him today to witness his adoption," the caption says.
The picture blew up, racking in tens of thousands of likes, comments, and shares from users who couldn't handle how "sweet" and "adorable" it was, often zooming in on the "tiny faces" peeking over the wood panel.
People also got emotional, writing about how this post made them cry and sharing their own adoption stories and how that experience has changed their lives.
"Me and my adopted mother," a woman commented with a photo of the two of them. "She adopted me and my biological sister and my big brother (not biological but still my brother) all by herself. She is the most amazing person."
"This warms my heart because I know what it feels like being in that court room as a kid being adopted," Jamie Wingate wrote. "God bless Michael and his new family."

"We adopted two. What a wonderful day with so many great people around you. Happy Adoption Day. This story made me cry tears of joy," Kathy Middleton said.

Usually, adoptions are kept private and confidential. But on Thursday, Michael and 35 other kids, all in foster care, were able to share their experiences as part of the county's annual campaign to raise awareness on the number of children who need permanent homes.
"We told him that this will be his home forever and that you no longer have to go anywhere else or be taken somewhere else," Eaton said. "He's talked to me about that. It's something that scares him, that he can be moved somewhere again."

You don't realize how much permanency and stability mean to a kid, Eaton said.