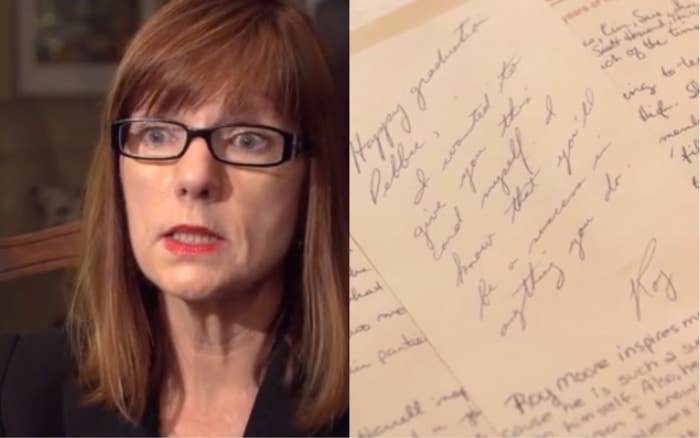 A woman who says she dated Alabama Senate candidate Roy Moore when she was 17 years old says she found evidence from when she was in high school that contradicts the Republican's recent claims that he never knew or dated several women when they were teenagers.
Debbie Wesson Gibson, who previously stated that Moore pursued her for two months and they dated consensually before she left for college, told the Washington Post on Monday she was shocked to hear the former judge declare that he did not know her. After Moore emphatically denied all allegations during a speech last week at an Alabama church, Gibson decided to share a graduation card he gave her, as well as her notes detailing his presence at her commencement, the time he spoke at her high school civics class, and their "great" first date.
"Happy graduation Debbie," read the card written in cursive handwriting. "I wanted to give you this card myself. I know that you'll be a success in anything you do. Roy."

Gibson said the inscription was written by Moore.

"I am very sad that he has decided to say he doesn't know me," the 54-year-old told the newspaper from her home in Florida. "This was the first thing that I've seen that I know personally for a fact to be a lie from his mouth and he is spewing the lie from the pulpit of a church. He did not perpetrate sexual misconduct with me or have I ever claimed that, but I now know for sure he is a liar."
As the contentious Dec. 12 special election approaches, Moore has stepped up his defense against claims that he pursued and sexually harassed nine women, five of whom say they were teenagers at the time. Leigh Corfman said Moore undressed and touched her inappropriately when she was 14 years old, and Beverly Young Nelson accused Moore of sexually assaulting her when she was 16. During an emotional press conference last month, Nelson displayed a note in her yearbook she said was from Moore.
"I saw the interview from Beverly and I saw his handwriting in her yearbook and my heart just sank," Gibson told the Post. "And when I saw what I knew to be Roy Moore's handwriting, I just began to sob openly."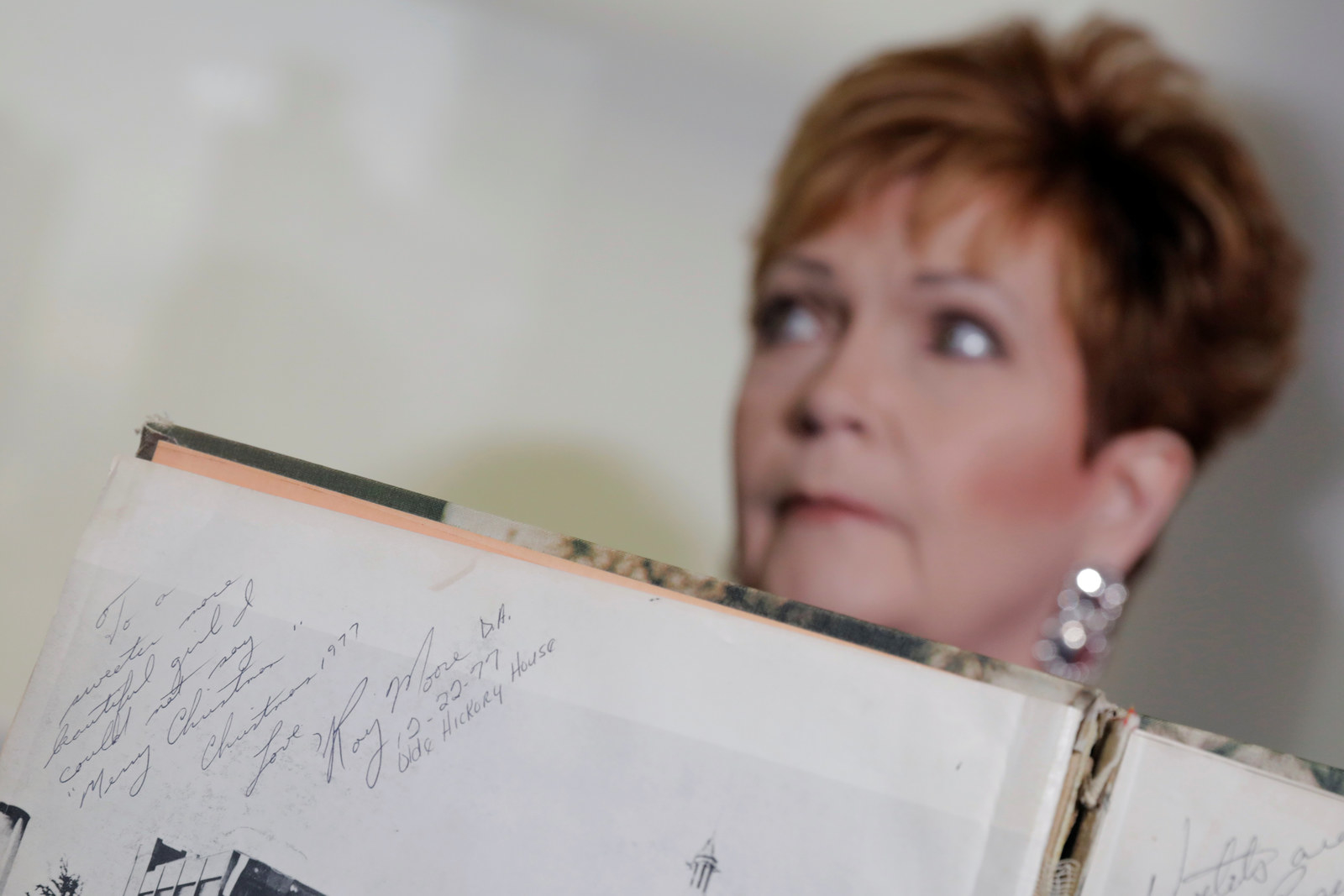 At two recent campaign events, Moore flatly denied ever knowing or dating "any of these women," backtracking statements that he made last month to Sean Hannity. In a radio interview, Moore told the conservative talk show host that he remembered Gibson and Gloria Thacker Deason, who told the Post that she dated Moore when she was 18. Moore called Gibson a "good girl," but insisted he had never dated the women.
"I know her, but I don't remember going on dates with her. I knew her as a friend. If we did go on dates, then we did," Moore said, though he noted he did not remember speaking to her civics class, which Gibson said is how they met.
But a few weeks later, Moore described the allegations as a conspiracy concocted by liberals, the LGBT community, and socialists to tarnish his campaign and again contended he had no idea where any of this was coming from.
"Let me state once again: I do not know any of these women, did not date any of these women, and have not engaged in any sexual misconduct with anyone," he told a south Alabama church.
Moore's campaign pushed back on the Post's report Monday in a statement to BuzzFeed News, claiming that the paper was "reaching" and that Moore was not referring to Wesson when he made those statements.
"Roy Moore already said he knew Debbie Wesson and her family but did not recall any formal dates. Furthermore, when he stated that he did not know any of the women, he was referring to those who accused him of sexual assault," said Hannah Ford, a spokeswoman for the campaign. "We will also point out that the Washington Post lied about saying that none of the women featured in their first story were supporting Moore's opponent. Debbie Wesson is a Democrat operative, volunteer, and donor who is supporting Moore's opponent, Doug Jones. The Post is trying to write yet another story to distract from Doug Jones' extremist liberal record."
Debbie Wesson Gibson, however, is a registered Republican who now lives in Delray Beach, Florida.

The Post's report comes just hours after President Trump endorsed Moore, tweeting that Republicans "need" Moore to win in order to get his vote on issues including the border wall, military, and abortion. Trump had previously defended Moore, telling reporters that the Republican Senate candidate "says it didn't happen. You have to listen to him, also."
At first, Gibson said she was hesitant to share the scrapbook due to the volume of threatening hate mail she has been receiving. But after hearing Moore speak on Nov. 29, she told the Post she changed her mind.
"In that moment, it changed my perspective," she said. "I knew he was a liar."