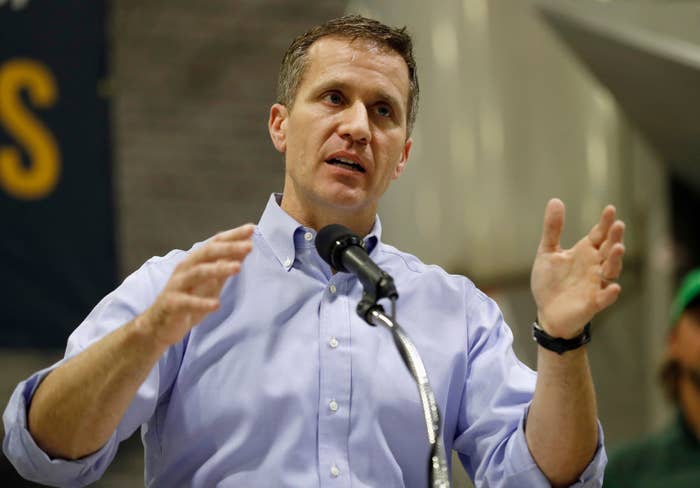 A woman alleges Missouri Gov. Eric Greitens forced her into a nonconsensual sexual encounter on his basement floor as she wept uncontrollably with her hands bound and eyes blindfolded, according to a graphic report released Wednesday by the state House investigative committee.

The Republican governor was arrested in February and charged with taking nude photographs of the woman without her consent during an extramarital affair in 2015. Since then, a bipartisan group of lawmakers in the House has concluded that the testimony of the woman — Greitens' former hairstylist, who has not been officially identified — is credible.
The woman testified that she and the governor had sexual encounters over the course of a few months. While some were consensual, she told investigators that others were not and that on several occasions Greitens became violent.
Greitens, 44, admitted to the affair but has denied all allegations of abuse and blackmail. According to the committee, made up of five Republicans and two Democrats, Greitens declined to testify or respond to requests for documents and sworn answers to inquiries.
The report details how the relationship allegedly progressed after Greitens, a Republican, became one of her regular clients and she developed a crush on the married governor. She was also married at the time.
The committee made no recommendation for what action should be taken, saying it would be inappropriate to do so given that the hearings were closed. But calls for Greitens resignation — which the governor has so far resisted — mounted following the report's release.
In a press conference shortly before the report was made public, Greitens was defiant, describing the committee's investigation as "a political witch hunt."
"This is exactly like what's happening with the witch hunts in Washington, DC," he said. He added that he expects to be proven innocent at his trial in May.
However, Missouri's Republican House Speaker Todd Richardson dismissed the idea that the investigation was driven by partisanship, saying the committee had "no political agenda" and that the invitation for Greitens to testify "remains open."
Meanwhile, Missouri elected officials from both parties — including the state's Republican attorney general — have called on the governor to resign.
"The House Investigative Committee's Report contains shocking, substantial, and corroborated evidence of wrongdoing by Governor Greitens," Attorney General Josh Hawley, who is running for US Senate, said in a statement Wednesday. "The conduct the Report details is certainly impeachable, in my judgment, and the House is well within its rights to proceed on that front. But the people of Missouri should not be put through that ordeal. Governor Greitens should resign immediately."
Hawley's Democratic opponent, incumbent Senator Claire McCaskill, voiced her disgust with Greitens' conduct, tweeting "I can't get my head around a man's character that would put his wife and children through this kind of pain," she tweeted.
Other Missouri Republicans joined the calls for Greitens' resignation following the report's release.
"Violence against women is always wrong. Dishonesty and betrayal are always wrong." Republican state Rep. Jean Evans tweeted, echoing other statements from members of the Missouri General Assembly. "I am deeply disturbed by the revelations today and urge Gov Eric Greitens to do what is in the best interest of the people of Missouri and resign."
The widespread condemnation of Greitens — considered a rising star in the GOP after his election as governor in 2016 — is perhaps unsurprising, given the damning allegations outlined in Wednesday's report, with the woman interviewed describing Greitens' behavior as predatory, often exhibiting manipulative, controlling, forceful, and "scary."
During an encounter in March 2015, the woman said, Greitens invited her over to his home while his wife was out of town and asked her if she had exercised that day, according to the report. The governor had prepared clothes for her to change into, she told lawmakers, and then said he was going to show her "how to do a proper pull-up."

He then allegedly brought her down to his basement, where he taped her hands to pull-up rings and then blindfolded her, much to her shock and confusion. Then, she said, he spit water into her mouth.
"I just spit it out. He does it and he's like, 'You're not going to be a bad girl, are you?' Tries to do it again, to which I just let it dribble out, because I didn't even want to kiss him," she testified.
After allegedly ripping off her clothes, the woman said Greitens took photos of her with his cell phone and threatened her to stay silent, otherwise he would "take these pictures, and I'm going to put them everywhere I can. They are going to be everywhere, and then everyone will know what a little whore you are," she testified.
The woman told investigators that she felt fearful and told Greitens, "I don't want this," after which he then helped remove her from the tape and calm her down.
After trying to leave, she said he grabbed her in a "bear hug," laid her on the basement floor, began to fondle her, and then put his penis in her face and forced her to give him oral sex as she was "bawling [her] eyes out," according to the committee report. When pressed by lawmakers, the woman said she felt like she could not leave the house without performing the act, as if she "had no other choice."
She told lawmakers that the assault followed another incident earlier that same month, in which Greitens moved his hand all the way up her leg "to her crotch" without her consent while she was cutting his hair.

They then had consensual sex in May of 2015, she said. A month later, she said Greitens paused while they were kissing and asked her if she had "slept" with anyone since they had started being intimate. When she admitted to having had sex with husband, she said Greitens slapped her across the face "hard."
During another encounter, she alleged that "out of nowhere" Greitens "smacked me and grabbed me and shoved me down on the ground," causing her to start bawling.
After a friend tipped off Greitens' wife to the affair, the hairstylist testified that she told him she wanted to end their relationship.
When asked why she continued to see the governor after the incident in his basement, she said she had mulled over the question many times. In the end, she explained, she didn't want him to see her "as just a whore."
"I wanted to think that he actually really liked me and wanted to have a relationship with me of sorts," she went on, adding that, at the time, she was also going through a painful separation with her husband.