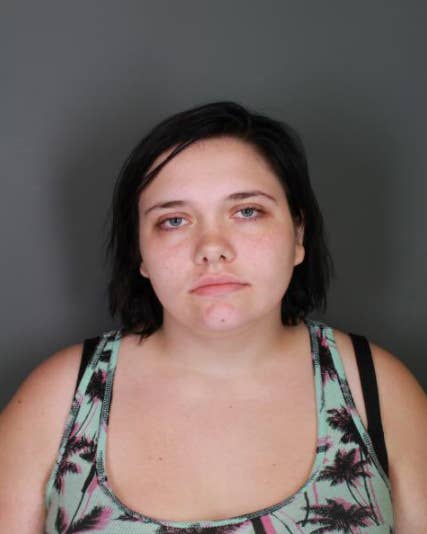 An 8-month-old baby that was left outside stuffed in a plastic trash bag for more than three days has been released from the hospital and placed in foster care, authorities said.
Seventeen-year-old Harriette Hoyt was charged last week with attempted murder after she allegedly wrapped her baby girl in a white trash bag and abandoned her outside a home in upstate New York on the afternoon of August 5, the Elmira Police Department said in a statement.

The baby, who had rashes over parts of her body, has now left the hospital and is now in foster care, Sgt. William Solt said on Wednesday.
Two sisters sitting on their porch last Tuesday afternoon initially thought they heard an animal rustling around behind their neighbor's house and went to investigate the "suspicious noise."
"I ran up and I saw the little legs dangling out of the bag," Kayla Seals told WETM. "So I said, 'You guys, it's a baby.'"
Seals said she then tore open the white trash bag and saw an 8-month-old baby girl, whose head was toward the bottom of the bag. She was barely breathing, covered in waste, and her eyes were closed, the woman said.
In shock, Seals immediately took the baby inside to clean her off and give her some water.
"She wasn't breathing, but she opened her mouth for me and I dropped some water in there and she started gasping for air after I did that. Her eyes weren't opening so I cleaned her eyes, so eyes would open up to me and I just spoke to her 'C'mon baby, c'mon baby, c'mon sweetness,'" Seals told the station.
The baby was declared in stable condition at the hospital, which Elmira Police Sgt. Bill Solt deemed a "miracle" after she spent about 72 hours wrapped in plastic in the heat of August."
"She's doing a lot better but they are still monitoring her," Elmira police officer Tom Marsh told BuzzFeed News last Thursday.
The baby's mother, Harriette Hoyt, has been charged with attempted murder and is being held at Chemung County Jail in lieu of $250,000 bail, according to the district attorney's office.

The 17-year-old, from Sayre, Pennsylvania, is being charged as an adult, but is eligible for youthful offender status, Solt said. She agreed to waive a preliminary hearing in exchange for a reduced bail.
If convicted of the felony attempted murder charge as an adult, Hoyt could be sentenced to up to 25 years in prison.
"What that little girl went through is wrong," Kayla Seals' sister, Karen Seals, told WETM. "That little girl don't deserve that. Everybody in this town is just praying for her."