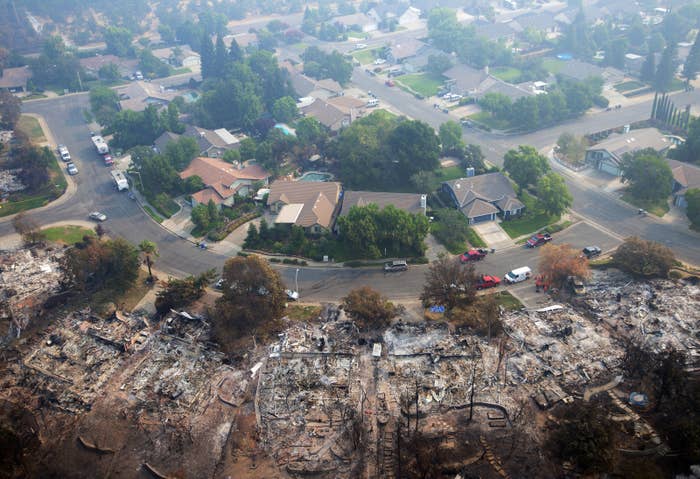 Listening to the powerful winds rattle the dry trees looming above her rural Northern California home Sunday night, Christine Comaduran-Silva was relieved that she, her neighbors, and thousands of other residents were without power as the autumn night wore on.

The 40-year-old couldn't stop thinking about her uncle, 10 friends, and the dozens of others who lost their houses and loved ones in her hometown of Santa Rosa last October, when a spate of devastating blazes ravaged the region, killing 44 people, destroying thousands of homes, and setting a new, terrifying precedent for extreme fire behavior.

The farmer, who now lives with her son and husband in the small town of Pleasant Valley, at the base of the Sierra Nevada, is one of about 60,000 Pacific Gas and Electric customers across California who were taken offline in an unprecedented precautionary measure to prevent wildfires that have devastated California communities.
"This caught a lot of people off guard and put life up here on pause," Comaduran-Silva told BuzzFeed News while sitting in her truck, charging her cellphone. "People weren't able to go to work. Stores were closed and schools were closed. The town was pretty dead."
Before the strong, extremely dry winds that fan across the drought-stricken state every fall, kicked up Sunday, PG&E warned residents of the impending outages and the possibility they could be without power for a day or more. The utility said late Monday night that it hoped to restore power to about 42,000 people by Tuesday morning.
In Southern California where the Santa Ana winds were blowing, SoCal Edison announced it was preparing to shutter power in several counties, including parts of Los Angeles and Orange County, out of fear the racing winds would knock trees into lines or fuel flames.
The move, impressive in its scale, highlights a new reality for Californians who live in a state that has endured an unrelenting, deadly, and costly, fire season that continues to break records and exhaust the state's budget and overtaxed firefighters.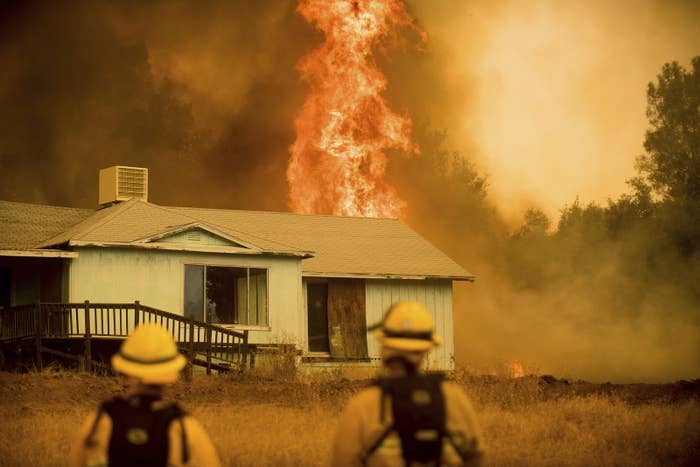 "This is a new paradigm for the state," said Craig Clements, the director of San Jose State University's Fire Weather Research Laboratory, who applauded PG&E's decision. "This is the way it is going to be going forward and Californians need to be ready for this."

Though climate change and extreme drought have contributed to the strength of California's wildfires in recent years, Cal Fire investigators have found that power lines and equipment belonging to PG&E sparked at least 16 of the deadly blazes that erupted across Northern California last October, costing the company billions in lawsuits and damage claims.

Infuriated residents and businesses have filed about 200 lawsuits, representing about 2,700 plaintiffs, against PG&E in an attempt to hold the utility accountable. The company was facing about $17 billion in potential liabilities, spurring Gov. Jerry Brown to pass a complex law last month that would, in part, save the company from bankruptcy by using a state-sponsored bond to help pay for the suits.

"Maybe if PG&E actually managed their infrastructure properly we would have never gotten to this point," said Derrick Alvestal, a Cal Fire firefighter whose family lost their home in Santa Rosa's Coffey Park neighborhood last year.

The utility company has since ramped up its fire prevention efforts, erecting a 24/7 center to monitor threats, widening its vegetation management regulations from four to 15 feet around poles, and installing 100 weather stations since January in high-risk areas to better predict fires.
Regularly and preemptively shutting down power in communities threatened by elevated fire conditions is also a part of the company's prevention strategy moving forward.
"Whenever we see humidity dip below 20%, sustained winds hit 25 mph, and gusts exceed 45 mph in dry areas, we will take this type of extreme action," Melissa Subbotin, a PG&E spokesperson, told BuzzFeed News. "With climate change upon us creating a new normal and the threat of these wildfires so strong, it is very likely we will keep doing this."
The utility hopes to give customers about 48 hours notice before pulling the plug on them, but that might not always be possible. Subbotin emphasized the action would only be used as a "last resort," but added, "this is our new normal."

The dry, windy conditions at the center of the decision are no longer rare, experts said, and California residents may continue to have their power intermittently shut off during California's effectively year-round fire season.

"This is a bold switch to flip and it's interesting that a private entity is making these unilateral decisions and are determining what these thresholds are," said Daniel Swain, a climate scientist at the University of California, Los Angeles. "It's showing that we have no choice but to think and do things differently to prepare for extreme wildfires. The way we have managed these risks in the past isn't going to cut it."
In the 48 hours before her power was turned off, Comaduran-Silva said she received a dozen calls, texts, and emails from PG&E, prompting her to stock up on gas for a generator, propane, food, ice, batteries, and other supplies.
"It's a big hassle, but I can see why they shut it off," she said. "The winds were hardcore. I would rather do this than lose my home like my friends and family did."
All told, her family spent more preparing for the shutdown than they do on a typical month's utility bill.

"We spent about $400 in a day for all that stuff," she tallied. "And I am sure we will have to pay our PG&E bill too. I work hard on my property but this is going to make things tight. That's money we need to spend on horse grain so that really threw us."
Restaurant owners, wineries, and other residents also lamented the high cost of living without power for an unspecified amount of time, especially those who don't have generators.
On Monday, one business owner told the Associated Press how he was scrambling to find generators to save $8,000 worth of ice cream at his creamery near Sacramento. A frustrated chef in Calistoga, a town in California's Napa Valley, estimated to ABC7 that he would lose $20,000 in meat and produce if the power wasn't turned back on soon.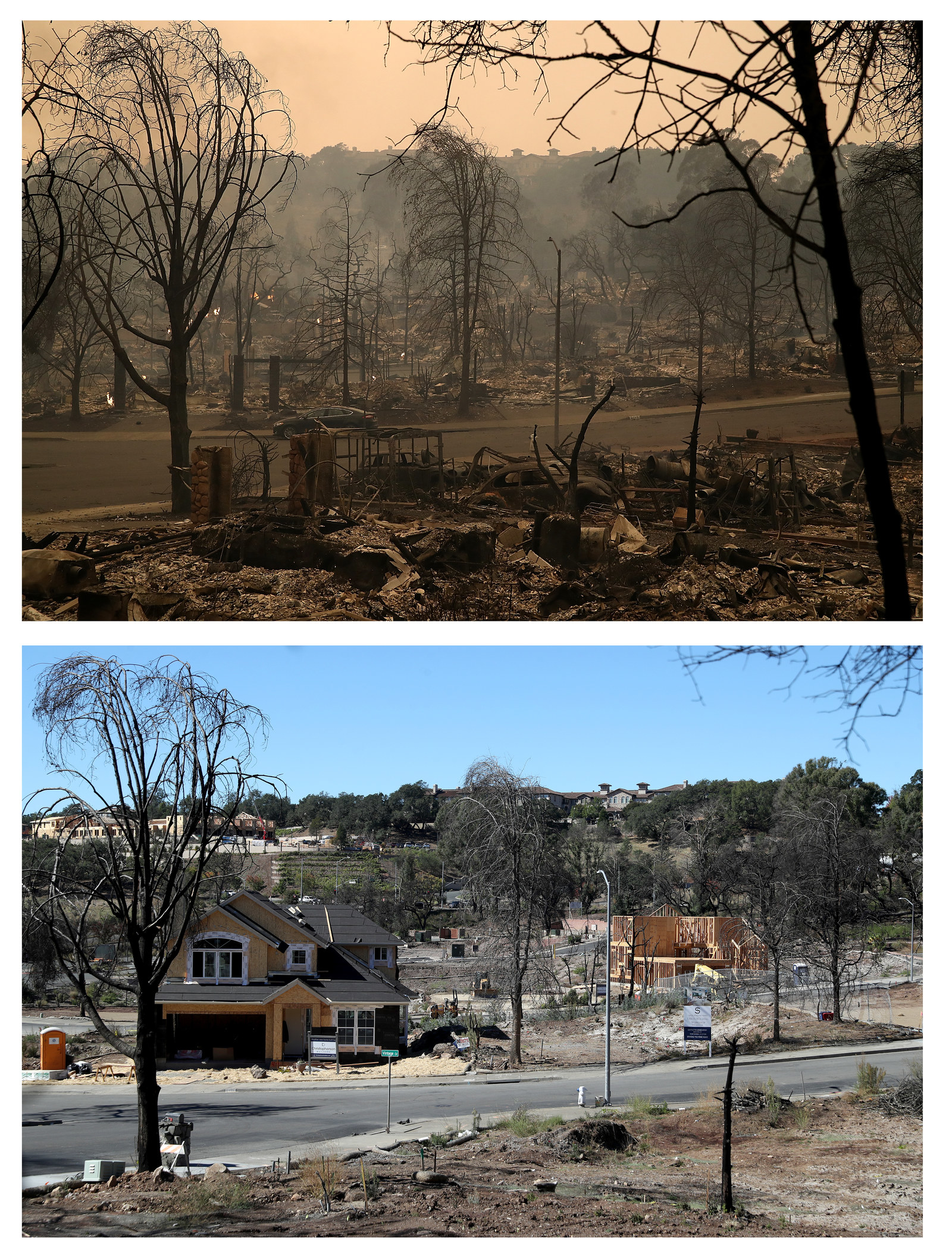 But several Sonoma County residents, still rebuilding after the deadliest firestorm in state history tore through Santa Rosa and surrounding communities, applauded the utility's preemptive action even as they worried it would merely act as a "Band-Aid" for a complicated and expensive problem facing the state.
"You can't just cut power off whenever we have wind and 25% humidity," said Lucia Cascio. "People might need power to stay alive. People have life-sustaining machines in their homes."
Others, like Jessica Tunis, whose mother never made it out of her mobile home after flames ripped through a Santa Rosa retirement community, questioned why utilities didn't take such precautionary measures last fall.

"PG&E should do anything and everything to prevent more fires," Tunis said. "If people don't like having their power turned off as a precaution, that's just too damn bad."