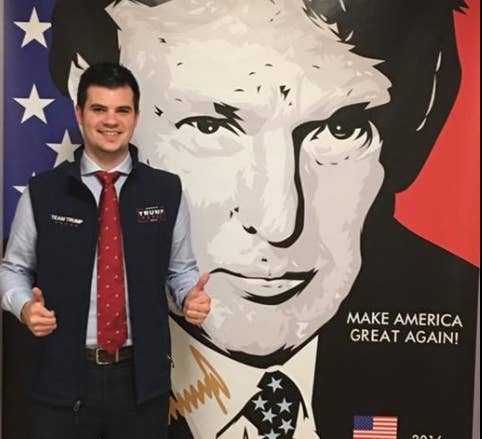 A 24-year-old who somehow landed a senior role in the White House's drug policy office will resign at the end of the month after the Washington Post reported that he had basically no experience and had fudged his resume.
Soon after graduating from St. John's University in May 2016, Taylor Weyeneth rapidly rose through the ranks of the Office of National Drug Control Policy, which is responsible for coordinating anti-drug initiatives at a slew of federal agencies, including the Trump administration's new efforts to combat the US opioid epidemic.
In March, Weyeneth became the White House liaison to the drug office and adviser to the office's top official. Then in July, amid persistent staffing problems and departures, the then-23-year old was promoted to deputy chief of staff, according to his LinkedIn profile. At the time, Weyeneth's only other work experience after college was a stint working on Donald Trump's presidential campaign.
Deputy White House press secretary Raj Shah confirmed Weyeneth's resignation Wednesday night, telling BuzzFeed News that "Mr. Weyeneth has decided to depart ONDCP at the end of the month."

Last week, the Washington Post reported that Weyeneth gave the federal government three resumes with contradicting dates for various jobs. His alleged employment also included work at a New York law firm that told the paper Weyeneth had been fired because he "just didn't show" up for work.

On all three resumes, the 24-year-old stated that he had graduated from Fordham University with a master's degree. But though the university confirmed Weyeneth was enrolled in a master's program, it told the Post he had never finished his coursework.
Following the Jan. 14 Washington Post report detailing Weyeneth's resume issues, the Office of National Drug Control Policy told the paper that the young employee would stay on at the agency, but return to his previous, lower-level role as White House liaison. Despite the demotion, though, he was one of just three drug policy office employees deemed essential during last weekend's government shutdown.