This Is How It Felt To Stay In The Cheapest Airbnbs In The Bay Area
What I learned sleeping in a tent, a boat, and a bunk bed, for way less than my actual rent.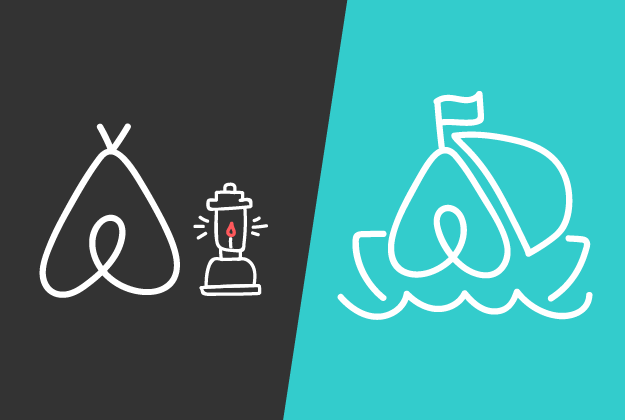 Airbnb is transforming the way we rent. In San Francisco alone, over 5,000 houses, apartments — and, in some cases, tents — have been turned into temporary hotels. It's an especially controversial entity in San Francisco, where housing prices are skyrocketing, and where critics of the booking company say some people are using the platform as an unregulated rental market, pushing longtime residents out of the area.
But while some Airbnb hosts are renting their houses out full time to wealthy vacationers and techies in town for the weekend, many aren't. It's still an open platform, which means anyone with space to spare can use it — not just those with exposed brick walls and hanging terrariums and sun-dappled white beds and couches with too many throw pillows. Anyone who's moved Airbnb's price slider all the way to the left, where prices hover around those of a burrito and a movie, knows that it's not all cool lofts with big windows in the Mission. We wanted to see what it was like to stay at the most inexpensive end of Airbnb — the kind of rentals that, if you stayed in them full time, might cost less than your rent.
Spoiler: I didn't stay anywhere with succulents, hanging from the ceiling or otherwise.
The Shared Apartment ($20)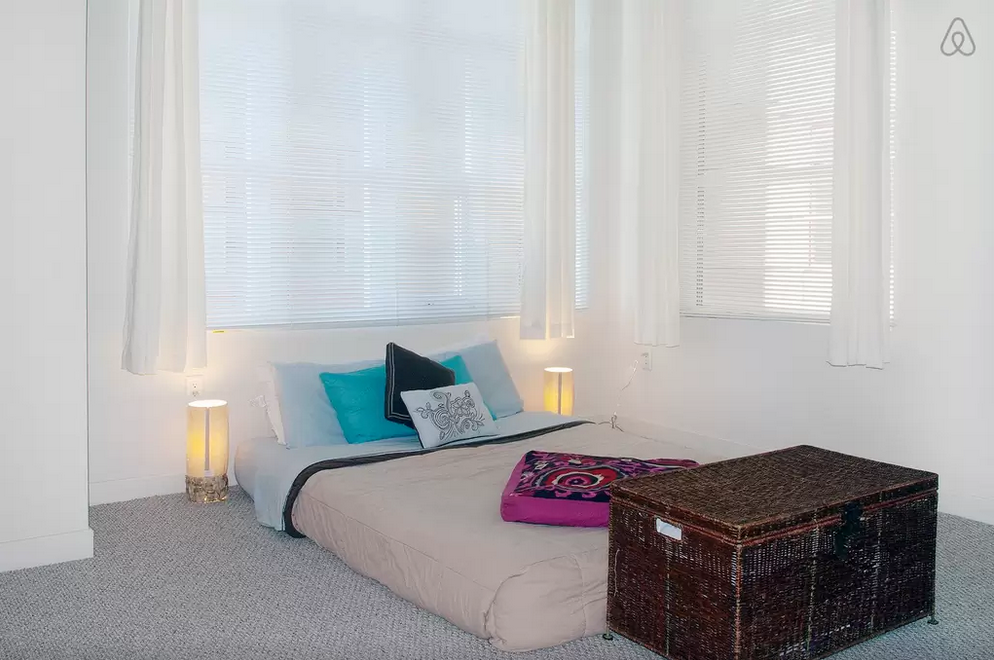 First up: crashing in someone else's shared space. This is the kind of arrangement that made Airbnb a hit; what it was best known for initially. But I feel like I'm intruding. This is clearly somebody's home. It smells noticeably unlike my apartment. Art and musical instruments line the walls, the fridge is stocked and covered in Post-its — brief thank-you notes from previous guests.
Three of us stay there in all: the owner of the apartment, myself, and a tourist from New Zealand. There's only one bedroom. The tourist sleeps on a mattress in a doorless room — more just a section of the apartment than anything else — with a screen cordoning it off. The host isn't there when I arrive, so I spend most of the evening trying to figure out if I should sleep in the bedroom or on the couch. I don't know yet whether the host will be staying there, and besides it feels too personal to sleep in someone else's bed. The guy from New Zealand has no idea.
This is one way to rent out your place on Airbnb — effectively living with other roommates, who cycle in and out day-to-day. It feels overly intimate, and is likely more than a little inconvenient, but seems to be a popular option. This host's Airbnb listing is solidly booked for the next few weeks, and she says that it's not hard to find people to stay — there's always demand for a one- or two- night stay in the Bay Area on the cheap, and the apartment is a quick walk to BART.
It's an even quicker walk, though, to the Amtrak station, which I quickly realize is why the listing is so cheap. The host has a store of earplugs for those who can't sleep through the noise. I'm a heavy sleeper, but I consider taking her up on the offer. It's not so bad when the horn isn't blowing — then it's just a low rumble, a little quieter than a construction site would be, although construction tends to start early and end well before anyone is going to sleep. But when the conductor decides to blow the horn it is shocking, both in volume and in duration — it never seems to just go off once; always, instead, in bursts, lasting minutes. It's impossible to predict which trains — they come, it seems, about 20 minutes apart — will blow the horn. While killing time waiting for someone to tell me whether to take the bed or the couch, I call a friend. She can't hear me when the trains are going by.
At about 9:30, after searching the apartment for clues as to where to sleep and becoming ambiently anxious about the whole situation (especially because this is my first-ever Airbnb booking) I text the host, "Do I sleep in the bedroom or on the couch?" wondering if it's a weird question to ask. "The bedroom," she replies after about 15 minutes, which I spent just sitting on the couch in the dark living room (I couldn't find the light switch and New Zealand had gone to sleep and I really didn't want to touch too many things). I took the bedroom, not really caring that the door didn't lock.
I write a Post-it when I leave, trying not to wake the host, who's asleep on the couch as I leave for work in the morning.
The Boat ($38)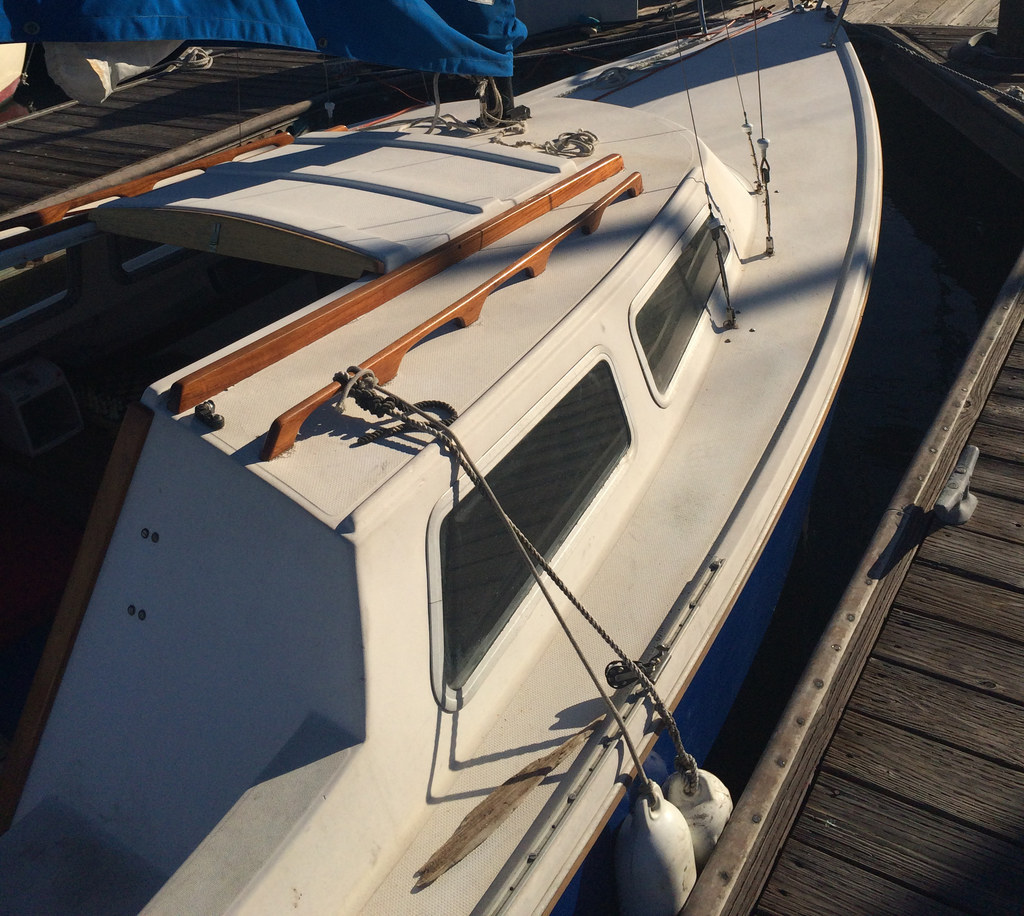 "Can you just say it's somewhere in the East Bay?"
I stay on a boat next. It is, in fact, somewhere in the East Bay — although I've promised to not reveal exactly where, because the marina the boat is docked at doesn't like Airbnb. The owner has been in trouble before. If anyone asks, I'm told to say that I'm going fishing with a friend early the next morning, and am staying on the boat to skip the commute and get sailing right at sunrise. I tell him I'm not there to get him in trouble, just to see what staying on a boat is like.
The boat itself is… nice? I don't know anything about boats. It's nice in a way I imagine all boats are nice: quiet, rocking, serene. It's a 22-foot sailboat. I can tell that it's a sailboat because it has sails, and I can tell the length because it's listed on the Airbnb page. If you are someone like me, who doesn't really know how big a 22-foot boat is, it turns out that's a pretty small boat. Inside, there is a small table and a bench. The bed is built into the slopey front part of the boat, where it starts to come out of the water, which means the bed itself is shaped like a triangle, with about a yard from mattress to ceiling. If I sleep on my side, my shoulder is about two inches away from molded plastic and metal.
Inside the boat are a fan, a blanket, and not much else. No bathroom — I have to leave the dock and go to a semi-public one, I learn, as my host shows me the plastic bags I should use "if there's an emergency." Electricity comes to the boat via a power strip, but I didn't think to bring a lamp. When the sun goes down I have no light, so I just go to sleep.
One thing that's different about boats, or at least this one, is that they don't have doors. Instead, I slide wooden slats together into the entrance to close off the cabin from the outside world. "Don't do that when you sleep, though," the owner warns me before he left, "You'll suffocate. You need to leave it open to get the air circulating."
Sure.
It isn't until I am almost asleep that I realize this will leave me completely exposed to the outside world. The marina itself is locked — you have to have a boat docked to get access to it, by way of a key fob. But still, when I wake up at about 1 a.m., I look at the opening a couple yards from my head. It's the only exit from the boat, and I'm stuck in a space so tight it'll take at least 10–15 seconds just to get out of bed. This is the most vulnerable I've ever been, I think to myself. That doesn't stop me from falling back to sleep quickly. The whole night, I dream about being at sea. People I haven't talked to since high school are sailing with me.
I'm not sure if it's the quiet of being out of the city, the gentle rocking of the boat, or the fact that I went to sleep as soon as it got dark, but I get a great night's sleep. I sleep for about ten and a half hours, and no one tries to get in my boat. This was my favorite place to stay.
The Hostel ($40)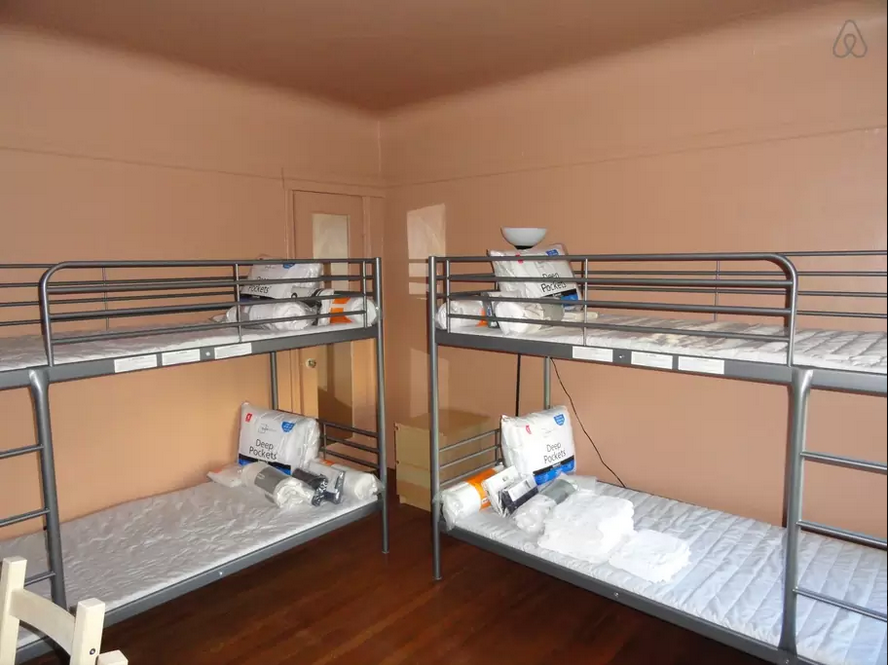 One thing you see if you spend enough time browsing the lowest-price listings on Airbnb.com is bunk beds. Lots of bunk beds. The cheapest ones are in San Jose, an hour and a half's drive down the peninsula from San Francisco, and are likely for techies working in the South Bay looking for some efficiency. They'll run you about $20 a night. But I want to confine my little experiment to the inner Bay Area, so I opt to stay in the cheapest bunk bed in the city of San Francisco proper I can find.
The house I stay in is split into two apartments — one for guests, and another for the Russian family that owns the building. Andrey, 20, acts as the landlord for the Airbnb listing while he prepares to start college, coordinating arrival times and key handoffs and bookings — of which there are about seven per night.
Of all the places I stay, this one feels the most like a smoothly handled operation, though it's a little strange to be staying in a home that's been dressed up as a hostel. In my room there are four bunk beds.
And, true to its sleeping arrangement, the place feels like a European-style hostel. I meet most of the people staying there and go out for drinks with Tobias, a wide-eyed 21-year-old dubstep producer from Switzerland. He's been traveling across America like this, meeting people as he goes, and seems extremely excited about absolutely everything. I like him.
Again, I'm a pretty heavy sleeper. I grew up with three siblings and some shared bedrooms. So, the hostel experience doesn't really feel too new to me. I take the top bunk closest to the door, sleep with my bag at the foot of my bed because I don't know where else to put it, and set my phone alarm on vibrate so as to not wake up my three new roommates. I fall asleep quickly, wake up before everyone else — I was the only one who had to work that morning — and leave as quietly as I can.
The Tent ($24)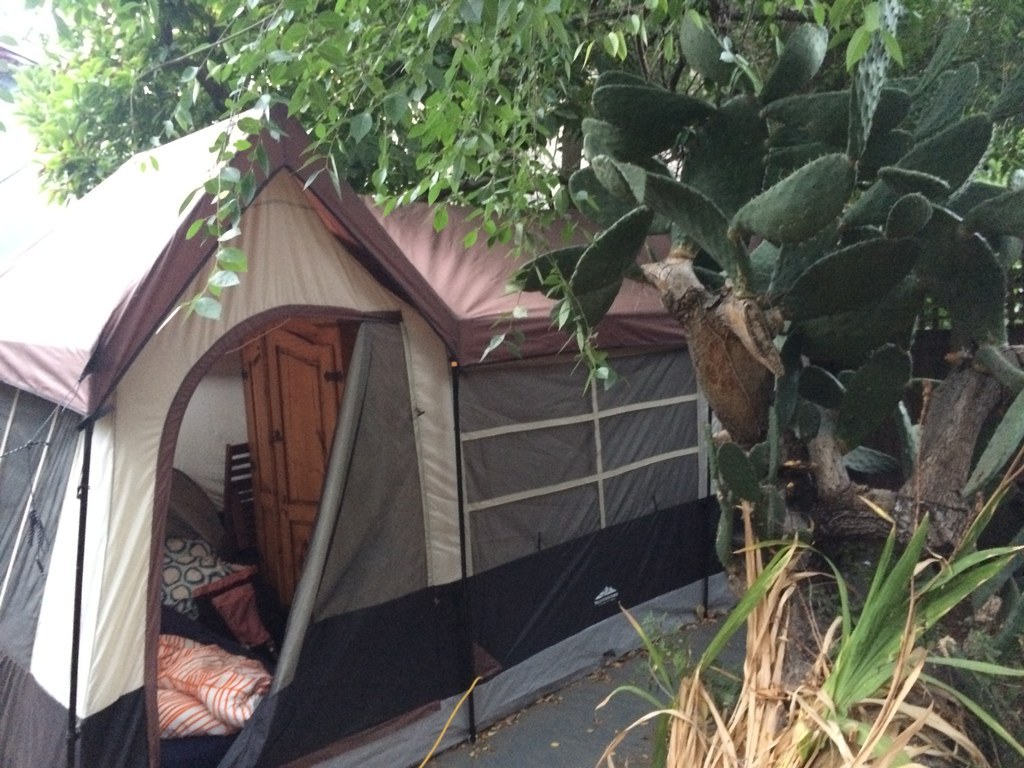 The last place I stayed was maybe the most unusual of all. In Berkeley, there's an enormous house — four apartments in one building, really, with a total of 11 bedrooms. It has a large backyard, protected by particularly high fences, that is filled with tents — six enormous tents, pitched side-to-side, with Christmas lights strung between them. These tents are always up, and always for rent — the cheapest Airbnb rental in Berkeley. It looks like a tiny, ramshackle village.
The owner of the house — "compound" might be a more accurate term — has turned the entire place into an Airbnb factory, housing about 30 people a night between dorm-style living in the house and the tents in the backyard. He says he's trying to maintain a sustainable business and provide affordable living situations in an area where housing prices are on the up. The rent is cheap — the tents start at $25 a night — but he seems to work out a deal with those that want to stay longer. I meet several people who are staying for weeks or months at a time, both inside the house and in the tents. Many are staying there while attending the University of California, Berkeley for a set period of time, although there are also tourists and people just looking for a cheap place to spend a night.
The owner says he has had run-ins with the Berkeley Rent Board and doesn't want them to know about the scope of the operation, although he insists it is all entirely legal. He's proud of his operation, though, and despite any potential ramifications, wants to get the word out.
When I first arrive, all of the tents are occupied.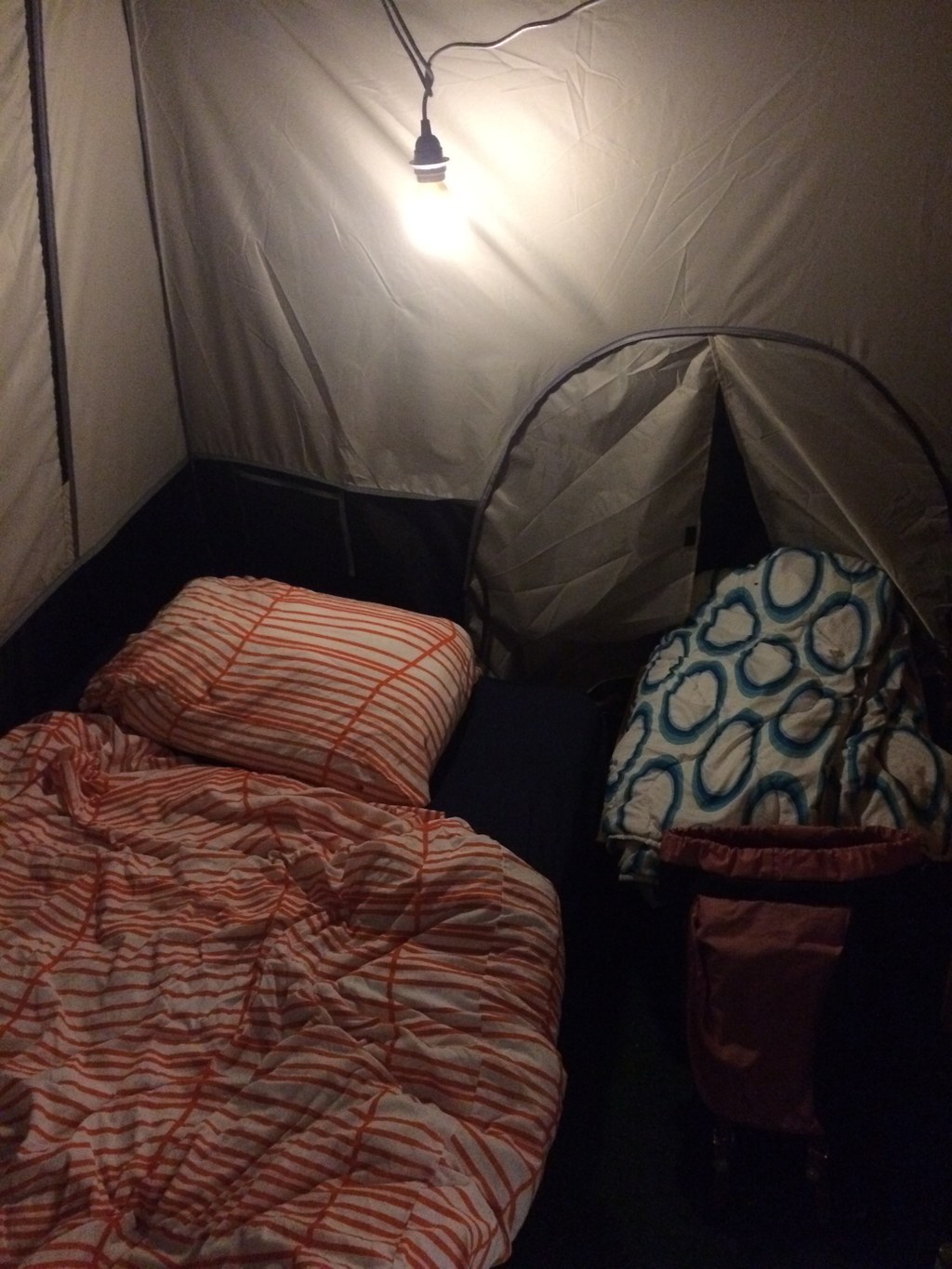 "We had someone that wanted to stay an extra night, so I'm just going to put you in the house, no extra charge," he tells me upon arrival. I really don't want to do that, because, frankly, this is a stunt and I really need to stay in a tent. So instead I just interview the people living in the tents. Some are there for one night; others had been staying for weeks. They're largely UC Berkeley graduate students, mostly from China. The owner of the house shows us something he's been working on, a graphical representation about the shifting gaps between Saturn's rings. It has something to do with chaos theory. I don't understand it. The whole situation feels kind of like a weird summer camp.
The tents are surprisingly popular. It takes more than a week to book an empty one, because people seem to keep extending their stay. Eventually, though, something opens up.
Inside, the tent itself is surprisingly nice. A little chilly, because it's outside, and a little cozy because, separated from me by just a tarp wall is another camper, a grad student from Beijing studying the effects of earthquakes on steel structures. There's a bathroom with a shower inside the house. The tent has electricity, Wi-Fi, a full mattress, and a dresser. There's fake grass on the floor, and a chair in one corner. I suspect I was given the nicest tent in the yard because I'm a reporter.
When asked about the situation, the owner makes it clear he loves to have people around. "This is like the commune I always wanted," he tells me. He sleeps in the greenhouse — a structure on an upstairs patio he constructed himself — because someone wanted one of the bedrooms (his) and he "has a hard time saying no to people." He's clearly trying to build a community — he tries to select university students and says he's hired people who have stayed in his tents. I'm not sure what's traditionally been used to get this sort of loose, surreal community vibe off the ground, but I guess Airbnb is as good a method as any.
I sleep like a baby, or maybe the dead. But even so, I was glad to go home.