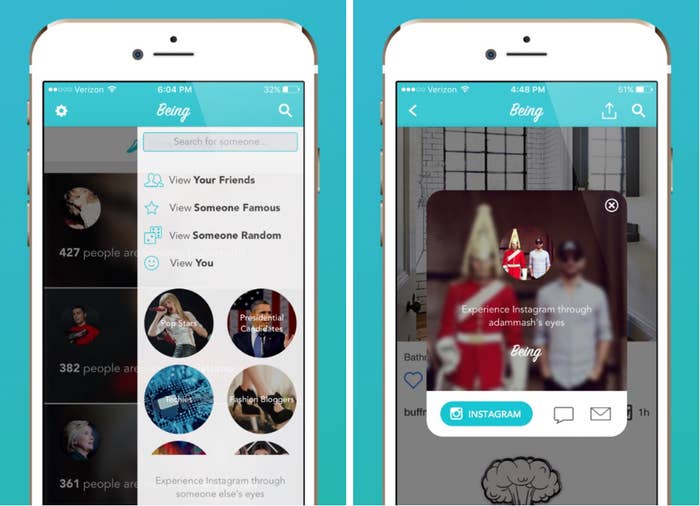 Have you ever looked at the person next to you and thought, I wonder what Will sees when he logs into Instagram? Nothing too weird, you just want to see what his feed is like. Maybe he's buying cool vintage clothes on Instagram and you could be, too. Maybe his friends know about the best brunch spots. Maybe you're just curious. I'm not here to judge; I'm here to tell you about Being.
Being is an app that lets its users see what Instagram is like for someone else. You log in with your own Instagram account, then choose who you want to be. It could be a friend, it could be a partner, it could be a celebrity, it could be a presidential candidate — anyone with a public account on the photo-sharing service can be accessed. You can even click a button and parachute into a completely randomly chosen person's feed.
The app uses Instagram's API to pull all of the "Following" data from a given account and organize it into a feed. So, if you've ever been curious about what Taylor Swift actually sees when she logs into Instagram — minus the many thousands of notifications from adoring fans — this is the app for you.
Based on a brief perusal of Being, one thing is abundantly clear: Celebrities have incredibly boring Instagram feeds. Which isn't too surprising; in the age of digital publications like The Shade Room, who famous people follow and fraternize with on social media is news in and of itself. So they — like all of — mostly follow other celebrities. However, there are a few exceptions to that rule. While Taylor Swift and Kylie Jenner both follow small numbers of mostly famous people — and Donald Trump follows only family members and his own hotels — Rihanna follows some TWELVE HUNDRED people, for example. Justin Bieber follows a lot of text-meme accounts like those of @daquan and @thefatjewish, and what appear to be a few completely random civilians. Daniel, of "damn Daniel" fame, follows a lot of sneaker resellers, some typical teenagers, and an account called @youngducktits. Drake, meanwhile, also follows over a thousand people. Lots of ladies. Pretty ladies. But, not just ladies: Drake also follows a dog account (Akitas of Instagram) and the Los Angeles Contemporary Museum of Art. Champagne Papi, renaissance man.
That's only half of the Being experience, though. Things get much, much weirder when you use the app to check out a friend's feed: A carefully curated Following list might not be embarrassing, but it is something that was never created with the intention to share. At its best, the app is a voyeuristic recommendation engine, showing you accounts that you might want to follow based on your friends. At its worst, it's spying.
Being's founder Adam Mashaal created the app to personalize the social media landscape even more than it already is. "We are too often consumed within our own perspectives that we forget that each and every person on this planet has something unique to offer," he wrote in a Medium post announcing the launch of Being.
Instagram was unavailable for comment on how the company feels about this use of its API.