Tesla's Model X Is Finally Here
Falcon wing doors and a very fancy air filter.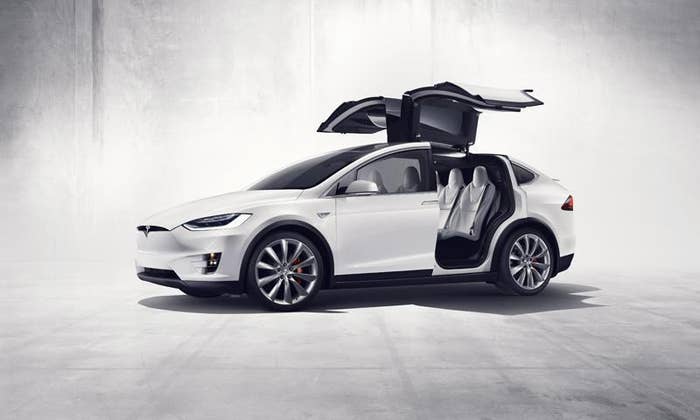 It's been 3 years since Tesla released a new car, the apparently better-than-perfect Model S. On Tuesday night, Tesla CEO Elon Musk took the stage at the company's Fremont, California manufacturing plant to introduce its next-generation electric car — the Model X.
"It's important to show that any type of car can go electric," said Musk. "We did it with the sports car, the sedan, and, now, we're going to show it with an SUV."
The biggest change in the Model X from previous Teslas is size. Considerably larger than its predecessor the Model S, the X is a crossover car with three full rows of seats and entirely redesigned "falcon wing doors," which open vertically, kind of like a Delorean. It also comes with all-wheel-drive, like the latest version of the Model S, which scored 103 out of 100 in a Consumer Reports test published earlier this year.
There seems to be little Tesla hasn't thought of in terms of vehicular perks and tricks. The Model X's front doors can open automatically. Its windshield is simply enormous. It has a front console that can charge nearly any kind of phone. The back seats automatically lean forward to make it easier to access third row of seats; they also have space under them to store bags and cargo without interrupting legroom. Those "falcon wing" doors? They can open to a near vertical position if you end up parked in a spot so tight you only have a matter of inches to open them. And then there's The Model X's extraordinary air filter. To Musk, that's a safety feature, because pollution "really affects life expectancy." It is, from the looks of things, a very fancy air filter. Musk likened it to "a hospital room in a car."
Like all Tesla cars, the Model X is first and foremost a luxury vehicle. It's fast (0-60mph in just 3.2 seconds); it's expensive ($130,000 to start), and it's exclusive (if this is the first you're hearing of the Model X, sorry, you're not getting your hands on one anytime soon).
The Model X may also be Tesla's last luxury car for a while. If Musk follows his previously laid out plan, Tesla's next vehicle will be aimed squarely at the mass market. Likely to debut sometime in 2016, the Model 3 is expected to feature a more mainstream-friendly price tag of $35,000.