There are a growing number of technology platforms that people around the world depend on each day — a dependency that often becomes much starker in times of crisis.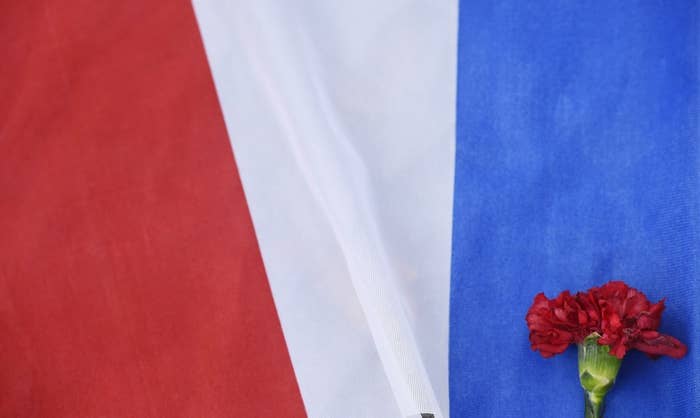 Following Friday's terrorist attacks across Paris, which left at least 129 dead, many of the websites and apps we use on a regular basis made an effort to help those caught in the disaster.
But the process can also be fraught with sensitive considerations, with companies not wanting to be seen to be capitalizing on tragedy.
Here's how some of the major tech companies respond to the events in Paris:
In the midst of the attacks on Friday, Facebook deployed "Safety Check," a tool the company built for "disasters." Safety Check uses geolocation to let those close to a crisis zone check in and let their Facebook friends know that they're safe.
In the past 24 hours, 4.1 million people notified 360 million people that they were safe using Facebook's Safety Check.
With over one billion people checking into the service every day, Facebook is uniquely situated when it comes to trying to communicate with the outside world in one simple step.
Safety Check was first developed in October, 2014, and has been used five times since then, most notably after the earthquake in Nepal earlier this year.
Its use in Paris marks the first time Facebook has used it for anything other than a natural disaster, marking the beginning of a question for Facebook about which man-made crises and terrorist attacks in the future will warrant its intervention. Currently, the feature requires it be turned on manually, and is controlled by Facebook's social good team.
"We chose to activate Safety Check in Paris because we observed a lot of activity on Facebook as the events were unfolding," Alex Schultz, Facebook's Vice President of Growth, said in a statement. "In the middle of a complex, uncertain situation affecting many people, Facebook became a place where people were sharing information and looking to understand the condition of their loved ones. We talked with our employees on the ground, who felt that there was still a need that we could fill. So we made the decision to try something we've never done before: activating Safety Check for something other than a natural disaster. There has to be a first time for trying something new, even in complex and sensitive times, and for us that was Paris."
"This activation will change our policy around Safety Check and when we activate it for other serious and tragic incidents in the future. We want this tool to be available whenever and wherever it can help."
Mark Zuckerberg released a statement following criticism over when to activate the Safety Check feature, saying that people " rightfully asked why we turned on Safety Check for Paris but not for bombings in Beirut and other places." Zuckerberg noted that moving forward the feature will be activated for more human disasters.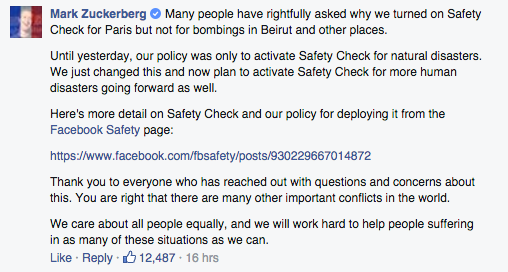 On Saturday morning, Facebook also rolled out a new filter for profile pictures, allowing people to turn their photos blue, white, and red, in a show of solidarity with the French people.
Uber turns off surge pricing:
Despite reports to the contrary, an Uber spokesperson confirmed to BuzzFeed News that service never stopped last night, but while the attacks were underway it was nearly impossible to get a ride using the on-demand transportation service.
Uber did, however, disable all dynamic pricing — surges — in Paris, which are currently still not in effect according to a spokesperson. Surge pricing will remain off for the weekend.
The company has learned from past crises; in Sydney, Australia, late last year, Uber instituted surge pricing during a hostage situation, prompting international outrage for a company often portrayed as callously profiteering.
It later made all rides free in Sydney, and instituted a no-dynamic pricing policy for future situations like the Paris attacks.
Airbnb urges its Paris users to open their homes:
Around 6,000 Airbnb employees and hosts were caught in the midst of the attacks, having gathered in Paris for the company's annual Open Conference.
The meeting, which brings together members of the Airbnb host community for a weekend, has been suspended in the wake of the attacks.
Airbnb also urged all its hosts in Paris to open their homes (or listings) to those affected by the attacks or left stranded in the city in the aftermath. In a statement to the Airbnb community, the company said, "If you are able, we hope you will strongly consider helping those who are in need by making your listing available at little or no cost. Also, if you're an Airbnb host in Paris and your Airbnb guest is experiencing travel delays as they try to leave Paris, you can allow your guest to extend their stay for free."
The email provided instructions for changing listing prices, and announced that Airbnb would be "reimbursing all of our service fees for any extended or new reservations as a result of these delays for stays on Friday, Saturday, Sunday, and Monday."
On Saturday, Airbnb launched a disaster response tool, to help those stranded in Paris easily find free housing through the Airbnb platform. The tool was shared on Twitter by Airbnb CEO Brian Chesky.
Twitter keeps an open line of communication:

Twitter was also instrumental in finding safe places for those caught in Paris to stay. The service saw two major hashtags go viral on Friday night, one of which — #PorteOuverte — was used to signal that its sender either needed a place to go, or had a place to offer. #PorteOuverte had 1 million tweets in 10 hours, averaging 7,000 tweets a second at its peak.
Twitter, as in almost all global news events, served as a hub for up-to-date news on the service, and remained the place for the most recent updates from official sources.
Twitter also utilized its new summarization feature, Moments, to curate the news into an easier-to-digest format culled from the platform. Its livestreaming service Periscope also gave an on-the-ground perspective to the events.
Additionally, Twitter stopped displaying ads in France during and after the attacks.
However, while Twitter served as a place to find information and help for those affected, it was also a congregation point for ISIS sympathizers, who used the hashtag "Paris is burning" to celebrate the attacks.
Twitter was unavailable for immediate comment on whether it was actively policing those celebrating the attacks on its platform, but its official policy on abusive behavior includes a regulation that "Users may not make threats of violence or promote violence, including threatening or promoting terrorism."
Google lets users make free calls:
In the wake of the attacks, Google began offering free international calls to France via its communication tool Hangouts.
Available on iOS, Android, and the web, the calls can be placed from anywhere in the world.
This isn't the first time Google has waived international fees after a disaster. Like Facebook, this is a continuation of a strategy also enacted following the earthquake in Nepal earlier this year, after which Google also made international calls to the crisis zone free via Hangouts.
Making contact with France as available as possible in the wake of the attacks is not just being taken up by tech companies, though — telecom giants Verizon and Sprint are both offering free calls and texts to France for now.
Report of Reddit being censored:
According to some reports, the online message board was issued a gag order by the French police to halt specific discussions of the attacks and the state's ongoing response.
Reddit did not immediately respond to requests for comment from BuzzFeed News.
In situations of major breaking news, the Reddit community often erupts with chatter; it is the primary home for amateur sleuths and theorists, who trawl social networks and other sources for the most up-to-date information about what's happening on the ground, as well as crowdsourced investigations for stories that mainstream news outlets haven't covered yet.
While Reddit's enormous, international, and web-native user base is well-suited to dig up information, its unstructured and unregulated investigations have previously led to incorrect assumptions and unfounded accusations, the most infamous of which came in the aftermath of the Boston Marathon bombings when users misidentified suspects.
Drawing the line for what can and cannot be published during a crisis is no simple feat, and Reddit will be the perennial litmus test for how law enforcement agencies interact with a new kind of media.