Now You Can Browse The Web In Virtual Reality
It looks... difficult.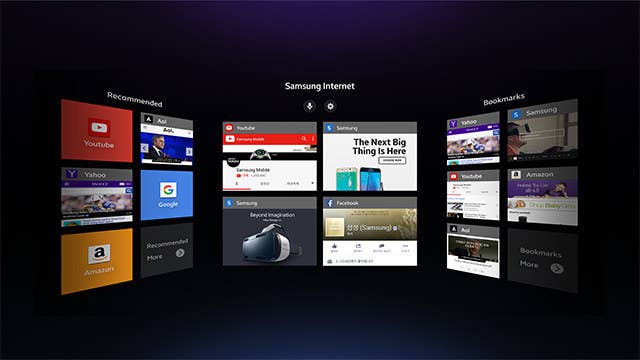 There's a lot you can do with a Samsung Gear VR: Shoot spaceships, look at dinosaurs, solve puzzles, watch Netflix. But none of that is useful — virtual reality is, right now, a medium for entertainment, not productivity.
On Wednesday, Samsung will roll out a full-on web browser for its Oculus-powered headset, thereby adding some new functionality to the device. Called the "Samsung Internet for Gear VR," it'll be the first browser app for a consumer VR device, and according to a press release from Samsung, it "allows users to intuitively browse the web and enjoy content in a more immersive atmosphere." Users can stream video content — 360-degree, 3D, and HTML5 — without having to download it beforehand, which is currently required from the Oculus Store on the device. It'll also allow VR nuts to use it like a regular browser: Type in a URL, and go to a web page. It's the same Facebook or Gmail or Yelp you'd find on a computer, just attached to your face.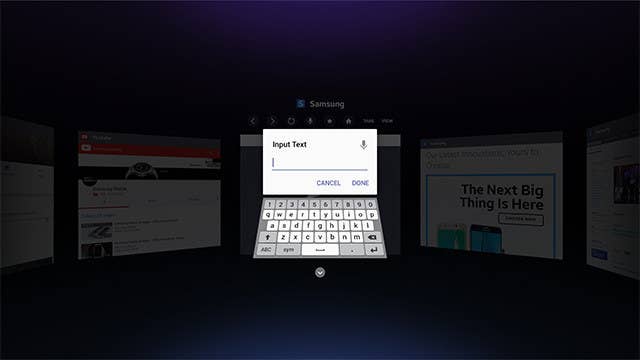 But the problem with that is, typing in virtual reality is a literal headache. To log into Netflix on the Gear VR, for example, you have to "type" by jerking your head around to point the set at specific letters on a tiny virtual keyboard. While it's not so bad for a one-time login, it's hard to imagine wanting to browse the web for any amount of time without simply resorting to the facile UI of the smartphone locked into the front of the headset. It's also possible to control the browser by voice, but who wants to say what they're looking up on YouTube out loud?
That problem — how to interact with things that aren't games, how to type, how to best use gaze to direct virtual environments — is one of the next big challenges for VR to face, and it's up in the air whether controllers, eye-tracking, or a yet-to-be-invented user interface is how VR will turn from entertainment to something different. Simply porting a browser over to a virtual environment will likely be cumbersome, but it's also a first step towards this technology figuring out how to become something much bigger.