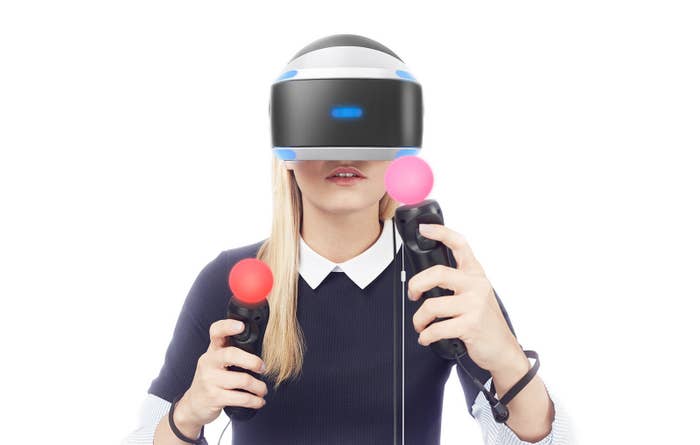 When Sony makes its first foray into virtual reality this fall, it will do so with one of the least expensive VR headsets we've seen from a major player yet. The PlayStation VR will cost just $399 when it goes on sale this October, Sony said Tuesday.
While that makes PlayStation VR's price significantly less than the $599 Oculus Rift and the $799 HTC Vive, it is a bit misleading. Not included in the device's $399 price is the PlayStation camera it requires, or the PlayStation Move controllers, which, while not crucial, do feature heavily in many of Sony's demo experiences. PlayStation VR will also require a PlayStation 4, so that's another $350 for those who don't own one already. To be fair, the Oculus and Vive both require pricey PC setups expected to cost around $1,000.
While running its headset on an already popular gaming console makes the PlayStation VR much more accessible, it also makes it less powerful than the high-powered PCs on which the Oculus will run, something that could hamstring its adoption. Additionally, Sony's October release date puts it about six months behind the Rift and the Vive, both of which are currently available for presale and begin shipping soon.
According to President and Group CEO of Sony Entertainment Andrew House, the October release date was selected to ensure that demand will be met and to allow for the development of a larger portfolio of launch titles. Sony, which is currently working with 230 teams of developers, expects to have about 50 games for PlayStation VR by year's end — among them, first-person action game Star Wars Battlefront.