Periscope Pirates Of The Future Are Here And They Want To Talk
Live-streaming services provide a new way to get content for free. But maybe that's not the only reason so many people were watching.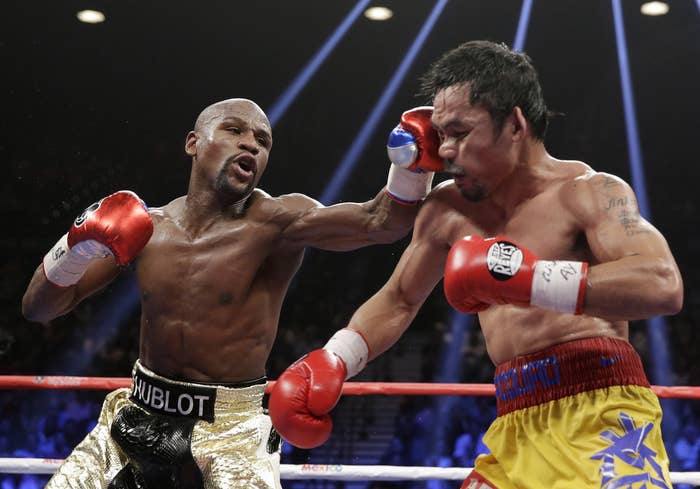 On Saturday night, Periscope had a moment. The live-streaming app from Twitter went behind the scenes of the Mayweather–Pacquiao fight, but that's not why people were talking about it. It was the widespread proliferation of bootleg Periscope and Meerkat streams, where the world came together for one big fight party hosted on tiny smartphone screens.
The fight itself was a perfect inflection point for live-streaming social video. Periscope and Meerkat offered an experience everyone was talking about, yet that cost nearly $100, for free. It felt like a cheat code. What's more, it offered you a way to talk about the fight, to participate in it, with other people in real time. It was another triumph of the second screen, another indication that our smartphones are actually the first screen, and the TV is the second. We don't just want to listen to commentary; we want to be a part of it. We don't just want to watch anymore; we want to participate.
While much is being made of the piracy issue here — and there is a piracy issue here — Saturday's fight represented something else too. It was a rare scenario: a pay-per-view spectacle that appealed to a wide casual audience. This fight was a big enough deal that lots of people wanted to talk about it, even if they weren't willing to pay $100 to see it.
Last night's Periscoping (and Meerkatting) felt fresh and interesting — rules were being invented on the fly, people were figuring out a new medium in real time. And the most promising part of it wasn't the feeling of getting something for free, it was the opportunity to engage with other people in a new way. While the streams of purloined pixels received the most attention, there were plenty of people just talking. Selfies of talking heads describing, commenting on, and reacting to the fight. It was pretty clear, watching these streams, that this behavior isn't going to be limited to pay-per-view. If people are doing it for the interaction, they will Periscope all kinds of live events on network TV, not just paywalled, one-time spectacles.
Clearly, quality wasn't an issue. The chyrons on streams were often illegible, but the video was clear enough to function. It was another lesson that convenience always wins. The quality of the stream, video or audio, hasn't mattered much in years. Is it easy to find? That's what matters. It's why the iTunes Store won out over peer-to-peer, and why streaming audio is now killing downloads.
It also shared similarities to things like video game playthroughs by PewDiePie. We are a culture obsessed with watching other people do things, and talk about it. When compared with watching someone else play a video game, or unbox a product, or live broadcast themselves sleeping, having someone livesplain sports — or TV shows, or State of the Unions, or really anything — during a broadcast actually makes a lot of simple, straightforward sense. Like Twitter, Periscope is commentary-driven and at its best when everyone on the service is following the same thing taking place somewhere in the real world.
You watch the Periscope of the person you want to hear talk about the live event, a choose-your-own commentator. "I think this girl is a better commentator than the guys talking on ESPN" is a statement a lot of us can relate to. Periscope feels like the next second screen, a way to get the commentary and interaction you want during an event, rather than just passively consuming whatever the network throws at you.
But it has to solve its piracy issue. It's brewing, and being framed as "Periscope vs. Hollywood." (This was not even the first time Periscope had a wide-ranging piracy problem.) And although Periscope isn't primarily a tool for piracy, that is certainly how those that put on live events look at it. The NHL is banning Periscoping (which is a pretty futile gesture, but a good indicator of where the league's head is at), it's likely that many more with a vested interest in driving viewers to their channels and stadiums will follow suit.
The truth is that from now on, live events will be live-streamed. The big question is just how Periscope will moderate users hosting bootleg streams. This does not seem insurmountable. YouTube already did it with music, finding a way to pay for it with advertising. If it gets it right, Twitter might have a money maker, not a lawsuit. It's a bigger problem for the traditional pay-per-view broadcast. History suggests that it's easier for media startups to solve piracy problems with technology than it is for legacy media to solve business model problems.