Meet Google's New Chromecast
There's a new Chromecast for your TV, and a Chromecast Audio for your speakers. They're pretty.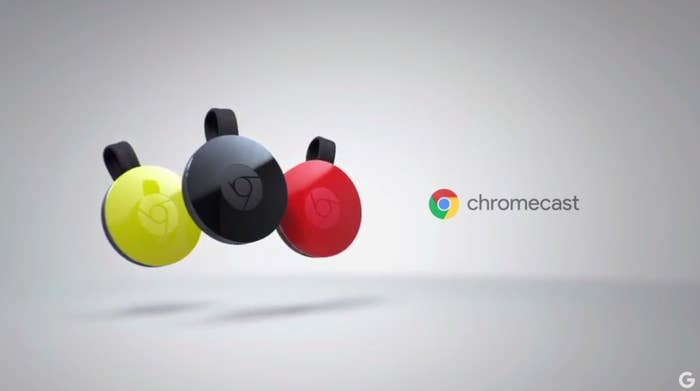 Google has (another) new way to watch TV and listen to music streamed from your phone. Oh, and you can play games too. At an event in San Francisco on Tuesday, it announced a new Chromecast device for the television, and a Chromecast Audio device for your speakers.
The original Chromecast device — Google's way to stream content to televisions — sold 20 million units to date. The update brings a new form factor, colors, and capabilities.
The new devices are round, colorful, and come with a redesigned HDMI cord to make it easier to hide behind your television. Also, its Wi-Fi capabilities have been beefed up to handle more robust streaming requests.
Essentially, cast-enabled apps run on your Android or iOS smartphone, and are broadcast to your TV. Fire up an app that's been optimized for casting, hit a button, and it streams the audio and video to your television. While video is streaming on TV, you can browse information on the device in your hand without disrupting what's on the big screen — for example, you could check other games in NFL Sunday Ticket if the game you're watching is a blowout, without having all that information show up on the TV.
The new Chromecast added Showtime and Sling TV to its lineup, and casting support for the NBA, NHL, and others is on its way. Additionally, games — like Angry Birds — can be made "cast-enabled" by developers, which means that mobile games can be easily played on your TV screen, using your phone as the controller.
It's available today, for the same price as the last generation: $35.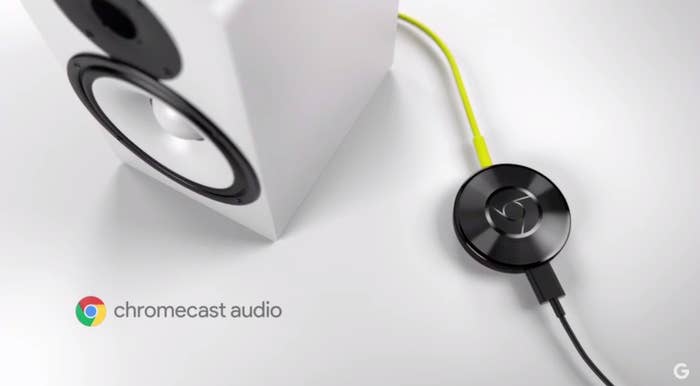 Google also announced an entirely new device — Chromecast Audio.
It is more or less a Chromecast for your speakers: a way to plug a streaming device into an already-existing piece of hardware. In this case, home speakers. It connects through a 3.5mm audio cable — your basic aux cord, same as you use to plug in a phone to headphones or your car — but supports RCA and optical cables, for those with fancier speaker setups.
It automatically works with phones, tablets, and laptops connected to the home Wi-Fi, but it also has a guest mode if you've got someone over and don't want to give them your password. Google also announced that Spotify will be Chromecast Audio-compatible. The streaming service will also work on Chromecast.
Chromecast Audio is also available today, also for $35.