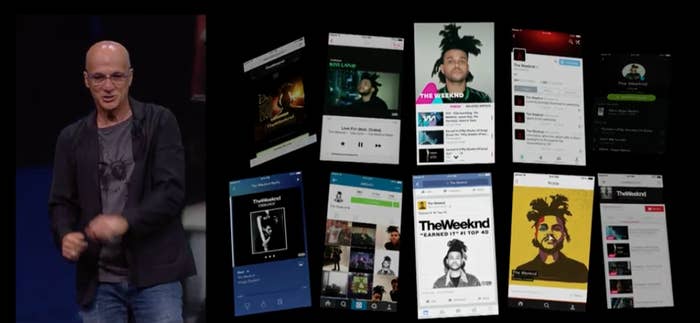 Apple is gunning hard for the music streaming industry, taking aim at companies like Spotify, Tidal, and Pandora all at once with its own streaming music service.
At its Worldwide Developers Conference on Monday, the tech giant announced the debut of Apple Music. It will be available June 30 for $9.99 per month. There will also be a family plan for up to six family members available for $14.99 per month.
Apple Music gives people access to their personal iTunes music libraries, internet radio (called Beats 1), and the ability to stream everything in the iTunes store all in one new, revamped music app. Apple also announced it will bring the service on Android this fall.
This is the biggest change to Apple's approach to music since the iTunes Store launched more than a decade ago, but it is not the company's first foray into curation and streaming. Ping, which launched in 2010 and lasted just two years, was a social network for iTunes that had some of the same hallmarks — such as artist-curated playlists — as the new service. iTunes Radio, which debuted in 2013, is a Pandora-like service that, despite the proliferation of iTunes, failed to impact online radio.
The Beats 1 radio station, and its focus on human curation, contain hallmarks of Beats Music — the streaming app Apple acquired in 2014 when it purchased Beats Electronic for $3 billion. According to Jimmy Iovine, who was acqui-hired by Apple in the Beats deal, internet radio like Pandora is more playlist than radio. Apple is prioritizing taste, voice, and brand names to separate itself from the pack by hiring DJs like Zane Lowe — formerly of BBC Radio — and leaving the tastemaking to them.
Onstage, Iovine and Apple Senior Vice President Eddy Cue leaned on the word "ecosystem" rather than "platform" or "service" to describe Apple Music. Both stressed Apple Music's ability to serve as a discovery tool, thanks to human curation, and as a platform for new artists to reach an enormous audience. Both also spoke disparagingly of algorithmic predictions — both Spotify and Pandora use data analysis to select music for their users.
"Algorithms alone can't do that emotional task," argued Iovine. "You need a human touch."
One of the major features of the new app is Connect, a social network for artists to connect with their listeners with multimedia content and updates. It was introduced by rapper Drake. "I can't wait to incorporate Apple Music into what I'm doing next," he said, going on to sell it as a path to success similar to his — Drake initially broke on Myspace, where Lil Wayne heard his music and signed him to a record deal.
Both Ping and Beats used similar strategies in the past, and much of what was shown from Connect's brief demonstration — rough demos, lyric sheets, and backstage video — already exist on Facebook, Twitter, and Instagram, where both artists and their fans already are. It is, however, a more personal touch than any of Apple Music's competitors offer, which could serve the company well in an already crowded field.
Apple is late to streaming. With more than 80 million active users, Pandora is already a formidable player, and Spotify — with 60 million users, 15 million of whom pay for a subscription — has already become synonymous with on-demand streaming since its debut in 2008. Both will be tough to beat.
However, according to the Recording Industry Association of America, only 7.7 million U.S. consumers paid for online streaming last year. When compared to other media streaming companies like Netflix, which has more than 40 million paid subscribers, the music streaming field has plenty of room for growth. Thanks to its enormous base of customers — Apple sold 74.5 million iPhones in just the first quarter of 2015 — it is certainly capable of taking on the existing players.