Meerkat Dumps Twitter And Cozies Up With Facebook
Facing pressure from Twitter and Periscope, the live-streaming app gets on Facebook and lets your friends take over.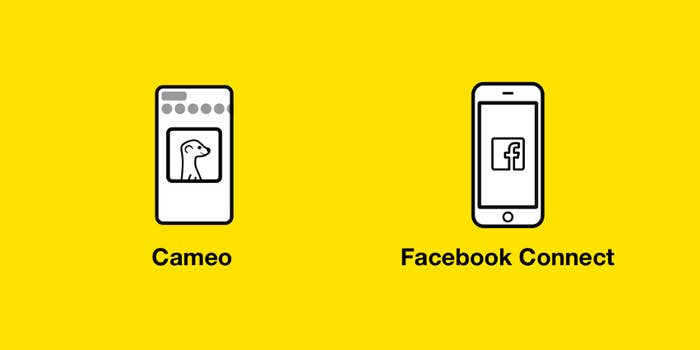 For the last few months, Meerkat has faced stifling competition from Twitter: In March, Twitter cut off the live-streaming app's access to its social graph. Two weeks later, it launched its own proprietary live video service, Periscope. Since then, Meerkat has had to do without a plugged-in social network, and contend with a competitor owned by a social giant that does, pretty much, exactly what it does.
But starting Wednesday, Meerkat — which reportedly had 2 million users as of May — is rolling out changes of its own, in the hopes of taking back the space it lit on fire at this year's SXSW.
First order of business: the social graph. When Meerkat first launched, it was essentially piggybacking on Twitter's API: Meerkat users signed in via Twitter, were connected via Twitter, and were notified when someone they follow on Twitter started streaming. But now that it's been cut off from that API, Meerkat is dropping its connection to the Twitter profile, instead plugging into Facebook. Now, anyone can create a Meerkat account with just a phone number, and Meerkatters are pinged when a Facebook friend or page they've liked begins streaming.
It's a logical transition for the app. But why not do this two months ago?
Part of the reason might be that, according to Meerkat founder Ben Rubin, Facebook is a structurally different platform from Twitter. "Facebook is an algorithmic feed, not a real-time feed, unlike Twitter." Essentially, Meerkat has to do notifications differently because information surfaces differently — and slower — on Facebook. So instead of auto-posting a status when a user starts streaming, as it did with Twitter, Meerkat is now importing everything and everyone you follow on Facebook and, if any of them start a Meerkat stream, sending you a notification.
Additional connectivity is what Meerkat hopes will follow. You do, after all, know most of your Facebook friends. The same can't be said of a following list on Twitter.
Meerkat is also launching a new feature, called Cameo, that it hopes will also prompt interaction between users. With Cameo, an audience member can take over a broadcaster's stream for up to 60 seconds. "The audience is becoming the content," Rubin told BuzzFeed News, clearly excited at the prospect. It works like this: Broadcasters will be able to select an audience member and invite them to "cameo" on their stream — everyone tuned in will see someone else's broadcast for a limited amount of time.
While Rubin's aspirations for Cameo are high — "the new CNN could develop on Meerkat if reporters on the ground are sending back footage" — it's probably more likely to be used for a good Jimmy Fallon social-media stunt. Or, possibly, some good old brand engagement: Meerkat already has Fox, TMZ, The Champions League, and MasterCard, among others, set up to use Cameo on launch day.
Finally, Meerkat will be adding a new archiving procedure. Until now, live-streaming apps have been operating in the ephemeral world made popular by Snapchat, trafficking in content that's there one minute, gone the next. Starting today, Meerkat will offer users a library, in which they can hang on to broadcasts, and decide later whether to share them with the public.
All of which makes Meerkat look like a strikingly different product than it did back in March, or even yesterday. Taken together, these changes are meant to turn the platform into something more casual, friendly, and participatory. "Familiarity will lower the barrier between broadcaster and viewer and help get us to a point where we all are simply participants," the release for the update reads. If the update does make everything on Meerkat more "familiar," it's a shift that brings to mind another tech rivalry, and positions Meerkat as the live-streaming Lyft to Periscope's utilitarian Uber: More friendly, sure, but perennially in second place.