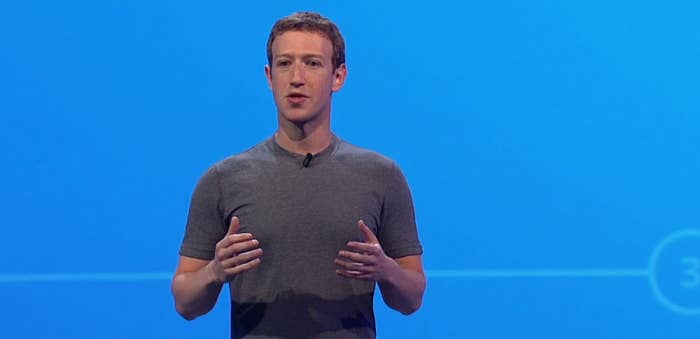 Facebook CEO Mark Zuckerberg appears to have a pretty dim view of some key tenets of Donald Trump's presidential campaign. During his keynote address at the social media giant's annual F8 conference, Zuckerberg made some thinly veiled remarks decrying the real estate tycoon's political platform.
"As I look around the world, I'm starting to see people and nations turning inward, against the idea of a connected world and a global community," Zuckerberg said. "I hear fearful voices calling for building walls and distancing people they label as 'others.' I hear them calling for blocking free expression, for slowing immigration, for reducing trade, and in some cases even for cutting access to the internet. It takes courage to choose hope over fear. People will always call you naive but it's this hope and optimism that's behind every important step forward."
Zuckerberg was onstage to lay out Facebook's ten year plan and the company's mission to "connect a global community." Clearly, he sees that goal at odds with the basic points of Trump's presidential campaign.

"If the world starts turning inward, our community will just have to work harder to bring people together," Zuckerberg concluded. "I hope that we have the courage to see that the path forward is to bring people together, not push them apart."
UPDATE
On Wednesday morning, a Trump spokesperson responded to Zuckerberg's remarks. "Self-righteousness isn't very proactive," Katrina Pierson told CNBC, "We can talk about taxes, we can talk about jobs and even immigration, but that doesn't really put food on the table and save lives... I think I'll take Mark Zuckerberg seriously when he gives up all of his private security, moves out of his posh neighborhood, and comes live in a modest neighborhood near a border town, and then I'm sure his attitude would change."