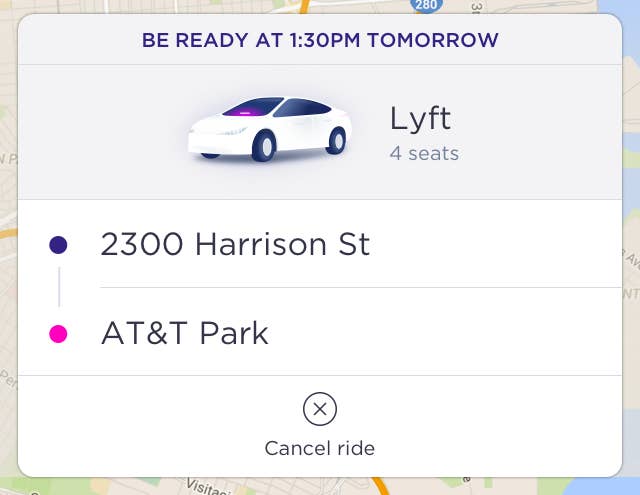 After years of resisting calls from consumers for a feature that would allow them to book rides ahead of time, Lyft is reversing course. On Monday, the ride-hail service said it is testing a scheduled ride feature that will allow passengers to arrange for transportation up to 24 hours in advance.
Scheduled rides will debut in San Francisco this summer as an experimental feature. Lyft is still figuring out how things like surge pricing will effect rides booked in advance. "Part of the test is to determine how all of that will work," a Lyft spokesperson told BuzzFeed News. "We're looking at all the possible scenarios to see what the best experience for passengers and drivers will be."

For Lyft drivers, rides won't come in as they are scheduled. Instead, they appear in the app as normal rides, "with a little bit advanced notice."
At launch, the feature will only be available to Lyft employees in San Francisco. Once it's been tested, the plan is to roll it out to customers in other locations.
The addition of scheduled rides has obvious benefits. While on-demand services are convenient, they can sometimes be unreliable when it comes to getting to the airport on time. If there's no driver in your area when you open up the app, you'll just have to wait. Scheduled rides could eliminate this kind of irregularity.
Adding scheduled rides is one of several ongoing steps in Lyft's efforts to compete with ride-hailing giant Uber. In March, the company launched a Carpool feature that also relies on customers scheduling rides in advance, albeit for a much more specific use case — getting to and from work with people heading in the same direction.