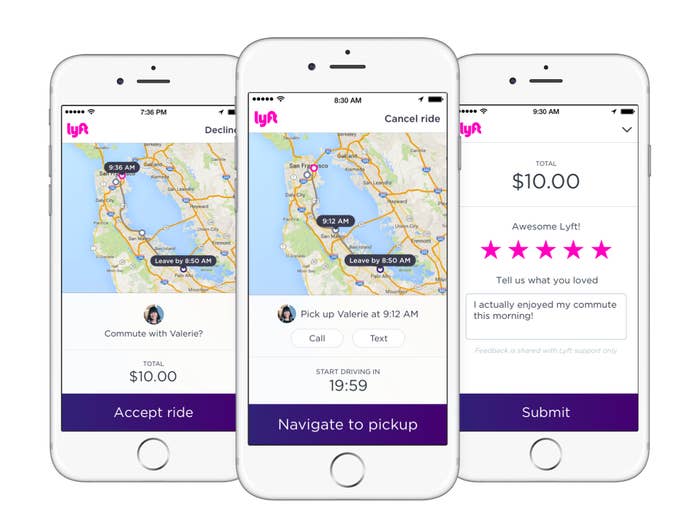 On Tuesday, San Francisco Lyft riders and drivers will see a new option next to Line, Lyft, and Plus: Carpool.
For the passenger, it looks a lot like a normal Lyft ride, except that it's on a schedule — you request a ride the night before work, rather than as you're heading out the door, making Carpool Lyft's first foray beyond on-demand. And if you have a car, you can sign up and tell Lyft where your daily commute starts and ends, and when you have to be at work. Lyft then matches you with someone whose commute is similar, takes care of directions, and even sends a notification when it's time to get going.
Tellingly, Lyft is pitching Carpool as an alternative not to other services on its platform, but to Casual Carpool, the quasi-formal Bay Area practice in which strangers gather at designated points throughout the East Bay to be picked up by drivers headed into San Francisco. The drivers save bridge toll and time by using the carpool lane, and the riders save public transportation fare, pitching in a dollar or two to cover gas and the discounted toll.

Lyft's Carpool will be almost as cheap. According to Lyft, Fares will be capped at $10, no matter the distance.
That means less money for drivers — but Lyft is thinking of Carpool not as a primary or secondary job, but as "a thing that offsets the daily cost of driving," according to Emily Castor, Lyft's director of transportation policy. "Drivers could earn up to $400 or $500 a month," she told BuzzFeed News.
That distinction also means that unlike typical Lyft drivers, Carpool drivers will not go through a background check (though they will be subject to two-way reviews). "Carpool Drivers are a different classification of drivers and as such have different criteria," a Lyft spokesperson told BuzzFeed News. "It takes about five minutes to sign up and there is a short approval period that follows. You'd need to provide a photo of your driver's license, details about your car and commute route."
At launch, the service will be limited to the San Francisco Bay Area. It's a region well-suited to the service: According to John Goodwin of the Metropolitan Transportation Commission/Bay Area Toll Authority, which has partnered with Lyft to launch Carpool, only about 10% of commuters in the area carpool.
But after Lyft tackles the techies sitting in traffic from San Francisco to Silicon Valley, it intends to expand Carpool even further. "This is definitely something that we want to take nationwide," Lyft Product Manager Lev Popov told BuzzFeed News.
CORRECTION
Drivers can make $400 to $500 a month. An earlier version version of this story misstated their potential earnings.