Inside The Very Strange, Very Heated, Kanye West Forum Wars
Hacks, lies, and outfit selfies.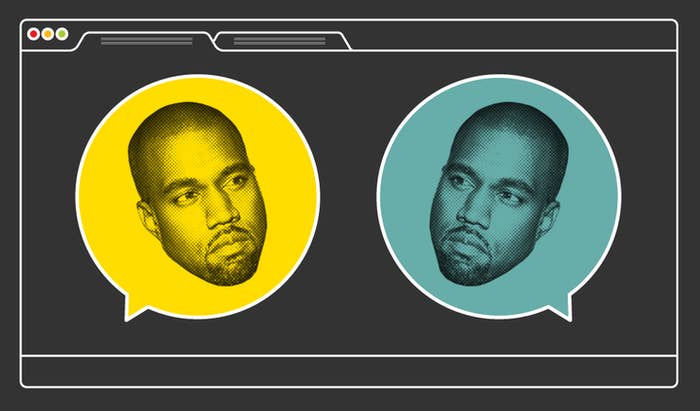 On a typical Friday afternoon, visitors to Kanye To The — the self-proclaimed largest Kanye West fan forum on the Web, with about 10,000 registered members — might find a thread dedicated to pics of Kanye off-roading with the fam for Father's Day or guessing the name of Kanye's soon-to-be-born son, or a heated discussion about how Kanye might release his next album. But at 1 p.m. on the afternoon of Friday May 22, they found something else entirely. An error message in block text at the top of the page declaring the website "503 Not Available."
Kanye To The had been hacked, and a tiny, insular, sometimes very obsessive corner of the internet erupted.
Rumors began swirling on forums and Twitter that Yeezy Talk — a newer, smaller Kanye forum — had initiated a DDoS attack to bring its larger, more established counterpart down. Conspiracy theories were floated. Threats were made. Someone set up a GoFundMe page to attempt to raise funds for airfare to go confront the founder of Yeezy Talk in person and "beat his ass."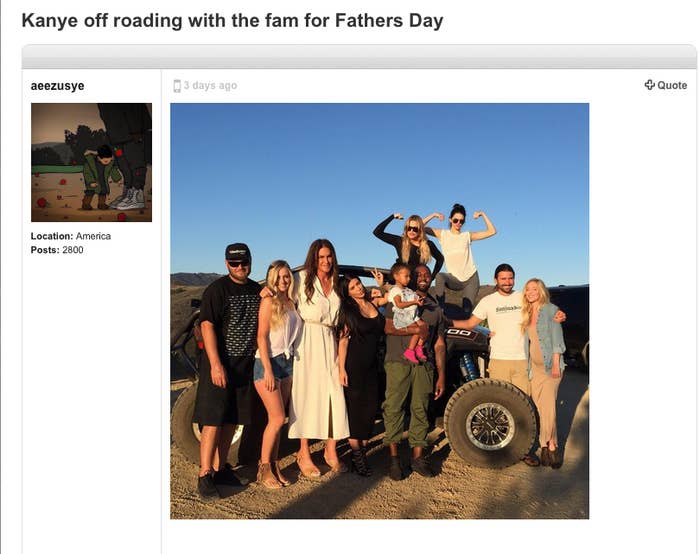 The communities that congregate on Kanye West forums are essentially (more) diverse, rap-obsessed, fashion-conscious Reddits, and their audiences are big enough to warrant banner ads, and any money that comes with it. (Kanye To The wouldn't reveal any revenue numbers, however). Discussions on the forums are ostensibly about Kanye's music, but they quickly come to encompass the entire hip-hop landscape, which today means dedicated threads to Drake, Kid Cudi, and Lil Wayne, among others. Like Kanye himself, they often make a detour into clothing: WDYWT, an abbreviation for What Did You Wear Today, is a popular thread on which teens post selfies of their outfits for the rest of the community to critique. Eventually, like all forums, they devolve into the inane, the opinionated, and the self-referential.
The forums usually come to be in succession, rather than an ecosystem; different forums eclipse each other every few years. They are far from friendly with each other, often competing to absorb any rap fans willing to pour time and effort — it's not uncommon to see users with upward of 50,000 posts on Kanye To The — into each community. And now, it seemed, that competition had escalated. As it turns out, this hack was just one act in a sprawling saga that has now come to encompass three different forums, a mysterious hacker, a whole lot of internet mudslinging, and, at one point, legal threats.
In the case of the May hack, the motivation appeared to clear, at least tat first: Yeezy Talk had launched a few months earlier, and to date has only reached about 3,000 users — mostly ex-Kanye To The members who, upset with how large the forum had become and the trolling and noise that came with a bigger community, had migrated to a smaller and more focused alternative which, notably, wasn't running ads at all. Maybe it was trying to speed up defections by bringing the site down.
Mike Dean, a musician and producer who has worked on every Kanye West album since 2007's Graduation and longtime active participant on Kanye forums, stoked the fire, gleefully tweeting "RIP @KanyeToThe." On Twitter, Dean claimed to know nothing of the attack, but he is a vocal supporter of Yeezy Talk on social media, and some took his message as a concrete sign that one side was attacking the other.
But in a now-deleted tweet, a hacker named Xavier took credit for the hack. It's nearly impossible to definitively credit a DDoS attack to any one individual, but Xavier sent BuzzFeed News screenshots of his server logs to prove that he initiated the attacks, and all parties involved certainly believe him to be the source of the attack on Kanye To The.
To have Xavier tell it, he did it because he hates KTT.
"They're the scum of the earth, the owner does not care about his users whatsoever," he told me via Twitter DM. "As soon as the site is down, he will start to care."
When asked for his favorite Kanye album, it bears mentioning, Xavier told me he doesn't listen to Kanye. He just likes the forums.
As it turns out, this wasn't the first time Xavier had become enmeshed in hacking Kanye forums: In March, Xavier had hacked Yeezy Talk — the very site that was now being accused of hacking Kanye To The.
"I want to say it was before we were even out of beta," said Keyran Behruz, the 25-year-old founder of Yeezy Talk. Almost as soon as his site went down, Behruz was contacted by Xavier, using the nom de guerre LinuxKTT — a clear call out to Kanye To The — saying that he had brought the site down and was essentially holding it for ransom, asking for a single bitcoin (worth about $258) to let the site get back up.
"This kid is like the Joker in The Dark Knight," Behruz said of Xavier. "He does what he wants without rhyme or reason."
Behruz doesn't have any bitcoin — he funds Yeezy Talk with the money he makes as a private tennis instructor — so instead he just reasoned with Xavier.
"I told him I didn't have any money, and I wasn't able to stop him. Basically, I just said, 'I would appreciate if you'd stop,'" said Behruz.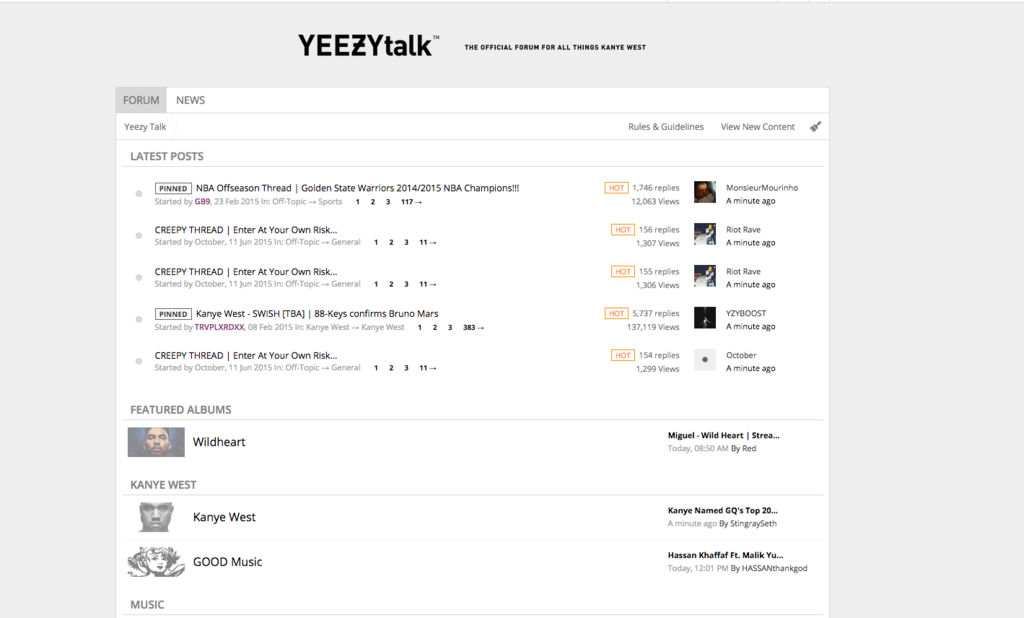 It's not hard to see how Behruz could pull that off. In person, he's outgoing, excitable, and self-assured; once he starts talking he really starts, gesticulating and pulling himself into tangents left and right during any and every story he tells. He doesn't seem like someone who spends all his time on a laptop. But he's passionate about music, and about the forum: He often mentions that, because Kanye is such a perfectionist with his music, he should be trying to do the same with YeezyTalk.
At any rate, whatever he said to Xavier, it worked, and the DDoS attacks ceased. After Xavier was convinced to halt the DDoS attacks on Yeezy Talk, he and Behruz began corresponding. Xavier told Behruz he was just trying to take down Yeezy Talk for the "lulz," and the two began an uneasy, internet-mediated friendship: A few weeks later, when someone else — whose identity is still unknown — began DDoSing Yeezy Talk again, Behruz reached out to Xavier for help, who obliged and set up firewalls for the site. Behruz maintains that he never paid Xavier a cent, and any subsequent attacks he launched on Kanye To The had nothing to do with him.
But as forums were ablaze with rumors of a war between two Kanye West fan communities — with users unaware that both Yeezy Talk and Kanye to The had been hacked by the same person — a new forum had entered the fray.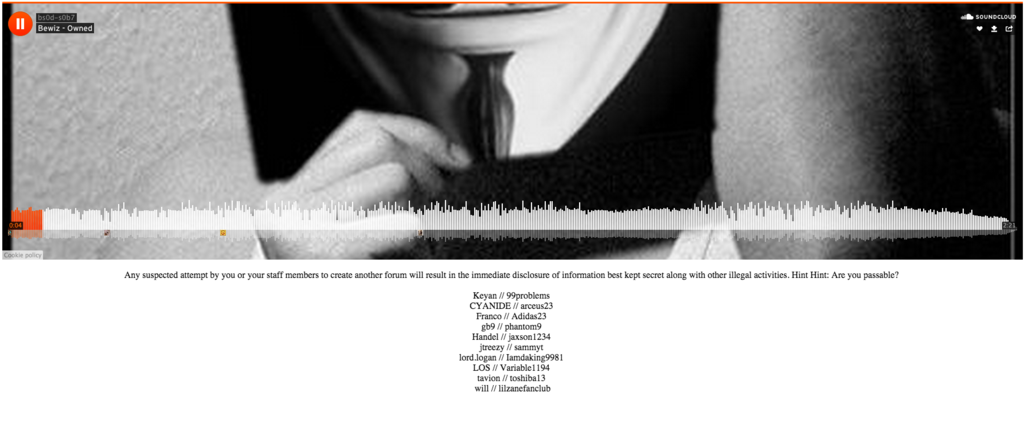 Koolo — the owner of a Kendrick Lamar forum called Section 80 — began posting on his own forum, saying that Yeezy Talk and Behruz were behind the DDoS attack on Kanye To The.
According to Behruz, Koolo — who did not respond to repeated requests for comment from BuzzFeed News — had approached him a few weeks earlier asking to merge Yeezy Talk with Section 80. "I thought, Is this kid crazy?" said Behruz. He declined the offer.
But with Koolo stoking the fire, rumors he began spreading about an all-out war between Kanye To The and Yeezy Talk. It soon became accepted knowledge on the forums that law enforcement was involved, and KTT was going to sue Behruz.
To be clear: These are Kanye West fan forums. While DDoSing is illegal, it is very low on the list of priorities for law enforcement, and there is no evidence that any legal action was ever pursued. Behruz did consult with a lawyer, who assured him he would not be prosecuted for the DDoS attack on Kanye To The.
Koolo again pressed for Behruz to fold Yeezy Talk into Section 80, but by then Behruz was in touch with the secretive founder of Kanye To The — who was unavailable for comment for this story — and they began to connect the dots. Koolo's posts on Section 80 were confirmed as false in a long, screenshot-heavy guest post by Behruz on Kanye To The.
The forum wars were over. For a few weeks.
This Monday, June 22, Behruz noticed that someone had bought the domain name YeezyTalk.net, and was directing its traffic to Section 80. One day later, he received an email saying that the ownership of Yeezy Talk had been transferred to another user.
Behruz suspects this hack was socially engineered, with whoever was behind it buying the .net domain and using that as proof of ownership. Now he has no control over Yeezy Talk. All that's there is a Soundcloud embed for a song called "Owned" and a threat warning all of the people involved in the running of the forum not to try to start anew.
Yeezy Talk was hacked; this time for good. Behruz will not be starting a new Kanye forum. "I was making zero dollars off the forum and was doxxed. And lost too much sleep," he said over text.
"Like Kendrick said, when you fight don't fight fair."
"I've got nothing to say, man. Nothing. YeezyTalk is dead."