Here Is What You Should Know About Windows 10
Microsoft's bright, shiny operating system debuts today.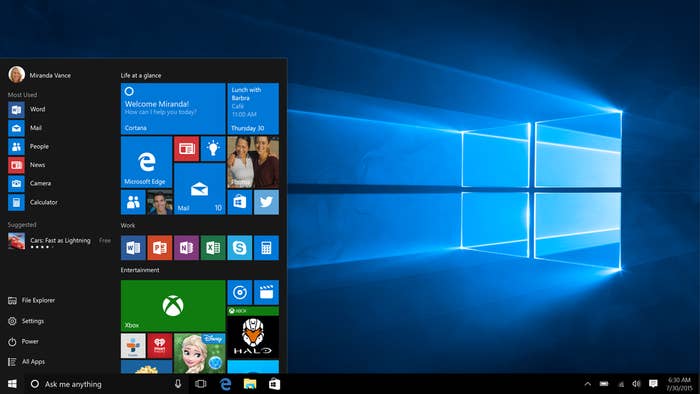 Microsoft's Windows 10 launches today and it is, in plain terms, a big deal for the computing mainstay. It's the first major overhaul of the Windows operating system since Microsoft's CEO Satya Nadella took the helm of the company. In fact, this is the first really substantive consumer release since Nadella took over, and it's just the first of several, like the HoloLens, which it announced in January of this year. How Windows 10 does should give us some insight into Nadella's abilities to manage product teams.
But more important to you, it makes a lot of changes to the operating system, some of which are a return to form of previous versions of Windows. It also marks the first time Microsoft has offered a version of its operating system for free — this is a free upgrade for anyone using Windows 7 or better.
If you're thinking of upgrading, here's what you should know.
Start Menu
Windows' iconic Start menu is back after its (very unpopular) removal from Windows 8. In Windows 10, it has been beefed up, with live tiles that show your most used apps, and it includes the full directory that's been the defining Windows feature that nearly everyone born pre-2000 is very, very familiar with.
The menu is now customizable; most new features can be turned off in favor of a simple, streamlined list, or expanded to full screen for those who liked the tile-dominated "Metro" grid experience of Windows 8. The Start menu's search will also feature Microsoft's assistant feature, Cortana.
Cortana
Cortana is Microsoft's integrated personal assistant that uses voice recognition — it's much like Apple's Siri or Google Now. Cortana isn't just for Start — it's going to be a foundation of Windows 10 at large. The digital assistant will be a portal to searching and scheduling in your Windows experience, and attempts to surface relevant information exactly when you need it. According to Microsoft, Cortana will be able to bring up relevant news and reminders when needed (and without having to ask) and will understand context when you give it commands, much like Google Now and the recently upgraded Siri. That means you could say something like "Show me the pictures from Hawaii," and Cortana will give you an album from your vacation.
When first launched, via the search window, prompts will appear to configure Cortana for voice recognition ("Hey, Cortana" is the voice command to launch the assistant), permissions, and personalized data — like your name. Microsoft, like Google and Apple, maintains that the more information you give to Cortana, the better the program will be at surfacing the information you want, when you want it. Tell it where your home or office is, for example, and it will automatically help with directions, reminders, and recommendations for restaurants or events in the area.
Edge
Edge — previously code-named Spartan — is Microsoft's new browser. It's fast, clean, secure and a welcome upgrade.
Cortana is integrated into the browser too, offering contextual searches (aided by Microsoft's Bing) and brings relevant information, like news, frequently visited sites, and weather to your homepage.
Microsoft also boasts a Reading View, a tool to strip away formatting and just read the text from a web page in a book-like layout, or to save articles for later. It's a feature, though, that's already available in Safari by default and through Chrome extensions like Evernote's Clearly, as well as via third-party services like Pocket and Instapaper. For anyone who's built up a sizable library of saved articles on another service, this is late, but hey it's nice to have.
The most unique addition to Edge is the ability to annotate web pages. Windows 10 is designed to be touch-first, and promises to let people interact with anything we see on the screen. In Edge, this means using the web browser to mark up, highlight, and cut up pages you want to inspect at will, albeit a static version of that page. How does it work? Edge saves an image for any web page you start to mark up with the additions, it's not like you're drawing on the page itself.
Because it's a new browser, Edge is incompatible with most browser extensions. If your web experience is a heavily customized one, you might be better off sticking with your browser of choice for now.
Touch-First
The touch-first way of thinking isn't limited to Edge. Microsoft is aiming for an operating system that makes sense on any Microsoft device, and the Windows 10 desktop experience is designed to translate to other, touchscreen formats. Even a non-touchscreen computer comes with a Tablet mode option in Windows 10, which changes the interface to something similar to Windows Metro — a tile-based format limited to notifications, Cortana, and apps. Of course, this works best when using a hybrid laptop and touchscreen Windows computer, like the Surface.
A Unified Operating System
That flexibility — the ability to switch from desktop to tablet — is indicative of how Microsoft wants its new operating system to fit seamlessly into devices other than PCs. Hybrid devices, like the Surface, are a clear example of that, but the company is building an OS that translates to tablets, smartphones, and the Xbox — tightening the gap between PC and gaming device.
And, Finally, Solitaire Is Back.
Some Microsoft users were upset when it disappeared from Microsoft 8. The game of digital cards back, for anyone bored enough to play it. Yay! Solitaire!
It's now called "Microsoft Solitaire Collection Preview." But just search for "Solitaire," and it'll show up.