Google Built A Router It Thinks Will Fix Your Home Network
The company's OnHub router is intended to be faster, more reliable, and — most importantly — understandable.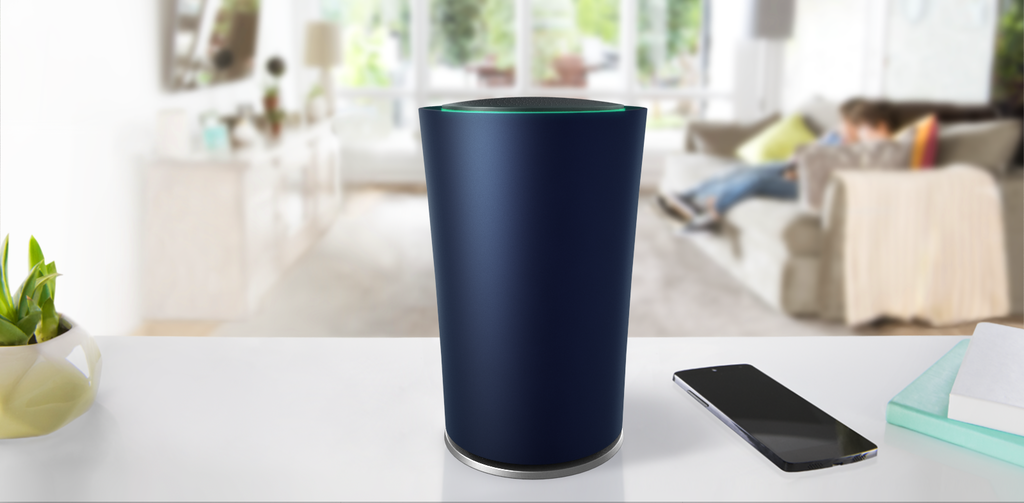 Routers are, for many, a mystery. They're shoved behind a television or in a corner, and left alone until the precise moment your internet connection goes down. When that happens, you check the blinking green lights and if they're not blinking the way you remember them blinking last time you checked, you unplug the router, wait ten seconds, then plug the router back in. Did that work? Maybe you should cycle your modem or...
Google wants to change what's often a frustrating process, and demystify your home network.
On Tuesday morning, the company began pre-sales of OnHub, a router designed to fix the typical router/user relationship. "We realized that people were just living with Wi-Fi issues," Trond Wuellner, an OnHub Product Manager, told BuzzFeed News.
Wuellner spent eight years working on Chrome before moving to Google's hardware development division, where his team identified three problems with routers: They were badly designed, unreliable, and above all, mysterious — the average owner just didn't understand how they worked or how to fix them.
The design problem was the easiest to address; OnHub doesn't look like a typical router. It evokes products like Amazon's Echo, or Apple's AirPort Extreme, rather than something from Netgear. Developing an appealing router design was a priority. "The reason that people keep their routers on the floor" — something Wuellner says seriously limits a router's effectiveness — "is design. There are a lot of wires, routers come in ugly shapes, and with bright, blinking lights." So, Google conceived of OnHub as a rounded tower and minimized its wired connections. The company also softened its blinking lights and added an option to disable them, should the device be installed in a bedroom. The result: a router that doesn't compel its owner to stick it under a couch or inside a closet.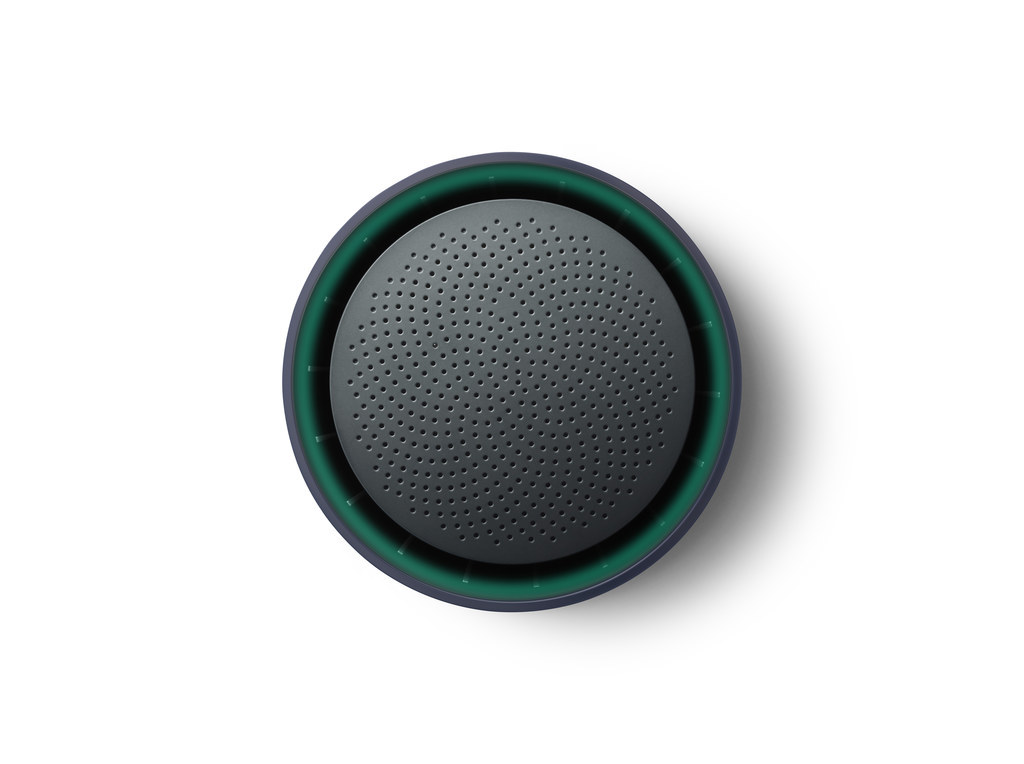 OnHub was also designed for ease of use. It can be calibrated and maintained via a smartphone app called Google On. That app uses "Insight Cards" to lay out what's going on with the router in everyday language, and offer easily understandable suggestions for optimizing its performance.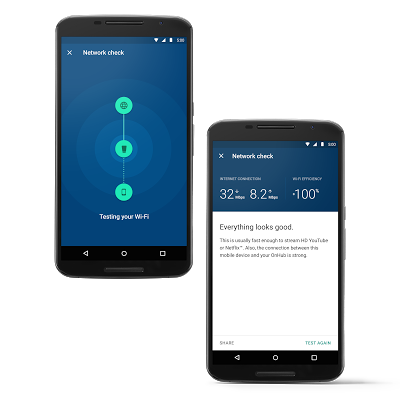 OnHub's functionality is intended to be as close to automatic as possible "The problem with using these devices is that they're miserable to set up and maintain," said Wuellner. With OnHub, you simply plug it, wire it, and pair it with the Google On app. Then, it's largely set it and forget it. (Or so Google says, we haven't had a chance to try it yet.) Google claims OnHub's antenna system — there are 13 of them — is designed to boost WiFi signal range beyond that of normal routers and it will auto-update itself with the latest software and security patches as they're released. It supports. It supports all the major radio frequencies routers and wireless networking standards devices tend to use. The full tech specs are below.
Oh, hey, here are some specs.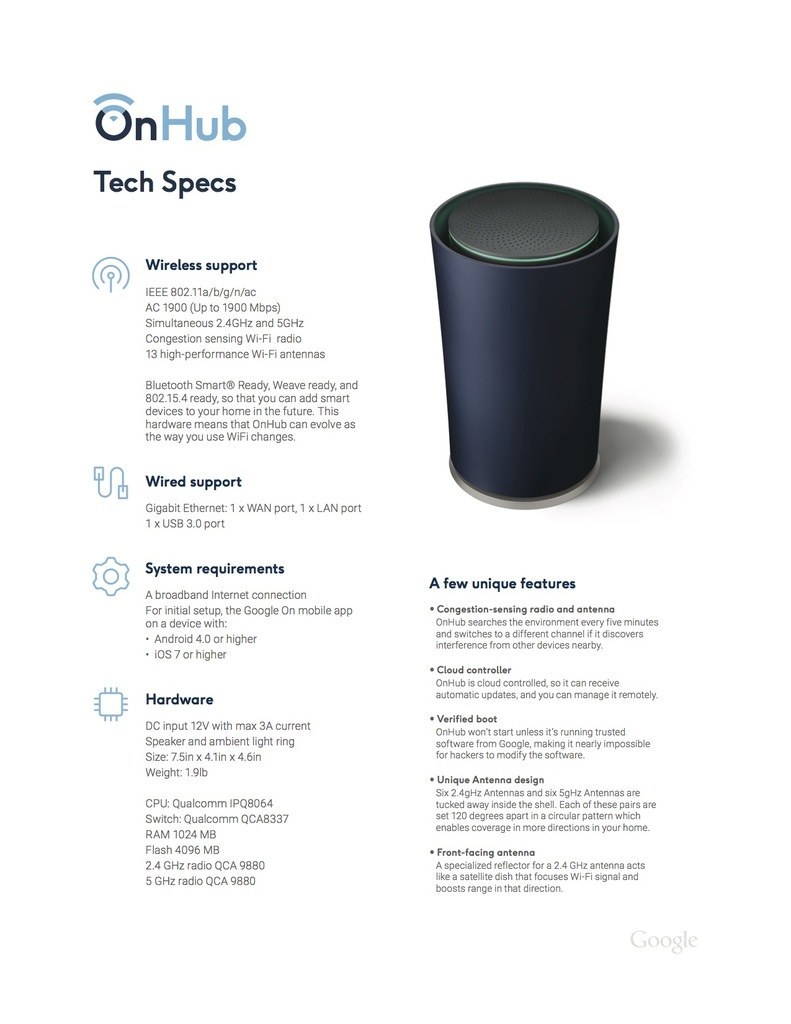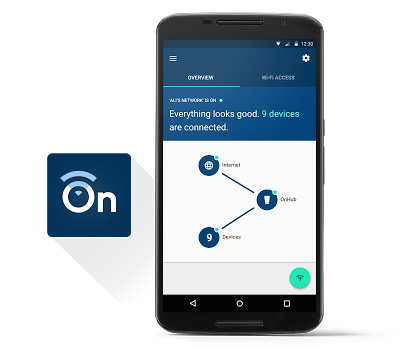 OnHub will retail for $199.99. That's the same price as Apple's competing AirPort Extreme and at higher end of the router price range. But Google is banking on the notion that people will pay a little extra for a way to easily understand and customize their connection to the internet. While there are very good routers available at far less expensive prices, Google would argue that none of these are "good" if you can't understand how they work. With OnHub, Google hopes to change that, transforming the router from enigma to everyday appliance.