Google Has Free Streaming Music Now
With ads, that is. You're going to have to listen to ads.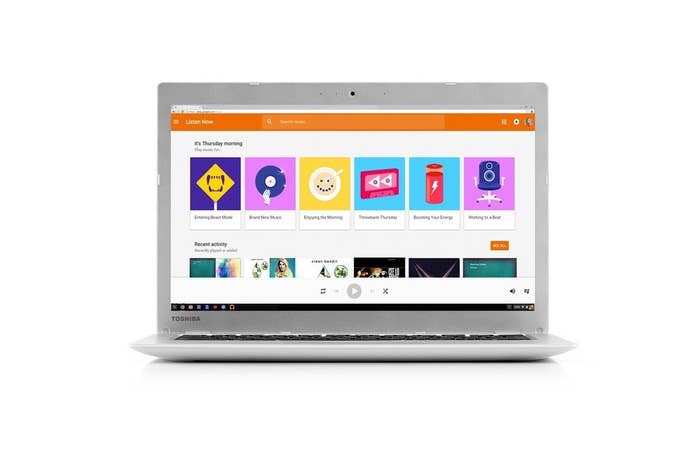 Starting today, Google Play Music will be available as a free, ad-supported streaming service. This means that anyone willing to listen to ads and put up with fewer features will be able to use the service without signing up for a subscription, which typically costs $9.99 per month. It also means that Google Play's model — a multitiered freemium structure — is now more in line with those of its competitors in the increasingly crowded music streaming market.
Google Play Music's non-paying users will get access to one of the service's unique features — the ability to upload up to 50,000 tracks to Google servers from a personal music library, and play them from the cloud, anywhere they roam. The free tier will also give people an option to play curated playlists based on artist or genre preferences, activity, or time of day — think "Having Fun At Work," "Entering Beast Mode," and "Waking Up Happy." "We're focused on the context of your day and serving the music that will be best for that situation," Elias Roman, Google Play Music's product manager, told BuzzFeed News.
Free users will not, however, be able to cue up and play any song or album they want. In offering curated, ad-supported playlists rather than on-demand streaming, Google Play's new free tier is similar to internet radio service Pandora and Apple's yet-to-launch Beats 1.
This freemium model is designed to attract new users, who will then be moved to subscribe. But other freemium streaming options — like Spotify — have encountered resistance from the music industry to offering a free platform at all. Google's announcement brings it closer to looking like every other service on the market, but it comes at a time when the current model is increasingly questioned as being the right one for artists and labels.
Oops. Something went wrong. Please try again later
Looks like we are having a problem on the server.
Will you try the new ad-supported version of Google Play Music?
Heck yeah, dog. I'm uploading my collection of rare Pantera tracks to the cloud ~right now~ so I can rock out between ads.

It depends. Do they have Taylor Swift's 1989?

Oh, no. I mean, if Google Play Music is the best you can do with naming, I'm not sure I want you near my playlists.