Google Is Publishing Unprintable Books
In collaboration with publisher Visual Editions, Google's Creative Labs has begun offering books designed specifically for smartphones.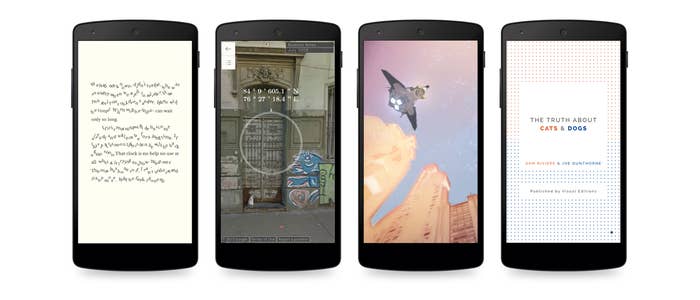 Early Wednesday morning, Google released two electronic books in its Play Store. Unlike the countless e-books already available — the digital equivalent of paperbacks — these books are digitally native. They could never exist on the printed page.
In collaboration with London-based book publisher Visual Editions, Google's Creative Labs has been developing books — short stories, really — intended for smartphones and tablets. The project, Editions at Play, is what Google calls "an experiment in unprintable books." What that means is still up for debate.
The project started as a conversation about a year and a half ago, when Google Creative Labs staffers began trying to nail down what exactly makes a book a book. "We started thinking about pages. If you take paper and fold it in half and give it to someone, we're going to say it's a book, but if it's just a square with text it's not the same thing," T.L. Uglow, a creative director at Google, told BuzzFeed News of the project's inception. "The web means you don't need to have those pages tied together anymore."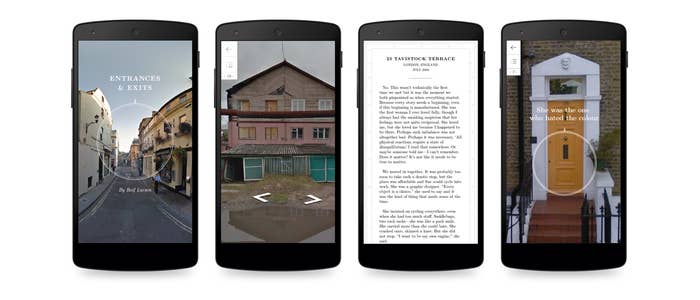 The first book released by Editions at Play, Entrances & Exits, by Reif Larsen, takes place in Google Streetview. The reader moves through a street-level view of a map — the kind taken by one of those cars with a ball of cameras affixed to the roof, discovering new pages to read as the journey progresses. Google describes it as a "book that travels through the world."
The second Editions book is a collaboration between Sam Riviere and Joe Dunthorne called The Truth About Cats & Dogs. It's a pair of diaries presented on a single screen; the reader switches back and forth between the two at will. Each is written by one of two fictional artists attempting to collaborate, and the diaries chronicle their falling-out. The reader is given the option of choosing which narrator to follow throughout the book and, ultimately, which character has the last word.

Editions is a unique experiment for Google, where a team that includes a half-dozen or so designers and programmers as well as some writers and artists have been working on it for about 10 months. "We wanted to explore what it meant when a book doesn't have to start at page 1, and end at 273," said Uglow.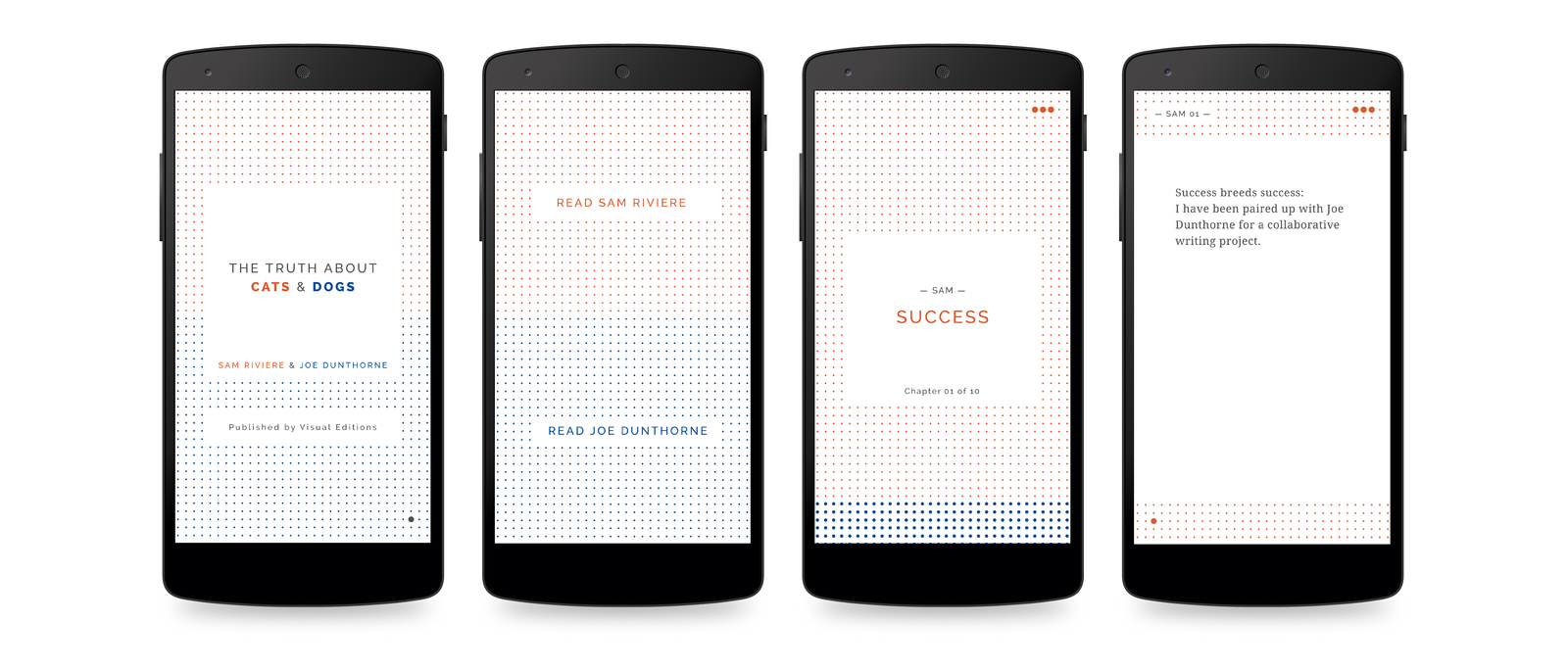 One of the first people the Google team approached when embarking on the Editions project was Eli Horowitz, a former publisher of McSweeney's and co-creator of The Pickle Index, an app-based novel.

"It's a relatively small world of people that are working on this sort of thing," Horowitz said of Editions. "That you read a book on a phone instead of tree pulp and it doesn't affect the story or experience is crazy. I'm fully convinced that there are more possibilities out there."
"In a book, you always know how much of the story is left — how much is in your right hand — and that's information about the story," said Horowitz. "Is this the climax? Is this close to the end? It's a part of the format. These new formats let us play with things like that. There's no one pure form for a story. But every form has a way of affecting the story. It's exciting to see Google get involved in this stuff, because there are advantages to institutional support -- expertise, resources."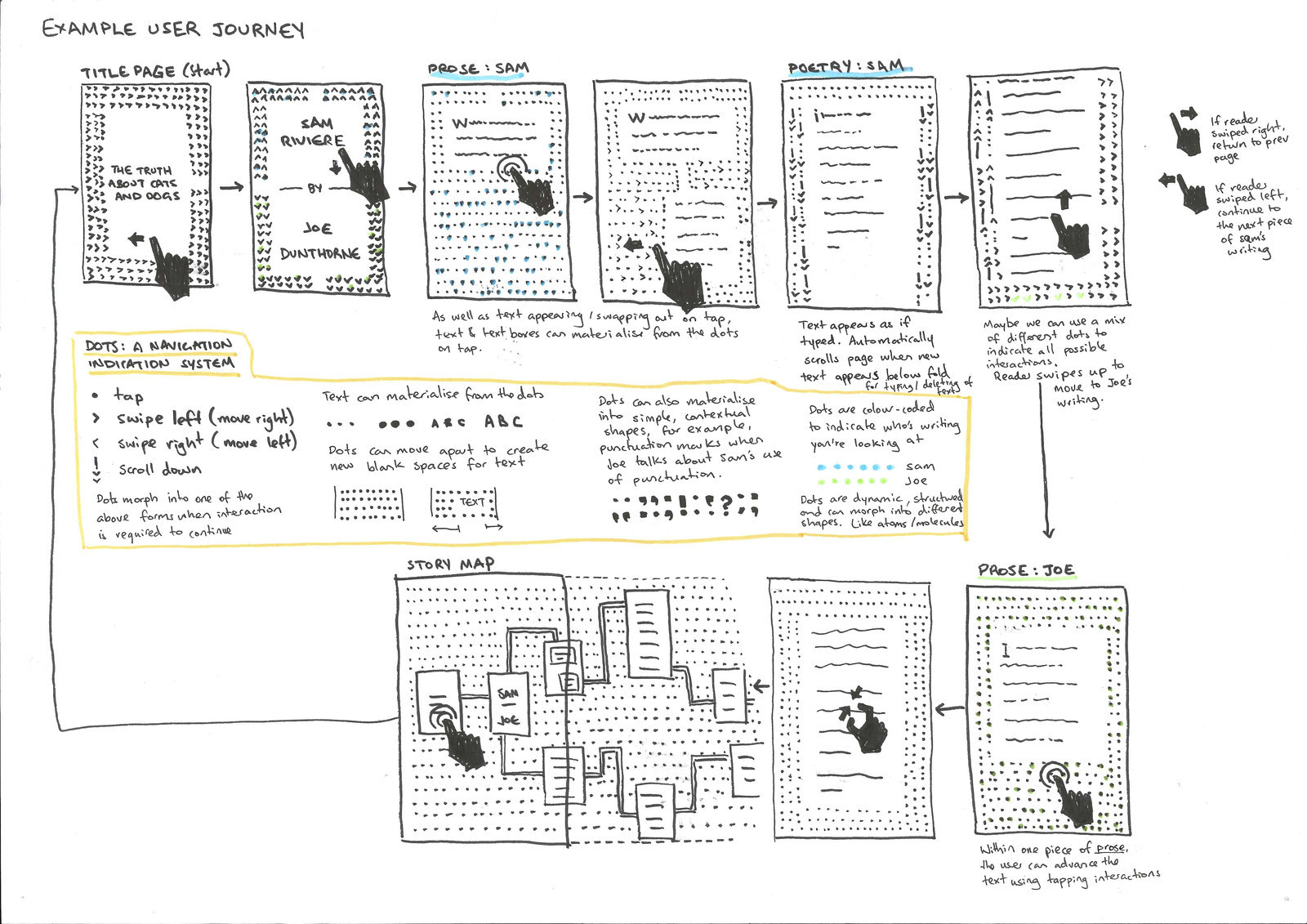 So far, Editions at Play is completely web-based. That means the two $4.25 books are not downloadable. They're readable only on a browser — preferably Chrome on a smartphone — and the reading experience matches the medium. The maps in Entrances and Exits are interactive; the diaries in The Truth About Cats & Dogs are written right before your eyes — and sometimes edited and reworded, as well.

At launch, Editions at Play features just the two books described above, but there are two more on the way in April — one from Tommy Lee Edwards and the other from Alan Trotter. Beyond that, Google won't say what's in the pipeline, but Uglow says there are more projects he's "desperate to do."

"We're still at an early stage with Editions. I would hope that it brings more visibility to the form and gives publishers confidence to try out new things," said Uglow. "We don't want to change what's magical about reading -- but it is that magic that we want to understand."