Everything You Need To Know About Microsoft's Windows 10
Four takeaways from today's announcement.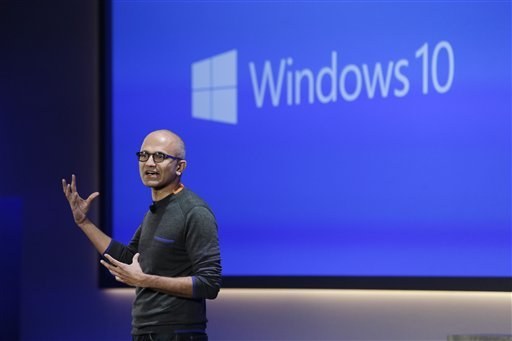 Earlier today Microsoft announced Windows 10, which is both a new operating system and what feels like a company-wide reboot. Here's what you need to know:
Hololens/Holograms/Virtual Reality Insanity
This is the big, ambitious news. Microsoft are getting into the augmented reality game and the results look crazy. This is, essentially, the midpoint between Google Glass and Oculus Rift, and it feels very much like a plausible sci-fi depiction of the future.
Obviously, the issue with augmented reality is it's very easy to make it look cool (again, remember those first Google Glass impressions?) so until people get to try it out for themselves it's hard to be anything but skeptical. The promotional video looks great, but the live demonstration was much less impressive. Once you get past the fact that we're looking at interactive holograms it basically just seems like a big, 3-D version of MS Paint. And I was terrible at Paint. You will also apparently be able to play Minecraft on a couch. Do you want to play Minecraft on a couch? Maybe!
Microsoft Wants To Be Touch-First
Microsoft is making major moves towards becoming what the industry likes to call 'mobile-first' and has designed nearly everything in Windows 10 to make sense on a touch screen. This includes Office, with a newly-conceived Word and Powerpoint that looks like they might be very useful. Additionally, Internet Explorer, everyone's favorite browser to hate, looks like it's on its way out the door. Replacing it is Project Spartan, which got its name from Microsoft leaning very, very hard on that Halo branding. It's a new browser that is supposed to be sleeker and more interactive than Internet Explorer. It will also bring the touch screen, MS Paint-style experience to the web, which means you'll be able to draw on pages like this one, if you so choose.
Welcome To The "Unified Operating System"
Interestingly enough, the word "Love" got thrown around a bunch during the Windows 10 presentation. That's because Microsoft wants users to always be using Microsoft, no matter what they're doing. To do that, it's trying to build one, unified operating system for Windows 10, that lets users switch easily between PCs, tablets, smartphones, and Xbox. Google and Apple are ahead of the game on that front already, but gamers will love the ability to easily stream game content to a laptop, a field that's becoming increasingly crowded: Steam just started their own version of game-streaming service Twitch, and the efficiency of being able to go straight from a console to a computer could win Microsoft a new niche community of users. Additionally, Cortana—Microsoft's voice-controlled personal assistant—will also be on all Microsoft devices, making you feel like Master Chief at all times.
There's A New Business Model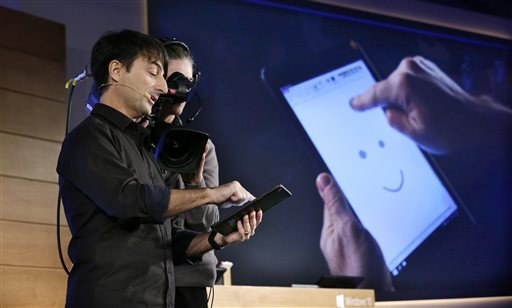 Windows 10 is going to be free to all existing Microsoft users. This is a new direction for the company, but with low adoption rates for Windows 8 (Windows 9 is getting skipped altogether, no word on why so we can assume it's because 10 sounds better), they need as many people as possible updating the new system if they are going to attract developers to the platform. For a company that's always made a significant amount of its money by selling its software to users, this represents a change in Microsoft's financial strategy.
Taken together, this was a massive shift for the struggling tech giant. Microsoft will begin technical previews of Window 10 next week, and there is no word yet on when we'll start to see HoloLens.