Do You Know What Happened In Tech The Week Of May 16?
Google edition!
This week was Google I/O.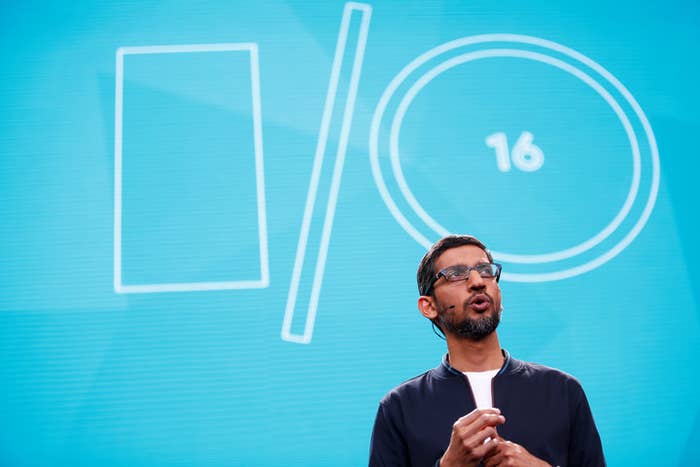 Do you know what this new Google thing is for?
1. Home

BuzzFeed

Voice-controlled speaker and assistant

It's a voice-controlled, button-free device.

The sleek new device from Google will solve your in-home entertainment, to-do and information needs (provided you don't already have an Amazon Echo).

Via Google

2. Allo

BuzzFeed

Like Siri, but British. To activate, say "Allo, mate!"

A new social network where you can say "Allo, mate!" to your internet friends

Google's answer to Amazon Echo

A new messaging app, where you can say "Allo, mate!"

Google promises to make conversations "easier, more expressive and more productive" with Allo. The app is linked to users' phone numbers (like WhatsApp).

Via Google

3. Daydream

BuzzFeed

A machine learning neural network that makes everything look like you're on acid

A new virtual reality platform

Google's plan to destress workers by just letting them zone out for a bit

An AI bot that interprets your dreams for you

Integrated with Android, Daydream is a phone, a headset, a controller, and a bunch of apps you probably already use.

4. Duo

BuzzFeed

How Eric Schmidt would like to be referred to from now on

It's a video chatting app.

Duo comes with a feature Google is calling Knock Knock, which shows a livestream of the caller before the call begins.

5. Instant Apps

BuzzFeed

Apps that live in your mind (thinking)

How to interact with Google's new smartwatch

Apps that can launch without downloading them first

It's a new way to launch apps without downloading them.

Coming soon to Android handsets, this feature promises to make things move much, much quicker on mobile — especially for transactions that require payment.

6. Google Assistant

BuzzFeed

A Siri competitor that's an actual person Google will send to your house

Google guess what you want to search before you type anything

A virtual assistant powered by artificial intelligence

It's the virtual assistant.

Google Assistant is a conversation-based virtual helper that Google promises will bring context-sensitive information to the users of the world's biggest search engine. "Our ability to do conversational understand is far ahead of what other assistants can do," CEO Sundar Pichai said.

7. AlphaGo

BuzzFeed

The new name for Google's self-driving car

Machine learning program that learned how to play a game called "Go"

Google's self-flying plane program

How Eric Schmidt would like to be referred to from now on

It's an AI program that plays the Chinese board game, Go.

AlphaGo is the creation of DeepMind Technologies, a British artificial intelligence company that Google acquired in 2014. Its AI was able to make moves that were not only mechanically calculating, but also creative when it beat one of the greatest players in the world.