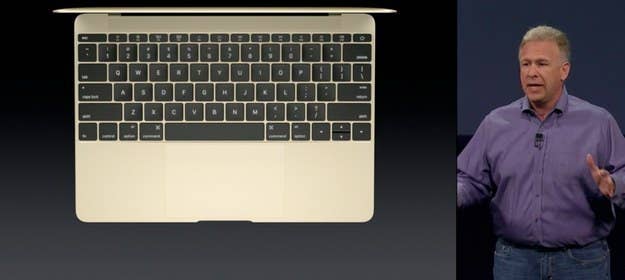 The new MacBook is both the smallest and most powerful Apple computer, by far.
At just 2 pounds and 13.1 millimeters thick, it's 24% thinner than the MacBook Air. It will come with the thinnest and most efficient Retina screen ever, packing over 3 million pixels into the display. It boasts Apple's "most efficient design possible," and includes "the densest logic board ever in a Mac," per Apple Senior Vice President Phil Schiller.
All that extra space is going toward monster battery capacity: The new MacBook offers 35% more battery life, meaning it's capable of 10 hours of iTunes movie playback or nine hours of web browsing.
Other innovations include an all-metal enclosure, a "butterfly mechanism" keyboard whereon each key is lit by a single LED, and a multitouch trackpad that responds to a wide range of pressure. It's also the first fan-less MacBook.
And it includes an entirely new input port. USB, DisplayPort, Power, HDMI, and VGA will all be available in one connection, called the USB-C.
"We continue to provide the very best experience for customers," Apple CEO Tim Cook said while announcing the new MacBook. "Last year, when notebook sales declined, Mac sales increased. We challenged ourselves to take what we learned in iPhone and iPad, to do something bold. We challenged ourselves to reinvent the notebook."
The new machine comes in silver, steel gray, and gold, costs $1,299 or $1,599, and will be available April 10.