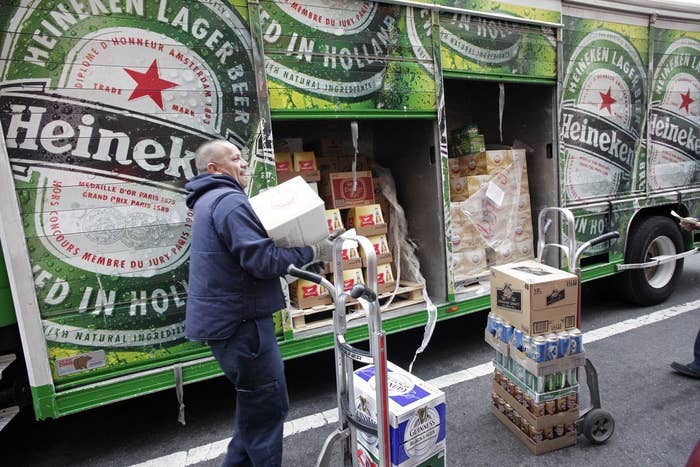 You know that moment at a party when you can see that the booze is running out and you know that someone's going to have to go get more but you don't want to be the one to go so you just ignore it and don't point it out and then the party just sort of...ends?
Amazon wants to fix that, and any other alcohol supply problems you might have. Starting today, Amazon Prime Now will bring you damn near anything, including booze, within one or two hours — if you're in the company's home city of Seattle, at least.
The delivery service is already available in London, where it debuted, but Seattle represents its first foray into the United States. Two-hour delivery is free, and one-hour delivery costs $7.99. According to Amazon's announcement, the service offers "beer, wine, and spirits" (in addition to other need-it-in-a-pinch items like paper towels and milk) and runs from 8 a.m. to midnight, seven days a week. Couriers will check IDs upon delivery.
There's no word yet on when the one-hour booze barge will swerve out of Seattle. "We haven't yet provided a timeline for delivering alcohol in other U.S. cities," an Amazon spokesperson told BuzzFeed News. "Like with any product offering, we will evaluate customer response and if customers love the convenience of having alcohol delivered in under an hour right to their doors then we'll look to expand the offering." (Our guess is that people will love the convenience, Amazon. But we are very thirsty.)
According to an Amazon spokesperson, the beer will be delivered cold.