Morning Update: Stop Taking Nuclear Disaster Selfies, Please
Jon Stewart skewers members of Congress in a hearing, money to take care of unaccompanied minors could run out soon, and why the internet was a mistake. Your BuzzFeed News newsletter, June 12.
Jon Stewart ripped members of Congress for not sitting through a hearing about 9/11 first responder benefits
The comedian and former Daily Show host called Congress "shameful" in Washington, DC, on Tuesday while facing the House Judiciary Subcommittee on the Constitution, Civil Rights, and Civil Liberties.
"As I sit here today, I can't help but think what an incredible metaphor this room is for the entire process that getting health care and benefits for 9/11 first responders has come to," Stewart said. "Behind me, a filled room of 9/11 first responders, and in front of me, a nearly empty Congress. Sick and dying, they brought themselves down here to speak to no one."
At the end of his searing speech, which you can see in full here, he received a standing ovation.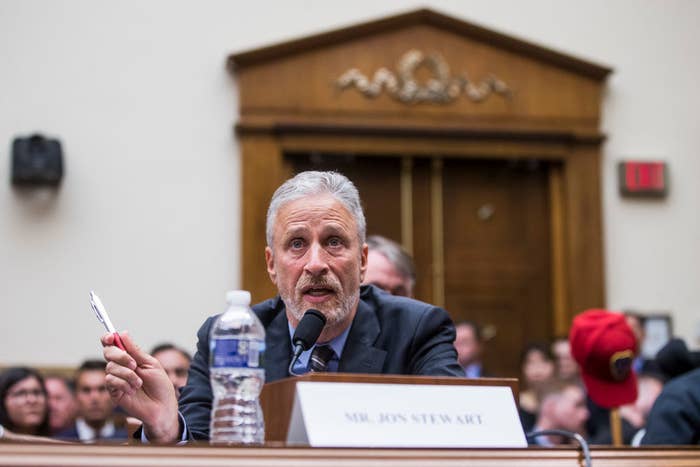 The government could run out of money this month to care for thousands of unaccompanied minors
The Department of Health and Human Services has told Congress it is quickly running out of money to continue caring for undocumented minors who have no parents or guardians to look after them. HHS had 12,600 such minors in government facilities as of April.
While both Democrats and Republicans agree they are staring down the barrel of a crisis if funding is not secured, negotiations involve one of the thorniest political issues: border security. Talks are ongoing, but so far no deal has been reached.
👉Opinion: The child separation horror is made worse by how little we know.

Snapshots
The FDA's first tests for "forever chemicals" in food found them in meat and chocolate cake. The "fluorinated" chemicals, also called "per- and poly-fluoroalkyl substances," or "PFAS" chemicals, have been linked to cancer. They are widely found in water-resistant packaging and consumer products.
The "Dancing Cop" was caught on video punching a man in the face. Ohio officer Anthony Johnson, who went viral in 2015, struck a man who was standing and shouting at another officer, prompting outrage and a police investigation
For the first time, scientists have looked at the brain patterns of jihadists to see how radicalization affects the mind. They discovered that the part of the brain associated with deliberative reasoning deactivates when a person is willing to fight and die for a "sacred cause" — and that the opinions of their peers can change that way of thinking.
Medical care for immigrants is only getting worse at an ICE detention center, advocates say. A complaint, obtained by BuzzFeed News, detailed stories of detainees who received inconsistent medication, suffered delayed medical care, and faced threats of punitive segregation following suicide attempts.
The US women's national soccer team scored the most goals ever in a single World Cup match. The record — for both men and women — was set in their 13-0 victory over Thailand.
Today in Why The Internet Was A Mistake
👉Baseless rumors that asylum-seekers crossing the southern border were infected with the Ebola virus gained so much traction on social media this week that officials in Texas held a press conference Tuesday to dispel the fake reports.
👉"There's no science or medicine to it at all": A viral tweet that purports to list natural ingredients for birth control isn't based on science and could be dangerous, an expert told BuzzFeed News.
👉Pinterest has permanently banned Live Action, the influential anti-abortion group that published videos claiming Planned Parenthood harvested and sold fetal body parts, for spreading misinformation and conspiracies.
👉The creator of HBO's Chernobyl would really appreciate it if you stopped taking nuclear disaster selfies at the site of one of mankind's greatest horrors, thanks.
Here's what kids eat every day around the world
Photographer Gregg Segal is an expert at visualizing our personal impact on the world around us. He previously photographed people with the trash they generated in a week, but for his new book, Daily Bread, he focused on something more delicious and adorable: what a week's diet looks like for kids all over the world.
Click on through and, in between the fascinating photos, discover what Segal learned while researching and documenting how kids eat.