Michael Cohen Will Testify On Trump Moscow Cover-Up

Cohen, the president's former attorney, plans to tell Congress that he lied to them after Trump told him — "in his way" — to conceal negotiations to build a Trump Tower in Moscow.
"Mr. Trump did not directly tell me to lie to Congress," Cohen will tell the House Oversight Committee in a public hearing according to a copy of his prepared remarks first obtained by Politico. "That's not how he operates. In conversations we had during the campaign, at the same time I was actively negotiating in Russia for him, he would look me in the eye and tell me there's no business in Russia and then go out and lie to the American people by saying the same thing."
Cohen pleaded guilty in November to lying to Congress about when discussions related to the Trump Tower Moscow deal ended, both in testimony and in a two-page statement to the Senate Intelligence Committee.
In other politics news:
👉Thousands of immigrant children say they have been sexually abused while in US custody, according to new documents released at a House hearing.
👉Ohio is considering moving back its 2020 primary, and that could hurt Sen. Sherrod Brown's chances if he decides to run.
👉A Republican member of Congress accused Michael Cohen of having an affair, raising questions about witness intimidation.
👉Joe Biden says his family wants him to run for president, but he's still making up his mind.
👉Congress voted to massively expand public lands across the US and create four national monuments.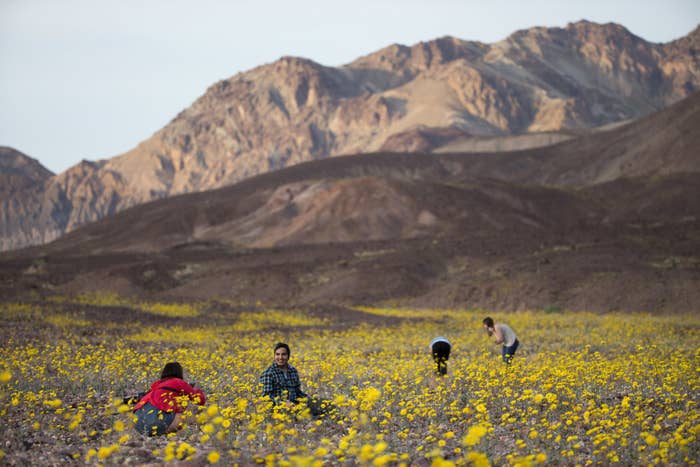 🚨Can you think Outside Your Bubble? 🚨
If you like cash and trivia — we've got the game show for you. Follow Outside Your Bubble on Facebook to play live tonight at 10 pm ET 💰Psst: Last week, eight people each won $625!
SNAPSHOTS
A mom and her daughter allegedly killed five relatives, including three kids. Shana Decree, 45, told authorities that everyone "wanted to die" as part of a supposed murder-suicide plot. She and Dominique Decree, 19, each face five counts of criminal homicide and one count of conspiracy to commit criminal homicide.
The DC circuit ruled that special counsel Robert Mueller was "properly appointed." The court upheld a civil contempt order against former Roger Stone associate Andrew Miller, who refused to comply with a grand jury subpoena and challenged Mueller's appointment.
A guy spent $540 on Girl Scout cookies, went viral, and was later arrested on federal drug charges. Detric McGowan bought out the girls' cookie supply so they get out of the cold, but it turns out he was a wanted man. Now he's accused of trafficking heroin and fentanyl, smuggling more than $1 million in cash, and renting a building to manufacture and store drugs.
Rapper Lil Xan and his pregnant girlfriend Annie Smith are being accused of sharing fake ultrasound photos. They announced the pregnancy earlier this month on Instagram, and on Friday shared purported ultrasound pics. But it didn't take long before fan and gossip accounts began to claim there was a close resemblance between the couple's photos and those that you can find on Google.
A Fat Rat Got Stuck In A Sewer Grate In Germany And Oh My Goodness
Look. If you don't like seeing cute rats, stop scrolling. Still here? All right! A chubby rat was so stuck in a sewer grate that an animal rescue group couldn't remove it, so a whole team of firefighters had to come out and save it. In the end, the rat was freed, the girls who found it drew a picture and gave it to the firefighters, and hopefully the rat learned a very important lesson.