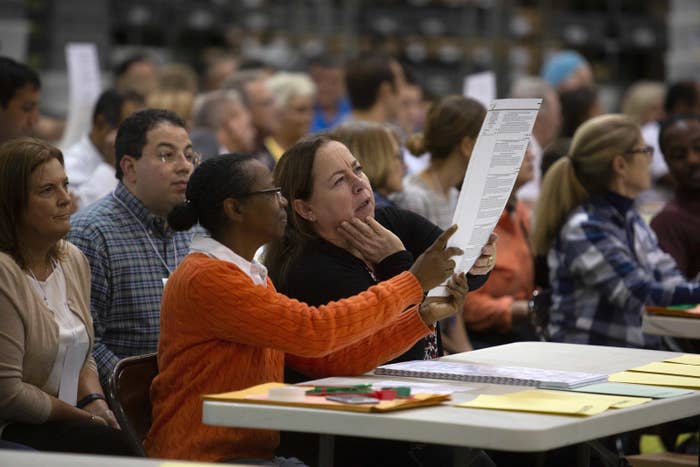 Everyone has kept an eye on the goings-on in the Sunshine State since election night, and for good reason: Several statewide contests eroded into recount territory.
Let's set aside all the assumed conspiratorial nonsense about stolen votes and get down to what we know went wrong in one particular county and how it may be impacting the closest statewide race of national interest, the US Senate contest between incumbent Democratic Sen. Bill Nelson and current Gov. Rick Scott.
Election night discrepancies
All counties are required to report their early (that's in-person early) vote by 7:30 p.m. ET on Election Day. Sixty-six counties in the state compiled, but Broward, per the Florida Secretary of State's tracker late into the week, failed to do so. There has been some back and forth on Twitter as to the letter of the law, perhaps giving some wiggle room to Broward, but whatever the excuses, every other county found a way to comply with this reporting deadline.
Vote count changes after Election Day
Absentee and provisional ballots, along with some early votes in Broward, were added to the reported totals over the next 96 hours. Scott went from a 50,000+ vote edge to just over 12,500 with these updates, enough to push the contest well beyond machine into hand recount territory.
Let's sue everyone
Scott attempted to force the impoundment of ballots and voting machines in Broward County, a motion rejected by a judge Monday, and a similar motion involving Palm Beach County was rejected Tuesday. A Broward County judge sided with Scott on the matter of voter information (ballots cast, counted and yet to be counted) in a suit against the county's Elections Supervisor Brenda Snipes. Scott also won a suit against Hillsborough County that had alleged observers were not being allowed into the recount room (in violation of state law). It wouldn't be a Florida recount without additional lawsuits, of course: Common Cause and the League of Women Voters filed a suit earlier this week to block Scott from involvement in the recount. The governor has since recused himself from the certification process.
Bad ballot design cost Nelson (and Scott!) thousands of votes
The ballot design across the county placed the Senate contest directly underneath of the ballot instructions. If this sounds bad, well, it is: The US Election Assistance Commission urges election officials not to do this, but Broward went ahead and did so anyway.
A strong theory floated by Democratic consultant Matt Isbell argues that busy voters missed the race entirely because of this ballot placement. The other argument, pushed by Nelson's lawyers, is that this undervote is actually a machine error, one that could be revealed in a hand recount.
But the results from the hand recount, trickled out by the press Friday, proved Isbell's theory to be the correct one: Few people in the undervote ballots voted for Senate.
Deadlines, deadlines, deadlines
The machine recount had to be completed and reported to the state by 3 p.m. ET on Thursday, Nov. 15. Both Palm Beach AND Broward missed the machine recount deadlines, so their original counts were reported as part of the machine recount (PBC still has a few days to report a final machine recount for state records). A manual recount of the overvotes and undervotes set aside from the machine recount must be completed by Nov. 18.
What this all likely means
The confirmation of genuine undervoting in Broward has basically assured Rick Scott his victory in this tight race. Nelson was delivered a blow perhaps as fatal as Broward's phantom votes Thursday: US District Judge Mark Walker rejected Nelson's challenge to the hand recount rules.
The math simply isn't there for Nelson — he needed that undervote to have been missed votes and sympathetic court rulings to allow for extensions on provisional ballot confirmations, and on what constitutes valid signatures and ballots, and for those provisional and rejected mail-in ballots to exceed his current deficit.