A North Dakota woman and the three Somali women she verbally threatened in a Walmart parking lot on Tuesday have met at the local police department and reconciled, they announced.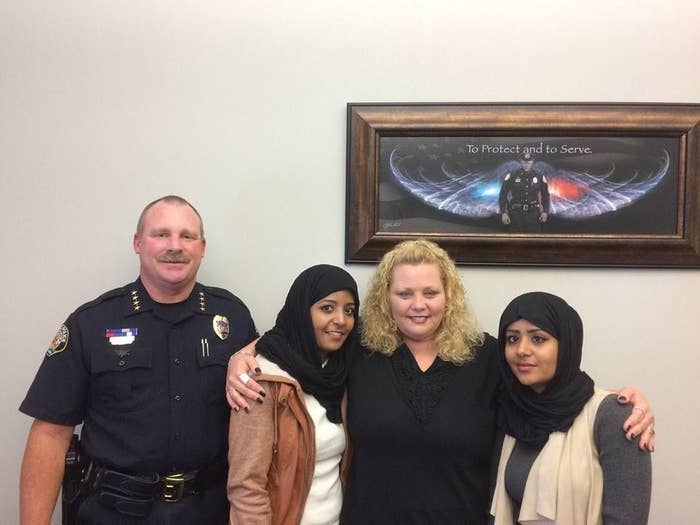 "We forgive her," Sarah Hassan, one of the women who Amber Hensley threatened, told BuzzFeed News. "She had a bad idea about Islam and about Muslims. We sat down with her and discussed Islam... Islam is about forgiveness and we want to show that to people.
"She has a good heart, she's a good person inside, and we don't want anyone to judge her."

In a post on the Fargo Police Facebook page, Chief David Todd said that everyone involved in the altercation on Tuesday had expressed regret regarding their actions upon meeting on Thursday afternoon.
"With an openness to reconciliation, these women have come together and talked through this incident and expressed their sincere regrets, apologies, and —most importantly — forgiveness to each other," Todd said. "This process has also allowed them to gain understanding and respect for each other."
Hensley was videotaped threatening the three Somali women on Tuesday and apologized after footage of the altercation went viral.
In the footage, Hensley confronts Rowda Royan, Sarah Hassan, and her sister, Leyla, around 5:30 p.m. local time, accusing the women of parking too close to her.
Royan turned on her camera about halfway through the altercation, capturing Hensley saying, "We're gonna kill you. ... We're gonna kill every one of you fucking Muslims."
"Go home. Go home. ... Why are you in our country? I'm an American; you're not," says Hensley in the video.
When Royan warns Hensley she is going to report her to police, Hensley can be heard saying, "Do you think the police care?"
Fargo police did not immediately respond to requests for comment, but posted on Facebook that their officers responded to the incident on Tuesday.
Speaking to BuzzFeed News, Sarah Hassan said police were "very supportive" of her, her sister, and Royan.
Hassan said the reason the three could not move their car was that Hensley was standing too close to it and they did not want to run her over.
"We don't want her arrested," she said. "We just want everyone to know the truth."
Video of the exchange was shared widely on social media and has picked up millions of combined views.
Such was the spread of the clip that multiple people tracked down and contacted Hensley's employer, public accountants Horab & Wentz. The company announced on Wednesday that she was "no longer employed" as a secretary there, effective immediately.

"Horab & Wentz does not agree with or support the statements expressed by Amber Hensley in the recently posted video," the company told BuzzFeed News. "She does not reflect the views of Horab & Wentz."
Hensley told local station KVRR that she was sorry for her words.
"It was not a Christian-like thing to do AT ALL and wish I could take it back, but I lost my cool and I can't. I am terribly sorry. I just wish that the whole video could be shown," she said.
Hensley claimed that the footage only showed half the story and that the three Somali women had parked "way too close" to her car and had refused to move, before swearing at her and calling her a "fat bitch."

"She said, 'Fuck Jesus!' and I lost it!" Hensley said.
"But there are absolutely no excuses," she added. "I am in tears with regret and will take any form of punishment deemed fit."