Lewis Hamilton Is Under Fire For Spraying An F1 Hostess With Champagne
Photos of the hostess as she was sprayed with champagne by Hamilton after his victory in the Chinese Grand Prix have been met with criticism.
Formula One driver Lewis Hamilton is being criticised for spraying champagne over a hostess during a victory celebration at the Chinese Grand Prix.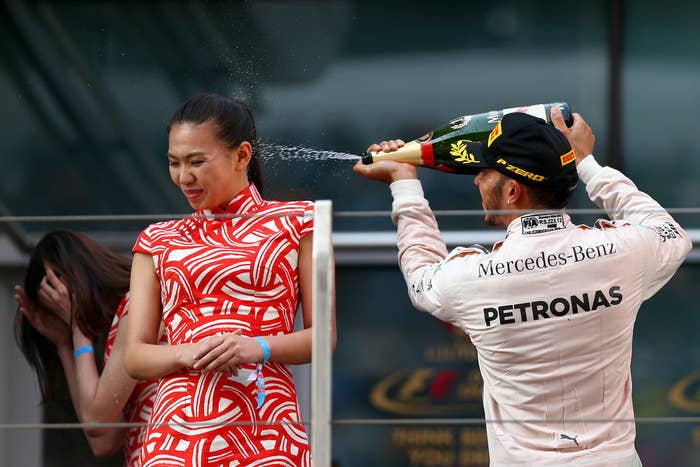 The act is a common celebration among Formula One drivers; however, given the photo and the obviously disgruntled reaction of the hostess, there has been a backlash.
People are also coming to Hamilton's defence.
Roz Hardie, the chief executive of Object, a media sexism campaign, told the Daily Mail:
The photographs appear to show that the woman is not just being splashed, but that the champagne is being very specifically directed into her face, which does not look like a voluntary piece of horseplay on her part. If this if the case we think Lewis Hamilton should apologise for his actions and think carefully about how he behaves in the future. For most people, it would be apparent that she is not enjoying it.
Hamilton has yet to make a statement on the controversy.