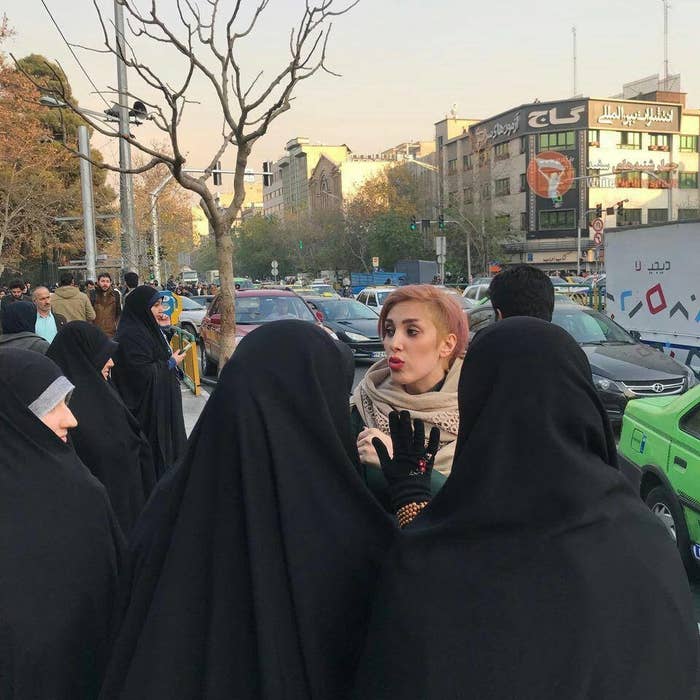 Fresh videos and pictures emerged Wednesday showing women across Iran removing their Islamic headscarves in public as part of a protest movement against the mandatory head covering.

Material posted online via the Telegram messaging app showed women in Tehran, Mashhad, Rasht, and Tabriz removing their headscarves in public parks and streets.
The movement, called "White Wednesdays" and inspired in part by an exiled Iranian activist and journalist based in New York, has ignited a debate at the highest levels of the Tehran government, with both liberal and hardline factions struggling for advantage within Iran's corridors of power.
Iran's relatively moderate president, Hassan Rouhani, fired two volleys against the hardliners this week over cultural issues. On Sunday he released a 2014 survey reportedly showing half of Iranians oppose the mandatory veil. (A 2015 survey showed broadly similar results.) At a wide-ranging press conference Tuesday, Rouhani referred to nationwide protests last month in which thousands took to the streets over a variety of issues.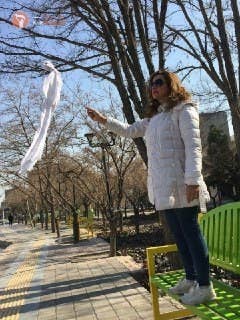 "Yes, people have also criticized economic issues and they are right," he said. "But, their protests were not only limited to economic issues. People have a lot to say about social and political issues and international relations. We should fully listen to them."
Hardliners have sought to crack down on the hijab protests, labeling the dozens of women who've photographed or videotaped themselves in public without their headscarves as deviants or dupes of Western powers. Authorities late last week announced the arrest of at least 29 people in connection to the hijab protests. Judiciary spokesperson Gholam-Hossein Mohseni-Ejei, a hardline cleric, smeared some of the protesters as drug abusers.
"The first group has been deceived by others and can be set free after signing a commitment form," he reportedly said. "But the second group was organized by foreign-based groups and was under the influence of industrial recreational drugs."
Struggles over cultural issues and especially the status and freedoms of women have been a defining feature of Iran's political battles since the country was taken over by fundamentalist clergy in a 1979 revolution. The battles take place within the regime elite and between the country's youthful public and the sclerotic oligarchy of senior clerics who dominate its institutions.
But the debate now spilling out over the hijab comes at a particularly sensitive time for Iran. Political factions are vying for popularity, power, and legitimacy ahead of the possible passing of the country's 78-year-old supreme leader, Ali Khamenei, who is seen as close to hardliners for his positions on social issues and foreign policy.

Even several years ago, Khamenei was insisting that women should stay at home while Rouhani argued that they should determine their own fate. "The status of women is integral to the identity of the regime," said Sanam Naraghi-Anderlini, a Washington-based, Iranian-born adviser to the UN on women's issues.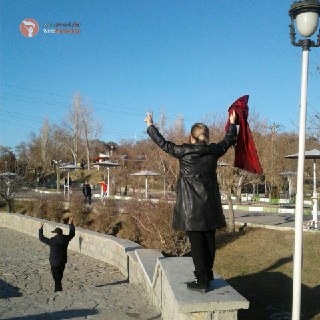 Iranian women, many apparently inspired by US-based activist Masih Alinejad, have been pushing the issue front and center.
The risks are enormous. Alinejad became an inspiration for the movement after launching a Facebook page called "My Stealthy Freedom" in 2014, which encourages women in Iran to photograph themselves without their hijabs. Once a respected political reporter in Iran who relocated to New York years ago, Alinejad works for US government–funded Voice of America and Radio Farda as a journalist, producer, and anchor, opening up those women who heed her calls and anyone who helps photograph or videotape them to charges of being dupes or spies for Washington.

Vida Movahed, a 31-year-old mother of a toddler, became the icon of the movement when it gathered momentum in December, has been arrested twice but released.
Nargess Hosseini, the second woman to publicly remove her headscarf, has faced stiffer penalties and potential charges, including encouraging corruption, noncompliance with religious hijab, and failing to act in an Islamically sanctioned manner. According to her lawyer, she refused to express regret over her actions and is being held on $15,000 bail in prison in a Tehran suburb. Conviction on the charges could add up to 10 years imprisonment and lashes for the 32-year-old social sciences student and public sector employee.
"Ms. Hosseini did not even appear in court to express remorse for her action," Hosseini's lawyer, Nasrin Sotoudeh, told the Center for Human Rights in Iran. "She said she objects to the forced hijab and considers it her legal right to express her protest."
Naraghi-Anderlini, the Washington-based adviser, in a posting to a private group of scholars and journalists, recounted the history of Iranian women's struggles against hijab during the last four decades, with acts of defiance that have included protests, showing hair and ankle, and wearing increasingly tight outfits in lighter colors.
"I see the current movement as truly the result of a persistent women's movement that women in Iran have been fighting back for 39 years, whether you call yourself an activist or have just been part of the mainstream flow," she said, noting that the headscarf may only be the most visible and superficial dimension of women's oppression in Iran.
"The hijab is an important symbol," she said. "But if you take it away tomorrow it doesn't dissolve all the discriminatory laws entrenched in the law and constitution against women."
Fariba Pajooh contributed additional reporting to this story.