Why Turkey's Youngest Political Leader Is Making Waves Ahead Of Sunday's Elections
Selahattin Demirtas, who is being dubbed "Turkey's Obama," was key in doubling his party's vote and denying the ruling AKP a majority for the first time since 2002.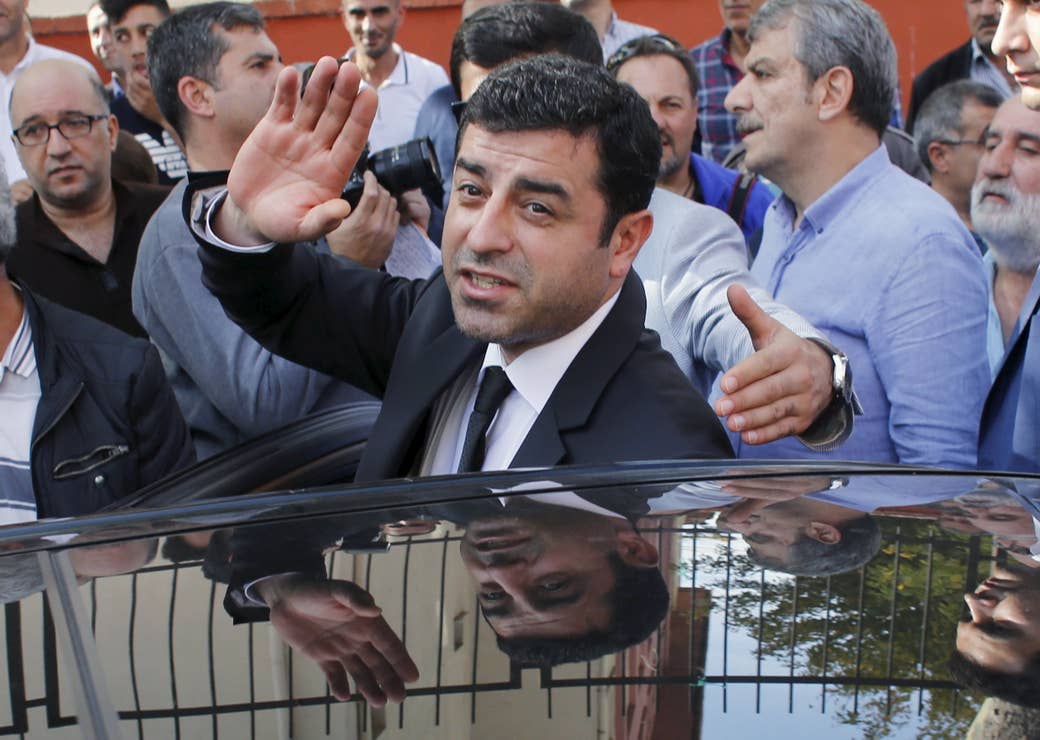 ISTANBUL — Hours after a pair of suicide bombers killed more than a hundred people at a rally in the Turkish capital of Ankara, opposition leader Selahattin Demirtas emerged from the hospital where the dead and wounded were being treated. Poised, yet angry with grief, he all but dared the government to arrest him.
"What's taking place is not a child's game," Demirtas, a member of Turkey's Kurdish minority, said to the reporters assembled outside the hospital. He was referring to a series of deadly attacks on his supporters and his People's Democratic Party (HDP) that began just before the June 7 general elections that initiated Turkey's worst political crisis in two decades. "We are dying every day. We are the ones who die. We are soldiers. We are the police. We are the Kurds. We are the Turks. We, the children of this poor nation, are the ones who die. Not you."
It was among the 42-year-old attorney's most memorable speeches, and it sent a message to Turkey that a new political force was emerging in the country, one that had already disrupted plans of the ruling Justice and Development Party (AKP) and its leaders, Recep Tayyip Erdogan and Ahmet Davutoglu, the country's prime minister.
If his political skills weren't enough, he also managed to serenade voters by appearing on television where he sang and played a saz, a traditional stringed instrument, a rare public display of irreverence and youth in a country with a somber, serious political culture.

"He's a clever guy and a good speaker and also has good leftist values," said Ertugrul Kurkcu, a member of Demirtas's HDP party. "But if that weren't enough, Demirtas has this charm."

As Turkey prepares warily for snap elections on Nov. 1, many are closely watching the drama unfolding between the AKP and Demirtas, who managed to double his left-leaning party's vote by drawing support from Islamists, as well as leftists supporters of Kurdish autonomy who once absconded from electoral politics.
"This is somebody who is certainly the most talented politician of his generation," said Gareth Jenkins, a longtime Turkey watcher. "But he has been walking a very fine line."
Turkey is muddling through bleak times. The conflict between the armed forces and the militant Kurdistan Workers' Party (PKK) that continued on and off for three decades has once again flared up. Jihadi suicide bombers have struck at least three times in six months. The country is flooded with more than 2 million refugees fleeing the unceasing conflict in neighboring Syria. The Turkish lira is skidding just slightly above an all-time low.
Turkey's heated and potentially disruptive political rhetoric usually cools down after elections. But not this year: June's inconclusive vote prompted five months of mudslinging and political attacks among the AKP, HDP, and the two other major parties — the center-left Republican People's Party (CHP) and the far-right Nationalist Movement Party (MHP) — at a time when the country desperately needs unity to fight against ISIS.
To many Turkey watchers, the dapper Demirtas appears as a rare bright spot in Turkish politics. He has been described by his supporters as a potentially transformative figure. Some even call him the "Turkish Barack Obama." But critics say he is more like Gerry Adams — the leader of the political wing of the Irish Republican Army — serving as a stalking horse for the ambitions of the outlawed PKK and its jailed guerrilla leader Abdullah Ocalan.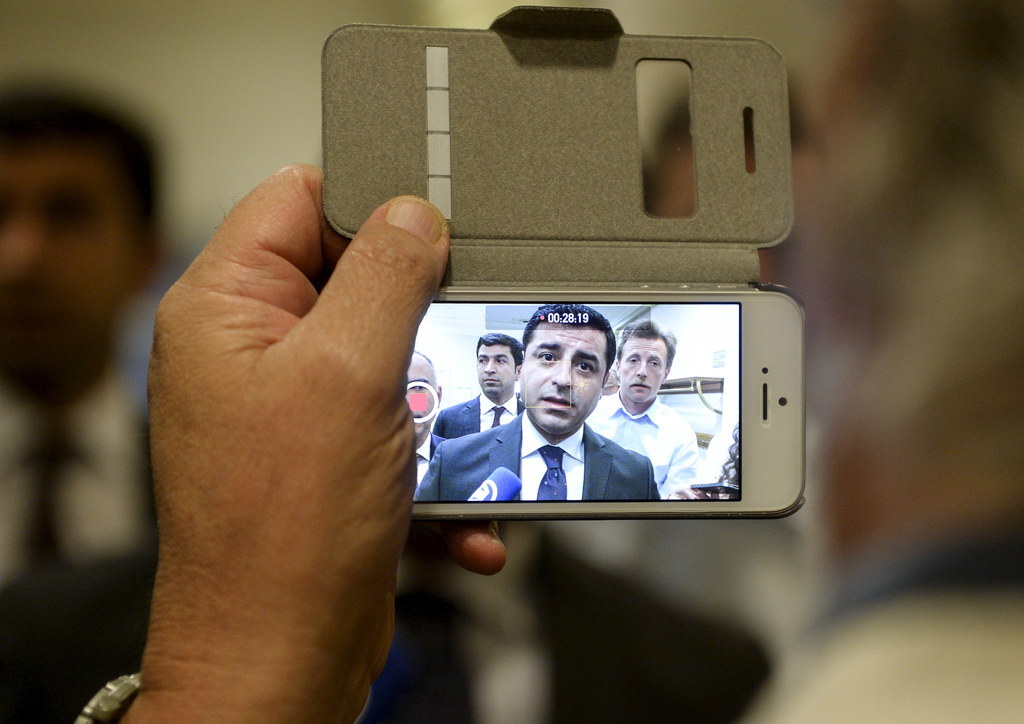 Had it not been for a brief 1991 imprisonment as a young man, Demirtas, a native of the Kurdish city of Diyarbakir, might very well have wound up as a PKK guerilla warrior fighting the Turkish government in the mountains like his older brother, Nurettin. For Demirtas, jail time appears to have engendered a fascination with the criminal justice system and law school.
As his brother went to jail for 12 years, he began a small law practice in Diyarbakir with a focus on human rights cases. When he started getting involved in Kurdish politics, many say Ocalan himself spotted Demirtas among the left-leaning pro-Kurdish activists and militants.
"If Ocalan didn't want Demirtas as leader, it would take one day to remove him," said one political insider who has contacts with both the government and the opposition and agreed to speak only on condition of anonymity. "Six or seven years ago, I asked Ocalan who would be the political leaders of the movement and said he had found two young people and appointed them to the leadership. One was Selahattin."
But others describe a more fraught relationship that has developed between the PKK's leadership and Demirtas — one that prompted them to engage Turkish forces after a two-year truce. "The PKK was taken aback by the rise of Demirtas," said Henri Barkey, director of the Middle East Program at the Woodrow Wilson International Center for Scholars. "That's why they escalate. They're trying to make sure they don't lose control."
"If they kill him, in one hour we will have a civil war."
Pro-government media and supporters have branded Demirtas and his party an extension of the PKK, which is described as a terrorist group by Turkey and the U.S., though not the European Union, and describe Demirtas as reckless and extreme.
"Now he shouts, 'murderer state' at rallies, when the funerals of the Ankara bombing victims are still being held one after the other," Davutoglu said in a nationally televised speech. "If he wants to see a murderer, he should look in the mirror."
The reasons for their diatribes against him are clear. It was Demirtas who managed to double his party's vote, surpassing a 10% hurdle for winning seats in parliament and denying the AKP a simple majority for the first time since 2002. In doing that, Demirtas has perhaps fatally damaged Erdogan's quest to reshape Turkey into a presidential system with himself at the helm.
Kurkcu, the HDP member, said his party managed to do this by taking a page from the playbook the AKP had mastered but abandoned: appealing to multiple constituencies, including pious Kurds and urban leftists as well as secular Kurds. The party doubled its votes by drawing away pious Kurds from the AKP, but also managed to bring in about a million non-Kurdish votes.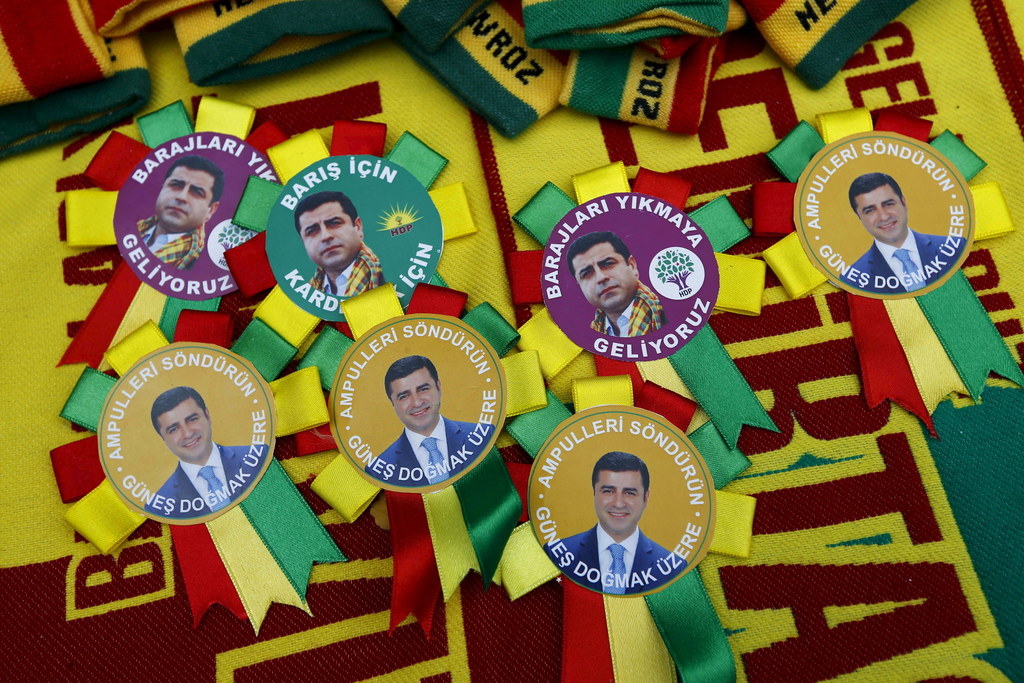 Demirtas was the perfect spokesperson for this strategy. "He knows the mind of a guerilla fighter as well as the ordinary Kurd living in the countryside," he said.
After inconclusive June elections, the HDP was the only party willing to join the AKP in a temporary government, only to quit a month later under pressure from their supporters.
"It could have been a chance for Turkish democracy," Cemal Hasimi, a spokesperson for Turkish prime minister, said of the rare collaboration. "But Demirtas took a very awkward stance and a very hysterical anti-Erdogan position."
The AKP and its allies in the bureaucracy have done all they can to slow the advance of Demirtas and his party. Erdogan's allies sought and failed to convince judges to move ballot boxes from HDP strongholds in the southeast. They have effectively cowed broadcast outlets into blacklisting him. As a parliament member, he's immune from arrest. Many worry he could be assassinated, either by Turkish political enemies or, far more likely, ISIS militants seeking to further plunge Turkey into chaos. Both his party and the nervous Turkish security officials have strengthened his security entourage.
"If he's killed," said the insider, "[there'll be] no more Turkey. If they kill him, in one hour we will have a civil war."