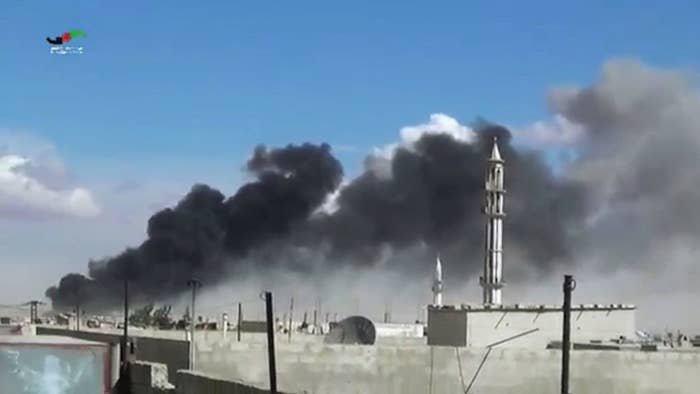 ISTANBUL — The drones had been flying overhead for days, and everyone in Talbiseh felt a sense of dread. When the jets flew overhead on Wednesday there was almost no warning before they dropped their payloads.
"We are used to Syrian planes; they hover for five minutes or more before they carry the raid out." recalls Omar Qayson, a 19-year-old activist who lives about two miles from the small city north of Homs. It was targeted in Russian air raids on Wednesday and Thursday. "But Wednesday's raid was quick and sudden. It was surprising. There is usually an alarm that goes off in the town that allows people to hide in the shelters, but not this time."
Claiming to spearhead a fight against ISIS, Russia launched airstrikes on the northwest of Syria as part of what appeared to be a bold gambit to shore up the regime of Bashar al-Assad and fight off rebels advancing on his strongholds. But witnesses to the Russian air strikes in Syria described scenes of civilians caught up in the carnage and feared that Moscow intended to pursue the same brutal Assad strategy that has led to tens of thousands of civilian deaths.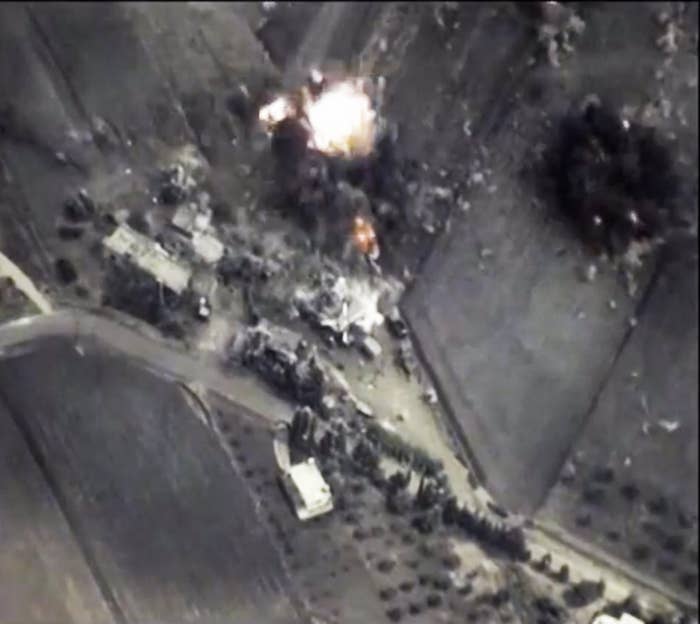 "They targeted civilians," said Hassan al-Araj, a doctor who was treating casualties from the strikes in the province of Hama, speaking to BuzzFeed News by phone. He said that raids by Russian jets in two villages had killed at least one woman and wounded eight civilians, some of them in critical condition.
Araji said there were no ISIS fighters in the area, an assessment in sync with painstakingly researched maps by Western analysts detailing which forces in Syria control which territories. "The Russian pilot will say that he killed ISIS, but I want to send him a message: You killed a woman who was sick and you destroyed buildings for civilians and they became homeless in the winter because of you," he said.
Qayson, in Talbiseh, said the explosions that struck were huge and came in succession. The Russians struck a building that used to be a post office and is now used as a bread distribution center. He said more than a dozen people died in the attack. "People are still going under the rubble so the total death count is not final," he said. "No rebel fighters died — only civilians," he said.
Russians claimed in public statements their planes struck a "terrorist" car-bomb factory in an area north of Homs. Qayson acknowledged the existence of a rebel ammunition depot as well as fighters from the al Qaeda–linked Jabhat al-Nusra in the area, but insisted they were operating from the countryside and not the targeted areas. Ironically, Syrian rebels pushed ISIS out of Talbiseh about four months ago, he said.
Another Russian target was near the town of Kafranbel, in the northern province of Idlib, which is known internationally as a bastion of the kind of nonviolent resistance that once defined the uprising but has been eclipsed by the bloody civil war. Protesters there are famous for spreading their signs on social media, often with messages targeted to the West.
Raed Fares, Kafranbel's leading activist, said in a Skype interview that Russian forces on Thursday struck an area outside the city that held a number of internally displaced civilians and rebels who are fighting the government of Syrian president Bashar al-Assad. "I think Russia told the U.S. they are going to fight ISIS, but there is no ISIS at all in this area," he said, adding that he had no word yet on casualties. "Russia and the regime are not attacking ISIS, they are attacking everyone in Syria, including civilians like me."
Assad's airstrikes on civilians have been a defining feature of the four-year-old civil war — and a driving force behind the refugee crisis surrounding the conflict. It was unclear whether the Russian strikes, which began on Wednesday, targeted civilians intentionally. But reports of the casualties have swirled around the attacks. In the town of al-Latamna — where Russian jets struck a U.S.-backed rebel battalion on Tuesday — one witness, Obada al-Hamwi, said in a phone interview that many residents had fled their homes, fearing further attacks. "People have left their homes, and they're sleeping in the forest," he said.

"It's not a new thing," says an activist from the town, Rasha Mustafa, who described local volunteers scrambling to rescue victims from the rubble after Russian strikes yesterday. "We've been living under bombardment for more than four years."
As Talbiseh-based journalist Hassan Abu Al-Nouh spoke to BuzzFeed on Thursday, planes again began to fly overhead. "It's OK," he laughed, as he continued the interview. "There's no place that's safe right now."
Abu al-Nouh, 28, said he and some colleagues were listening in on the various radio transmissions on Thursday afternoon when they began picking up some Russian. "We figured they were roaming around."
When the first wave of strikes hit, he was thrown out of bed. He picked up his camera and began to film the carnage, which included dead and wounded children.
"The amount of destruction is unbelievable," he said. "Unless you were there, you cannot imagine the amount of destruction. A whole neighborhood was wiped out."
Sarah Dadouch contributed to this report.