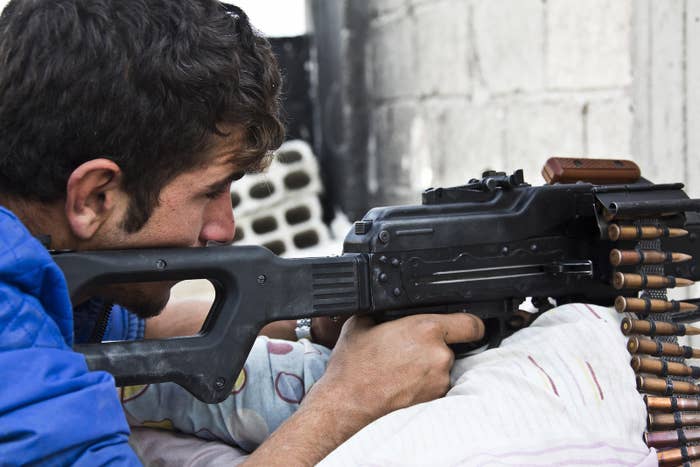 ANKARA, Turkey — Turkey remains adamant about preventing U.S.-backed Syrian Kurds from seizing key territory along its border and has plans to halt their advance, a top adviser to Turkish president Recep Tayyip Erdogan said Friday.
The area surrounding the city of Azaz is composed of historically Arab and Turkoman enclaves. In a wide-ranging 100-minute discussion with a small group of Western journalists, Ibrahim Kalin ruled out barring the U.S. from flying missions against ISIS from Turkey's Incirlik airbase. He said Turkey could take other steps to prevent the Kurdish militias from advancing on Azaz — but beyond its ongoing shelling of Syrian Kurdish positions, Kalin declined to give specifics.
"There are things that you do that you don't need to talk about," said the U.S.-educated Kalin, who serves as a spokesman for the Turkish president. "We'll have to take further measures but I can't specify them now."
As a transit point for refugees flooding toward the west as well as jihadis attempting to access battle zones in Syria and Iraq, Turkey has emerged as an instrumental player in U.S.-led efforts to combat ISIS. The U.S. launches most of its combat and surveillance flights across Syria and Iraq from airbases in Turkey.
Advances by Russian and Iranian-backed Syrian regime forces on the northern city of Aleppo have alarmed Turkish and European officials and international aid groups already grappling with what has been described as the worst humanitarian crisis since World War II. "If Aleppo falls we're expecting another flow of refugees, 500,000 to 700,000 people," said Kalin.
Turkish and some U.S. officials have long worried about Washington's reliance on Syria's ethnic Kurdish militias allied with the outlawed Kurdistan Workers Party (PKK), to fight ISIS on the ground. The PKK, which Turkey has fought for decades, is regarded as a terrorist organization by Turkey, the United States, and the European Union. But the autonomy-minded Kurdish guerrilla group's Syrian offshoots, the People's Protection Units (YPG) are largely seen as a key ground force against ISIS.
Kalin, in the rare meeting with Western correspondents, harshly criticized the YPG and its allied offshoots. He alleged the only reason the groups had been successful against ISIS was because they were receiving political and material resources earlier promised to Arab rebel groups. He also accused the YPG of cooperating with the regime of Bashar al-Assad and Russia, which are working together with Iran to stamp out a five-year armed rebellion backed by U.S. allies, including Turkey.
"They're now engaged in shady dealings not only with the Russians but the Assad regime," he said, alleging contacts and on-the-ground coordination between the YPG and Russian warplanes targeting rebel and civilian positions in the Azaz area, which is devoid of ISIS. "For reasons of expediency the Americans are asking us and the rest of the world to turn a blind eye," he continued, but cited no evidence other than published reports.
Kurds make up perhaps 10% of Syria's population and are seeking to improve their political and strategic position in the mostly Arab country ahead of any possible internationally brokered peace settlement.
But Kalin said the partnership with the U.S. in Syria's YPG had emboldened the PKK to defy calls to lay down their weapons by its own leader, Abdullah Ocalan, and resume its fight against Turkey last year. Syrian Kurdish officials say they need control over Azaz to cut off supply lines to ISIS. The capture of Azaz, an area historically populated by Syrian Arabs and Turkoma, would also bridge Kurdish strongholds in Syria's northeast and its isolated enclave in and around the city of Afrin, to the West.
"They're grabbing more and more land in the name of fighting Daesh," Kalin said, using the Arabic acronym for ISIS.