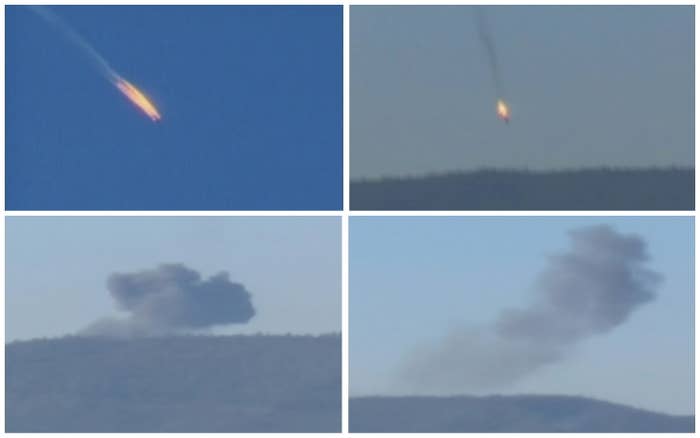 ISTANBUL — Just days before Turkish fighter jets shot down a Russian warplane near the Syrian border on Tuesday, Ankara's envoys in New York sent an urgent letter to the U.N. security council decrying attacks by Russian forces on ethnic Turkmen living along the border.
"The ongoing intense aerial bombardment which reportedly included use of cluster bombs by the Russian air forces ... have caused heavy civilian casualties," said the letter. "The continuing grave violations of international human rights law and international humanitarian law, including the most recent offensive, are unacceptable."
Russian President Vladimir Putin described the downing of the Sukhoi-24 warplane as "a stab in the back delivered by accomplices of the terrorists," referring to Turkey's support for Syrian rebel groups fighting Bashar al-Assad, and claimed the planes were in Syrian airspace. Ankara insists its two F-16 fighter jets downed the jet, possibly leading to the death of one of the pilots and the capture of the other by Syrian rebel groups, because it strayed into Turkish territory along the mountains northeast of the Syrian city of Latakia — and disregarded 10 warnings.
"In line with the military rules of engagement, the Turkish authorities repeatedly warned an unidentified aircraft that they were [10 miles] or less away from the border," said a Turkish official, speaking on condition of anonymity because he was not authorized to speak on the issue. "The aircraft didn't heed the warnings and proceeded to fly over Turkey. The Turkish Air Force responded by downing the aircraft."
The official added, "This isn't an action against any specific country: Our F-16s took necessary steps to defend Turkey's sovereign territory."
But Turkish media and officials have for weeks highlighted the plight of Syria's small ethnic Turkmen population, which largely identifies with the rebellion against Assad's regime and has been under Russian bombardment. Turkey has sought to use the Turkmen cause to rally domestic support for more robust intervention in the Syrian conflict and pursue its goal of establishing a "safe zone" in parts of northern Syria, according to analysts. Over the weekend, Turkish warplanes backed Turkmen rebel fighters as they captured two villages from ISIS.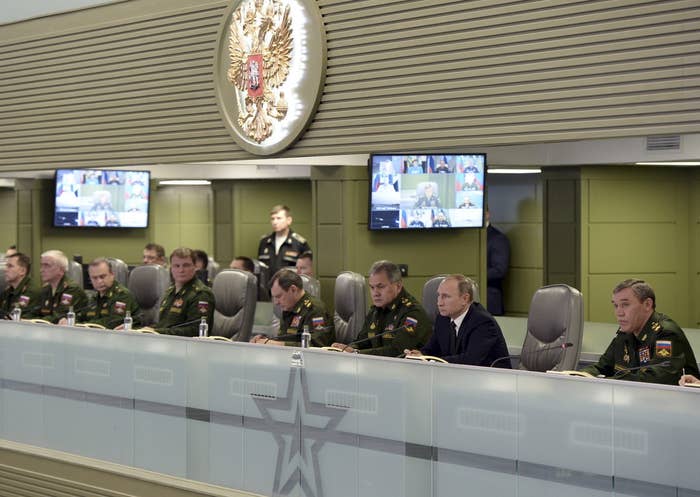 Russia first claimed its plane was shot down by ground fire, even though its state media conceded the jet was flying well beyond the range of any anti-aircraft weaponry Syrian rebels are known to have. Before Putin conceded the plane was shot down by air-to-air missiles, Russian state TV broadcast continuous interviews with military experts who backed the Defense Ministry's claims that the plane never entered Turkish airspace. Attempting to explain how surface-to-air missiles could down a plane flying beyond anti-aircraft range, one expert surmised that Syrian rebel forces were standing at the top of a very tall mountain that could have put them in range.

Others in Russia blamed the incident on "Western double standards" and the U.S. support for anti-Assad rebel groups. "Russia is the only country fighting all terrorist groups," Rossiya host Evgeny Popov said.
Russia's parliament called on the government to cut off all air connections to Turkey, a vacation destination for many Russians and a sizeable source of revenue for Turkey. But few believe Moscow will respond militarily. "The Kremlin is struggling to formulate an agreed response, but has little interest in escalation," Daragh McDowell, an analyst at Verisk Maplecroft, a UK risk management consultancy, said in an email.
Syria's Turkmen are an ethnic minority distinct from Arabs and Kurds; they dwell across northern Syria and Iraq and share close kinship and cultural ties to Turkey. Ankara, a NATO member, largely paid them little heed publicly until the last few weeks, when they have come under intense Russian bombardment. In the days before Tuesday's confrontation, both pro-government and opposition broadcasters accused Russia and Syria of "massacring" Turkmen in airstrikes. "Turkmens under Russian bombardment" was the title of a special report on Turkey's pro-opposition FoxTV on Monday evening, while state-run TRT declared that Turkmen civilians were being bombarded "in front of the whole world."
A columnist in the normally pro-government Yeni Safak newspaper on Tuesday accused authorities of trying to manipulate the Turkish people by playing the ethnic card. "An attitude that gives prominence to Turkmens rather than all opposition groups, has come to circulate in Turkish media," writes Akif Emre. "It is obvious that a new strategy is being developed [for] public opinion."
Turkey's foreign minister summoned Moscow's envoy to Ankara, Andrei Karlov, last Thursday, warning Russia that Turkey "has every right to retaliate and take necessary measures in the event its border security is threatened as a result of the Russian military's operations targeting civilian Turkmen Syrians on the Turkish-Syrian border," according a report by Turkey's Hurriyet.
In the meeting, Turkish officials warned Russian counterparts "there will be no hesitation to implement" its rules of engagement if a border violation occurred.
"Russians are kind of testing Turkey when they do such violations," said Mehmet Yegin, a political scientist at the International Strategic Research Organization in Ankara. "The downing of the plane is a clear message to the Russians that they should do not that."
But Turkey also insisted to Russia there were no ISIS or other terrorist groups in the areas its fighter jets were targeting. "Turkey won't be indifferent to attacks targeting the life security of Turkmen," Turkish officials told their counterparts, according to the Hurriyet report.
"In the past, we have made public our military rules of engagement and reminded our counterparts that any violation of Turkish airspace would trigger the actions prescribed by the military rules of engagement," the Turkish official told BuzzFeed News.
Max Seddon contributed to this report.